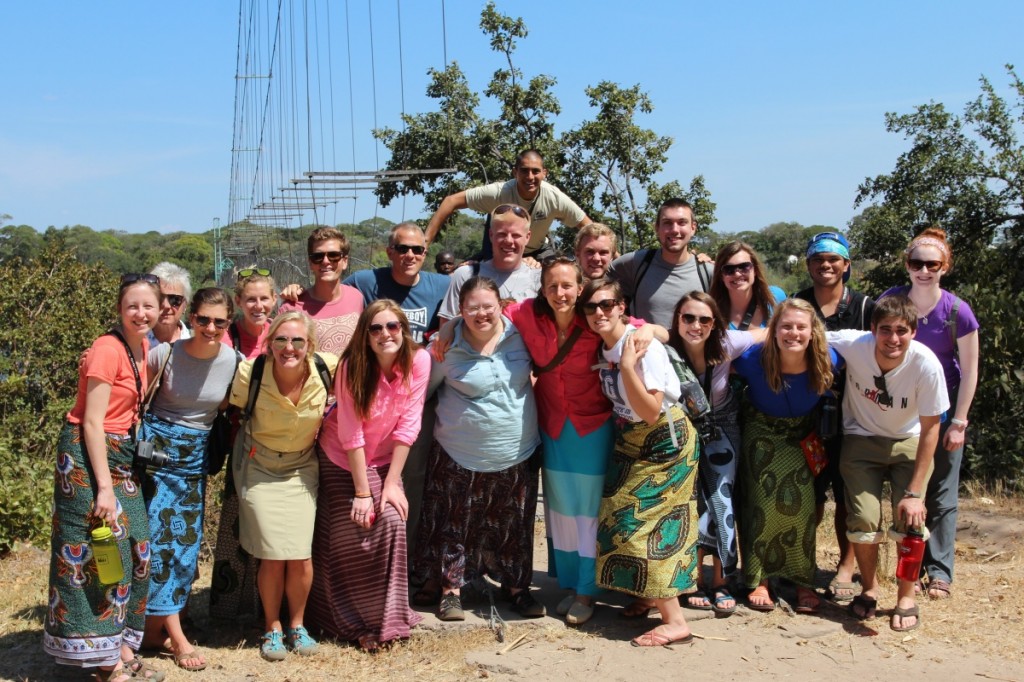 Hello friends, family, and fellow Zags
We are now fully settled into the Zambezi community. Our biological clocks are now somewhat set to Zambian time although many of us had trouble sleeping with the all night gospel singing coming from the church party next door. Unfortunately the music was more invigorating than relaxing! Since we are up each morning with roosters, many of us follow Josh on runs throughout town and we quickly discover that sand is exhausting to run in! Once you step out of the Convent we are staying in, you see heaps of children eagerly waiting for playmates, cameras, and hands to hold. The children seem to be our first link to Zambian culture but tonight we are heading off to homestays where we can hopefully begin to form relationships with the community and begin to learn more about life here in Zambezi.
Today we ventured to Chinyingi to cross the famous Chinyingi suspension bridge and visit Father Francis and his church and hospital. It was fascinating to see the hospital as a future nurse and realize that despite their limitations, they seem to get by with the hard work of one male nurse, Basil, and 16 health volunteers. Today was a day off from our teaching schedules and the journey to Chinyingi proved to be quite the adventure. Driving in bumpy and packed trucks through the bush with our Zambian driver, Traygo , was exhilarating and according to Connor House, "the pinnacle of his life, even cooler than the Presidential Inauguration!" Alhough I have never seen an Inauguration, I would have to agree.  We all discovered our love of Zambian "Zed" music and on the drive home picking up Traygo's friend turned our ride into a Zambian dance party complete with hilarious dance moves from our new friend.
Amidst the most welcomed exhaustion, dirty feet, and endless hours of dances, songs, games and adventure, one conversation with a local man caught my attention. After attempting to greet and introduce my self in fragmented Lunda or Luvale, he immediately asked me "what are you bringing u?" I was caught off guard by this direct question. I knew that it was filled with assumptions yet it was a valid question. I told him about our different programs: Health Education, Literacy, Computers and, yet I still struggled with this question. What can I, Hailey Baker, and my fellow Gonzaga peers bring to Zambia and its people?
After spending just a few days here in Zambezi and while now writing this blog I realize that I do not have the answer to this question just yet, in fact I may never know exactly what I am bringing to Zambezi or the impact I will have. I have always been the type to seek out the answers, to draw conclusuons, or to analyze and rationalize my thoughts. Yet here in Zambezi I am flooded with emotions, expectations, excitement and fear and this combination I cannot fully make sense of.  Although I may not have all the answers or the secret to studying abroad in Zambezi, I must focus here on the present. Focus on the sweet songs and handholding with the two little girls, Gift and Memo, that have seemed to claim me. Focus on the laughter in dance games and songs with the children, the impromptu converstations in the market and the constant greetings and welcoming from the locals. I must focus on the sunsets, ways to help my students be more healthy, and the friendship bracelets I have promised to so many. Most importantly I must give Zambezi my heart as this beautiful community has already captured mine.
Kisu Kisu Mwane (Blessings)
-Hailey Baker, Class of 2014