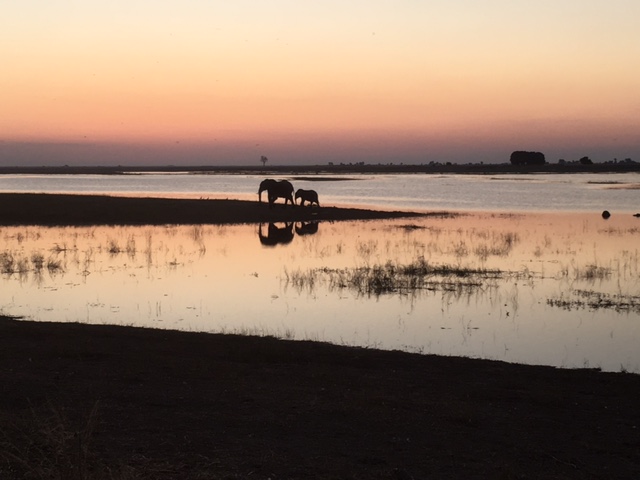 I left my glasses in a green canvas tent, 50 kilometers deep into Chobe Game Reserve in Botswana. And I did not panic or swear or even, really, get upset.
If they read this blog post, my friends and family back home will wonder what happened to the real Kris during her study abroad adventure to Zambezi, Zambia. She is not the calm one, never the calm one, they will think  She is the one who churns with anxiety about things big and small. I frequently joke with my closest friends that worry is my happy place.
I don't know why I felt so calm when I lost the glasses that guide me each morning to my first cup of coffee and the newspaper and relax me when I put them on at day's end to read myself to sleep. I don't know why I felt so calm when I was sweaty behind the wheel of an aging Toyota Land Cruiser, stuck in a bog of sand and mud, with 11 Gonzaga students crammed in the back. I don't know why I felt so calm when an elephant stomped his foot and lowered his head, readying himself to charge our bus, which had backed up to watch him strip leaves from a tree alongside the road. I don't know why I felt so calm when a giraffe walked within 10 feet of my backside. (I know they are peaceable creatures, but they possess a mighty kick, or so I am told.)
I do know that this trip has been a bit of a reckoning for me, a moment from the weary words of Yeats. "The center cannot hold."
Life in Zambia has forced me to slow the frantic pace that is my constant companion in Spokane, to loosen my bondage to the "now." I can't go now because the bus isn't here, and Lord knows when it will be. I can't eat now because the electricity is off, and Lord knows when it's coming back. I can't take a cold (read: numbing) shower now because the water has stopped flowing from the cistern, and Lord knows when it will flow again.
In Zambezi, life moves at the pace required in that moment. I walked a Zambian friend home after we'd had tea at the parish. She gave me a pumpkin and insisted on carrying it back to my temporary home. I drove a man to the place where he would ride a dugout boat across the Zambezi River, and he asked that I stop when he saw in the market the sweet potatoes he wanted for the following day's breakfast. I asked the tailor about my chitenge dress, and she said she would bring it at 15 hours, or 17, or maybe 19. Or maybe tomorrow.
I am not sure how or when it happened, when my frantic soul decided to take a deep and dusty breath of Zambian air and exhale slowly. But I did, and I felt a peace I long for in the states.
Before my friends rush out to buy new, brightly colored clothes for the somber-dressing me, I should offer a few caveats about my experience in Zambezi. I remain deeply forlorn–even more so now–by the ravages of colonialism that keep a heavy foot on the back of the native people. I remain uncomfortable with the missionary work that robbed locals of their old ways while dangling new ways just out of reach. I am deeply confused about the right way the United States should provide aid to developing countries. I am angry that my country's arrogance has tried (unsuccessfully, always unsuccessfully) to convince me the people in Zambia and other countries on this continent aren't like us who live in our shining city upon a hill.
What I am convinced of is the goodness of the Zambezi people who welcomed me to their town and into their homes. The people who shared their stories and asked me to share mine. The people who cooked for me and cleaned for me and cheerfully greeted me in the market. While I know this all may sound annoyingly positive, that is my experience. I know they can't all be kind, but I never met a person in Zambezi who didn't treat me with far more generosity than I earned.
I am also convinced by the goodness of this program and the relationships Josh and his crew have cultivated these past 11 years. You see the fruits in the local's stories about taking the basic computing course that later helped them get a job. You see it in their faces when they share the business plans they developed in class. You see it in the tears of the Chilena students as they say farewell to their Gonzaga teachers.
While I have so missed my family and my friends, I am deeply grateful for the time I spent in Zambezi with the 19 students who gleefully embraced this hard and heartening experience, who cried with me and laughed with me and gracefully tolerated my motherly presence. I would gladly claim each of them as my own if their parents weren't desperate to have them back.
In a few weeks, I can assure you, I will again be moving frantically through the aisles of Target in search of some material item I am sure will change my life. A new face cream. A new book. A new exercise ball. I hope, for just a second, that I pause in my reach and remember Zambezi and the people–the locals and students and faculty–who reminded me that things don't changes lives. What truly changes us is the recognition of our shared humanness, the African notion of Ubuntu. "I am what I am because of who we all are."
By the way, my glasses came back to me today. I return to my family on Friday. Tomorrow, I begin my travels home with an odd mix of feelings–a sadness at leaving here alongside a longing for my family and pets, a cold glass of milk, and a Netflix binge of "The Unbreakable Kimmy Schmitt."
Kisu mwane.
Kris Morehouse, Communication faculty