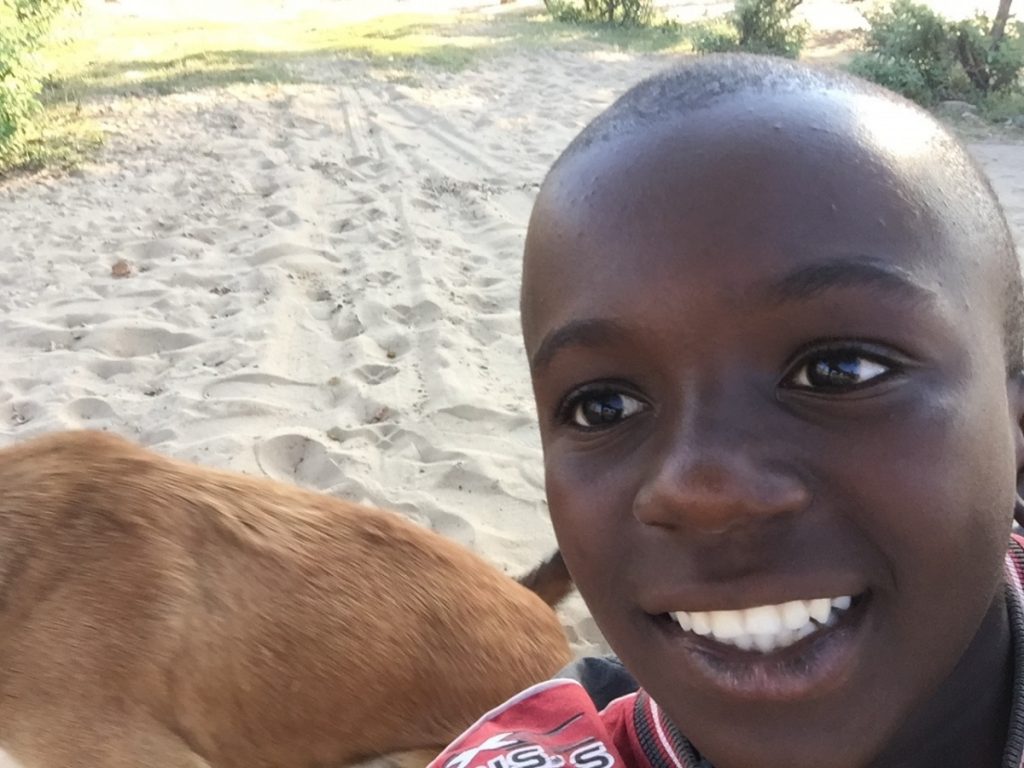 Emmanuel's house rests on a large plot above the Zambezi River. The pink walls and deep red steps blend in with the hot Zambian sun that beats down on the back of our necks, even in the dead of winter. The large, off-brand, flat-screen television connects to a speaker system, with enough bass to shake the buildings across the dirt road. The booming drowns out the hum from three fridges that line the walls while Nickelodeon cartoons and a live stream of the Royal Wedding illuminate the different colors of chitenge that cover the doorways. Emmanuel's mother works at the police station specializing in crime scene investigation while his father spends over 12 hours a day at New Generation, a general store in the middle of the market.
Emmanuel helps his friends read the questions I write down. His skill in English allows us to have a meaningful conversation, something that cannot happen with most children, and even many of the adults in Zambezi because of my inability to speak Luvale, Lunda or any of the other local languages. I ask him: "Why do you like to hold all of our hands?"
He says with a grin, "Because we are friends. Your skin is white and soft." His smile fades as he rubs my arm. "My skin is black and rough. We are different." His smile disappears and he averts his eyes to his callused hands.
"No, we are the same," I insist, pleading with him, or perhaps just myself.
"No, we are different," he repeats.
I want us to be the same. I want to believe that my privilege plays no role in my life. But these are both not true; I suspect Emmanuel would do very well in a place with more opportunity. I want to believe we are the same because it is the easy thing to do. I want to believe that the places we were born have nothing to do with the fact that I am spending thousands of dollars to come to his country, eat his food, and sleep in his bed.
Emmanuel is correct; we are different. He understands these differences more at 13 than I will my entire life. He more intimately understands the opportunities of the 20 studentswho come to Zambia on a plane each year for one month, who then leave in that same plane. He knows that he will probably never see me again and that our friendship will complicate once I go home, even though I wish it were otherwise. He knows I will go back to my life of privilege and opportunity in the United States
However, we have many things in common. We are both people and deserve the same dignity and respect. He and his family show me this again and again. Emmanuel's family offers me their home when I come visit, and his father offers me free drinks in his shop. Emanuel and I can hold a conversation about football and basketball or a conversation about why he likes to watch Nickelodeon cartoons over Disney cartoons. We both immediately know how to play hide-and-seek and to not leave the fridge open too long or the milk will spoil.
While I may never be able to identify or define these differences that the two of us possess, the effect that it has emerges. He tells me that he wishes to visit me in America and attend American University. What do I tell him? I think we both know the odds are stacked against him. Should I tell him that, after I leave Zambezi, I think this will be the last time I greet him, Chimene mwane? We don't talk about these things. Instead, I spend as much time as possible with not only him but also the entire Zambezi community. I visit his father's general store to buy a Coke and say hello. I cannot do much to dismantle the complex issues that have done so much harm to Zambia, so what can I do?
Whoever you are, written by Mem Fox.
Little one,
whoever you are,
wherever you are,
there are little ones just like you all over the world.
Their skin may be different from yours,
and their homes may be different from yours.
Their schools may be different from yours,
and their lands may be different from yours.
Their lives may be different from yours,
and their words may be very different from yours.
But inside, their hearts are just like yours,
whoever they are, wherever they are, all over the world.
Their smiles are like yours,
and they laugh just like you.
Their hurts are like yours, and they cry like you, too,
whoever they are, wherever they are, all over the world.
Little one, when you are older and when you are grown,
you may be different,
and they may be different, wherever you are, wherever they are, in this big, wide world.
But remember this:
Joys are the same, and love is the same.
Pain is the same, and blood is the same.
Smiles are the same, and hearts are just the same- wherever they are, wherever you are, wherever we are,
all over the world.
Kisu Mwane
Garrett DiMarco