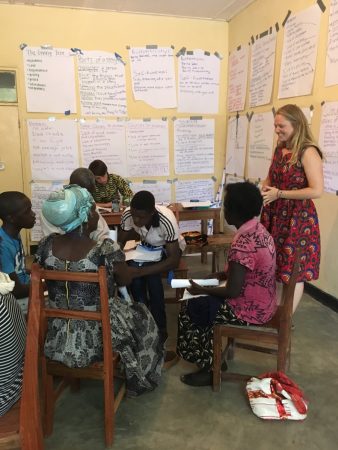 Poorly duct-taped poster paper of past classroom lessons nearly cover the soft yellows walls of the convent where we hold our Business and Leadership class. As each student walks in, ranging from as young as 14 to as old as 70, I am greeted with extravagantly long handshakes. The mismatched chairs and benches slowly fill with students eagerly awaiting the lesson ahead.
On the left sits Mama Josephine, a 70-year-old single mother who started a tomato growing-and-selling business after retiring as a political activist. She fought for Zambian independence when Zambia wasn't yet a country and worked for the nation's independence.
Next to her sits Hendrix who owns his own cassava-and-meal grinding plant and is known for his good product throughout Zambia. He even took me to the grinding mill to show me how the process works and explained how Zambians turn the ground meal into nshima, Zambia's staple food.
Frezia sits in front of the opened window, a 20-year-old woman who wants to further her education but is struggling to find a way because of the lack of universities in the area.
I look out at the faces of the people I am expected to teach, but I feel ill-prepared. The people in my class are incredibly knowledgeable and already active in the business community. Many of the students are my age; a few older students have their own small shops. I struggle with what qualifies me to stand in front of them as their teacher. As students ask me detailed questions about problems I know little about, I can't help but feel like a phony.
This feeling worsens after we take a bumpy ride to Dipalata where we are welcomed with joyful singing and dancing by the locals. Women waving their chitenge and dancing with babies on their backs sing to us as we unpack the Land Cruisers. We look around at the only two buildings; one is the church and the other a hall that is not yet completed. The economic difference between Zambezi and Dipalata becomes increasingly apparent. We are told to break into groups as the people of Dipalata are anxious for our lessons.
Curriculum booklets in hand, we sit in the bright sun on benches they pulled from the church. The language barrier in Dipalata is much larger than Zambezi; we struggle to make our lessons applicable to the students. We are asked detailed questions about fish farming and expanding their market beyond Dipalata when poor roads make transporting heavy materials difficult. I exchange helpless glances with the members of my team as we try to explain through a translator that we do not know the details of fish farming and have no immediate solution to the lack of roads. If they have questions about the qualities of a servant leader, we have lots of information.
For the Leadership team, leaving that class was hard; the problems we discussed and the reality of their situation seemed inescapable. I doubted my role not only in Dipalata but also in Zambezi, and the experience changed my perspective on what I can actually accomplish. I am frustrated every day in class when I hear students talk about their dreams that deserve to become reality but may be derailed by economic hardship or simply a lack of resources. Still, I am inspired to see all of the students, young and old, come to class excited to learn.
Returning to Zambezi and to the yellow convent walls, I am reminded of the progress the two town's residents already have made, giving me hope for Dipalata and pride in the place we have been able to call home. We are here in an accompaniment role; we are not here to save anyone or change anything. We are here to learn from the local's experiences and the ones we have ourselves. Our lessons happen beyond the yellow convent walls as I walk beside the people in my classes and learn about their lives. They are learned walking on the yellow sand when I am no longer the teacher, and they are no longer the students. Rather we are two new friends.
Kisu Mwane, Bridget
P.S. Sending love to my Mom, Dad, siblings and friends. I love and miss you all!
P.P.S. Happy almost birthday Bailey!
P.P.P.S. Did you ever think that taking a trip to the beekeeper would land you with a stinger in the eye? Don't worry, Mom, I found out I'm not allergic.