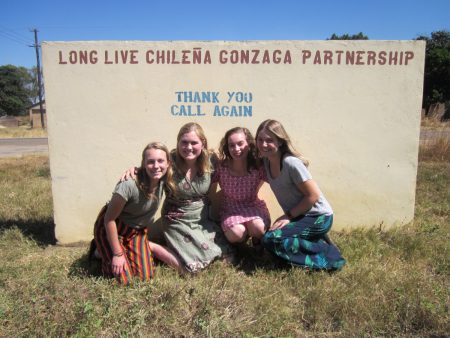 "Welcome Madam." These are the words that greeted Maddie, Devon, Lexi and I every day in our English classes at Chilena. On Tuesday, we heard these words for the last time. We celebrated together in grade 8 and in grade 6, which provided an opportunity to reflect on everything we had done over the last two weeks.
We started at Chilena with a unit of lessons prepared and eager to meet our classes. As we met our students, my fellow teachers and I realized we needed to adjust to the Zambian classroom, and they needed time to adjust to us. The need to be flexible became immediately apparent upon entering our classrooms, and we knew there would be many changes. The Chilena students are accustomed to a more routine system of learning and are used to formalities I would have never expected out of middle schoolers back home. We are used to checking in with all of our students during independent work and taking breaks to sing songs or play games. Chindene, chindene, I get used to the formalities and learn the games and class encouragements that the students are accustomed to. The students begin to get comfortable with Lexi and I teaching and share their personalities and jokes with us while making incredible progress on storytelling.
Chindende, chindende.
The second change we made as teachers was adjusting how we taught. Our accents are strange and very hard to understand as are many of our speech patterns. We learned to adjust the speed of our speech and our phrases, and we picked up an accent somewhere between theirs and ours on some words. We changed the way we asked our questions and our approach to each day's lessons. Our students have only been learning English for one year or three, and the original plans did not consider the diversity of language learners we would have. In our grade 6 class, we have students who seem fairly fluent while others routinely struggle, and one student wrote in either Lunda or hard-to-read guesses at English. We brainstormed lists of daily activities, used fill-in-the-blank style sentence starters, and tried to become comfortable with each other so that our students were not embarrassed to ask us questions when they needed help.
Chindende, chindende.
The third change the other teachers and I had to adjust to was that almost none of our assumptions about our students were true. Rock, paper, scissors needed to be explained. They were always incredibly eager to learn and would have sat listening to us teach for hours without much fidgeting. I do not think I have ever taught more attentive students, and they were incredibly quick learners. But our assumptions about how much time activities would take were way off. We mixed new ideas with the originals to better suit our students, sticking with Lexi's visual aid that explained plot but following it with a list of activities we do in a day to practice identifying plot. We spent more time solidifying our basic knowledge of stories and also used some of our time to play games and sing songs together.
Chindende, chindende.
The last change we about what we wanted the students to create. We came here thinking we wanted a collection of individual stories on each element we taught plus longer stories that integrated all of those elements, or perhaps we would have them perform a play. We quickly realized a play would never logistically work— the grade 8 class has 64 students. Instead, we worked together to write short fiction stories and fill in the blanks for a structured "I am" poem. The writing took a long time, but we all enjoyed the process.
Chindende, chindende.
Though our adjustments came slowly, our final day of teaching snuck up on all of us. We felt like we were just getting to know our students, and the students were sad that we would no longer be here. We spent our day celebrating with arts and crafts for our celebration day on Tuesday. That night, we wrote notes in their exercise books and carefully snipped out pages to create stories. The next day, we handed out stories, lollipops, and pipe cleaners to our grade 8 students and said goodbye. We came back for grade 6, handed out stories, then went outside to play football. We ran around the field together, laughing together on our final day. We were joined by the other grade 6 class taught by Maddie and Devon, and we played as one massive group on the grass. Time passed strangely, and though it seems like a long time as I tried to run around in a dress on the field, it was time to head in much too quickly.
We left our students with lollipops that vanished before the period was over, storybooks they will hopefully cherish, a few new skills, and, with any luck, maybe a confidence boost.
As I reflect on my time at Chilena, I remember that many people asked what I would be doing on this trip. The student in my grade 6 class who originally could not write in understandable English finished our time here able to dictate incredible stories. They have all worked so hard, and everyone with consistent attendance finished their storybooks. While I did teach, I learned so much more than I taught. I was humbled as I learned to change almost everything I knew about teaching as I taught these classes. I have gained a new flexibility in teaching because we had to change our lessons and would figure out for sure what we were doing in the moment every day in class. I will return a much better teacher, and I am so proud of these students I had the privilege to teach for the last two weeks.
Kisu mwane,
Katelyn
P.S. Friends and family, I miss you so much and am so excited to share all my stories and photos with you when I get home.
P.P.S. In answer to your post Mom and Dad, I have not seen many animals. Some butterflies and the chickens we have eaten. I have seen a lot of spiders (which I have grown used to—I know, who am I?) and the goats that roam around Chilena. Love you all lots, so excited to share my adventures with you!