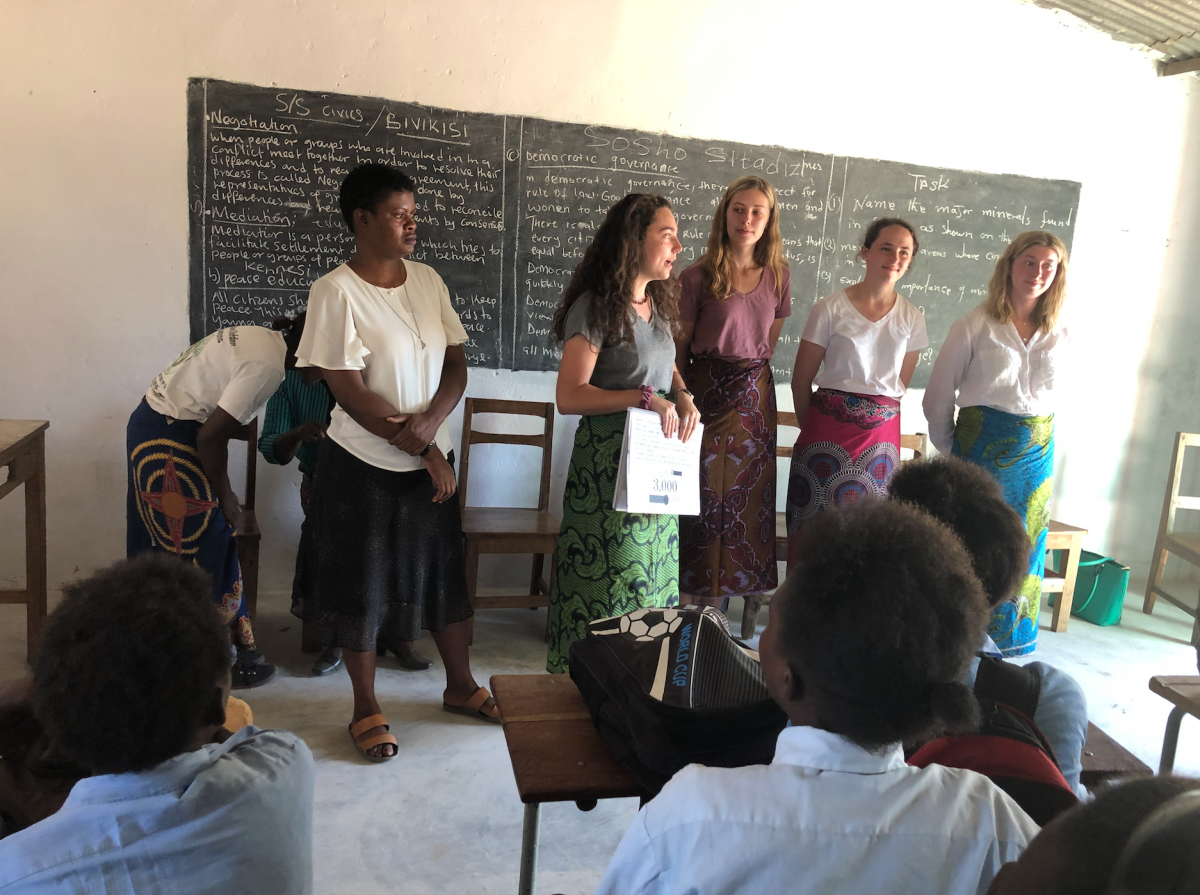 Early last semester I was in my advisor's office, making us both feel uncomfortable with the number of tears I was attempting, but failing, to hold back with my sarcastic hand motions and notable "okayyy anyway". I wept because I felt like I was in a constant free fall. I felt like the path I kept trying to walk on was crumbling beneath me, and there wasn't anything to do but to fall; to cry. My advisor, with this gentle heart and awkward demeanor, said nothing but allowed the space for me to fall with someone. A couple weeks later I dropped by his office and he had a book for me, The Alchemist. He didn't say much about it, but when I opened the front cover I stopped falling for just a moment. "Read whenever you're ready, whenever that time arrives." Well that time came, folks. My capacity to absorb the world around me without allowing myself to process reached its limit. My cup was full, but leaking.
For those of you who aren't familiar with The Alchemist, it's a story about a boy finding his Personal Legend; his destiny. On a small scale, I've been challenged with the task of understanding how to go about loving people here. How do I invest whole-heartedly without accidentally conspiring a mutual feeling of abandonment or futility? The first thing a child said to me when I landed in Zambezi was, "Hello, I'm Lydia. I am going to be so sad when you leave." On a larger scale, I've been forced to recognize moments and experiences that ignite my soul, but haven't been able to figure out how to act on them. I use the word "ignite" because it begins to encapsulate the feeling of having a roaring fire of purpose within myself I hope to continue uncovering. Although this seems victorious, that fire within me sits next to a mountain of guilt and confusion. Guilt rooted in the fact that there are teenage mothers living in shame and outcast in Spokane, members of the queer community having to hide their authentic identity, domestically abused wives fearful of escaping their husbands, children without access to school supplies or even education, impoverished families without access to healthy food, people with privilege using their power for oppression, and so on. Fighting for resolutions and contributing to the improvement of these ongoing problems is not the reason I came to Zambezi, though. Let's yet again turn to The Alchemist for this one. It writes, "If I can understand to learn this language without words, I can learn to understand the world." I came to Zambezi to live in accompaniment with others; to be used a vessel of connection and an instrument of understanding. Every one of us wants to be heard, valued and understood. How can we feel understood if nobody seeks to understand us? I am in Zambezi to lead with curiosity and allow the space for Zambian's to understand me just as I hope to understand them.
"In order to find the treasure, you will have to follow the omens. God has prepared a path for everyone to follow. You just have to read the omens that he left for you." God has been a busy woman/man with all the omens that have been sent my way. I made a list of all the moments I wanted to share with you, but that list is just too long for one blog post, so here's just a few.
Omen #1: Debby, a leader within this community who has devoted his life to using soccer as a vessel to teach and advocate for children and young adults. He runs an organization called "ZamCity" which allows boys and girls to play soccer, feel empowered, and grow in their leadership. In my Leadership and Business class, we asked our students who a leader is in their life and why. Japhet, an easily recognized and influential student in Zambezi, named Debby as his leader. He described that Debby allows him to grow into a man of dignity and is constantly thinking of his players before himself. Later I found out that Debby is closing the gender gap between male and female roles in Zambezi when I was told that the only women at soccer games supporting the players, and even playing themselves are those in ZamCity. Knowing all I knew about him, I craved the opportunity to meet him and know him. Before I had the chance to reach out, I am called over one night when everyone is sitting in the convent. I ran past the kitchen and into our front yard. It was Debby. Debby had asked for me specifically because one of our best friends, Kelen (who came to Zambia two years ago), communicated to him that I was worth getting to know. Feeling lonely and insecure about connecting with Zambian's, I was sent an omen. I felt held by Kelen. I felt held by Debby. Since then, my connections with Zambian's have grown more beautifully and stronger-rooted than I foresaw.
Omen #2: The women. The freaking women. My homestay mom, Elizabeth, is 1 of 2 female police officer's in Zambezi's team of 30 officers. She has 5 kids of her own, and one nephew she cares for. She is solely responsible for cooking and cleaning and being the main financial supporter of her family. She said it was hard to find a man that was comfortable with having their wife being the bread-winner, but alas, she was dignified enough to know what she was capable of and what she deserved. Another woman is Mama Josephine, or perhaps I'll call her by the nickname given to her by the President of Zambia, The Iron Sword. She says more with ten words than an average person says with 100. I recently led a Leadership & Business class entitled "Women in Business" to a room full of 24 men and Mama Josephine. As we unpacked gender roles and gender inequality among the business world in Zambia, there was no sign of agreement between the class. Mama Josephine waited patiently to speak as she heard her fellow classmates, some of which were upwards of 30 years younger than her, unpack their views of women in the workplace. She didn't have to say much to demand respect, as a woman and as a leader within the classroom. She reminds me of Supreme Court Justice, Ruth Ginsburg in her ability to respond to ignorance and misunderstanding without using anger, but instead patience. Lastly, Mama Love. Mama Love, the founder of an international organization titled SEPA, spoke to our team about her journey of being an uneducated teenage mother in Lusaka, Zambia to being the guest of honor at a worldwide conference among the most powerful world leaders. She spoke of having self-worth, vision, passion and attitude. I was captivated and overwhelmed with her words. I had no other response to her unmatchable confidence and dignity but to cry. Weep, actually. She forced me to think about my role as a leader. I could say so much more about her, but for now I will leave you with this visual – a fierce black woman in a thick fur coat at the head of the table, effortlessly holding the attention of 30 white people eager to learn from her.
In this moment, my cup is full and my leak is mitigating. The omen's that have been poured into my life have made me start to fly instead of fall. There are a million more moments, people and places I could talk about. I could speak of the way Father Baraza and Josh have made me feel like a daughter through their constant affirmation and ability to make me feel valued, or the way Ethan has made me belly-laugh more in these last two weeks than I have in the last year, my experience of helping teach a room of 97 young girls about menstruation or conversation's I've had about fear, insecurity, vulnerability and spirituality on my walks to the market or cooking in the kitchen with members of the team. But I won't. Instead, I will wrap things up and leave you with one thought I'm currently trying to process in the remainder of my time in Zambia.
There are over 1.5 million nonprofit organizations in the United States alone. That means that there are a minimum of 1.5 million people in the U.S. that strive to be leaders for others; That strive to create change. How many of those people have made a larger positive impact by being the founder of a nonprofit than they would have had if they joined their resources with an organization that was already established? I don't know the answer to that question, but it forces me to think about my role as a human who wants to be a person who creates changes instead of hopes for change.
Thanks for making it to the end. Hope you're happy, wherever you may be.
P.S. Happy Birthday Father Baraza
P.S.S. Mom, you have been designated as the "team mom" and everyone has expressed how eager they are to meet you. Thank you for loving me the way that you do/have.
Kisu Muane,
Chloe Sciammas