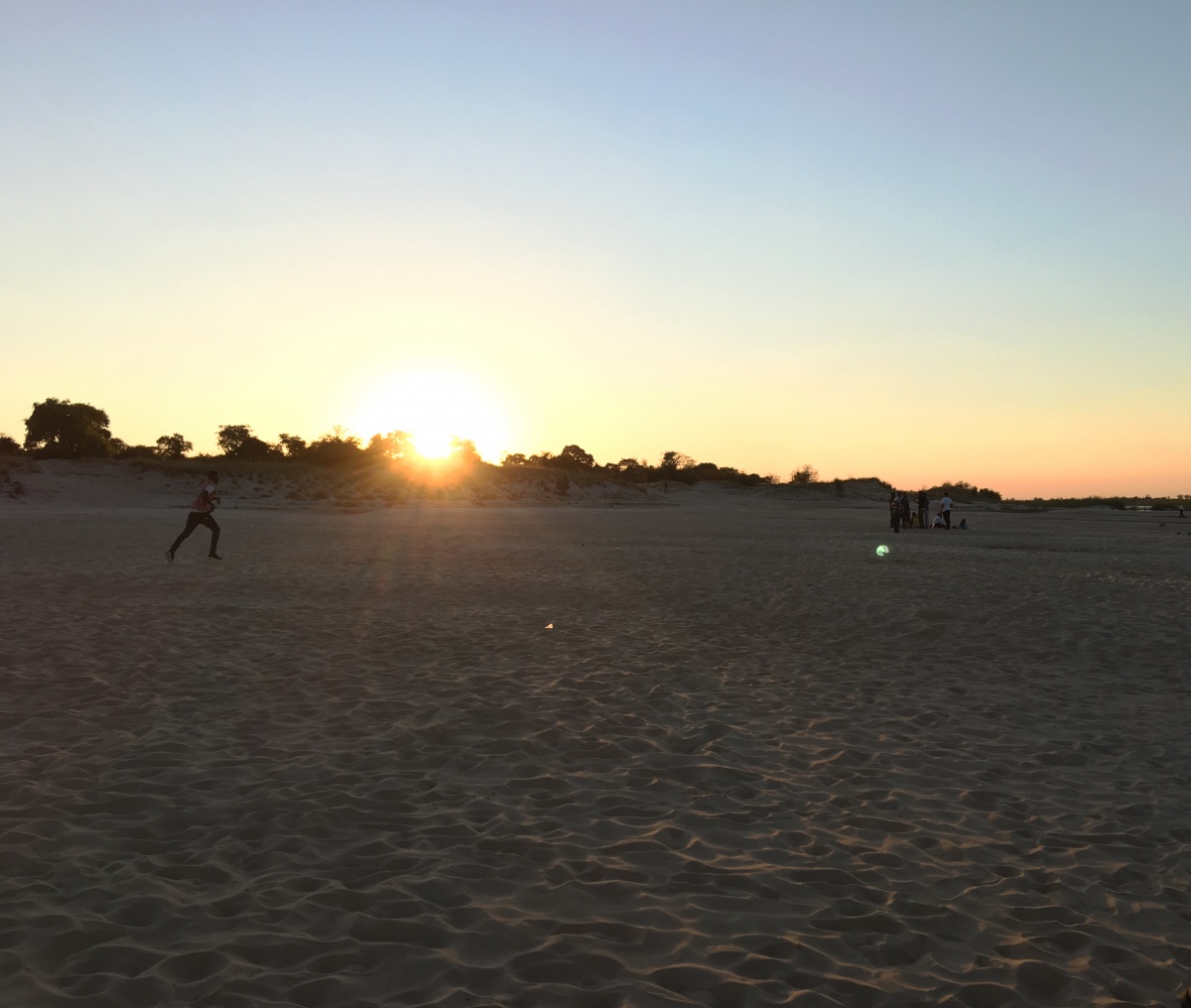 "Are you going to dance?" inquires an individual at the Makishi ceremony.
I grasp tightly onto the skin on my upper arm. The flesh feels tight around the muscle and bone. "No, I'm not," I reply.
"Why?" The individual responds.
…
"Why?" The question reverberates throughout my body and rattles my being. It's like nails on a chalkboard. I never like to say "hate," but I hate this question. Why do I have to explain where I draw my line in the sand? I should never have to do this, not for anyone.
"I can't," is how I respond.
---
Something I've been constantly been thinking about throughout my time in Zambezi is my boundaries, my lines in the sand. I've been monitoring myself and where I draw my lines because I am afraid of being hurt. I draw my lines as far as I can establish trust – trust that I won't be hurt by people and won't hurt people in return. Call it uptight or irrational if you desire. Talk as much shit behind my back as you want; I don't care. Don't affirm me or applaud me either. I just need security and presence. My boundaries are my boundaries, and my trust is my trust.
Can I trust the people in my life with the agony I've felt that binds my lips and squeezes my heart dry, that some days keeps me bound to my bed? I put a great emphasis on trust in my relationships with people and institutions because these are things that have changed my life in the past. My family, the people I've been transformed by at Mt. Adams Leadership Camp, and those I've grown very close to at Gonzaga are examples of people that I've come to know very dearly and would without hesitation give my trust to. I tend to take things very personally, but it is mainly because of the "persons" that have molded me into who I am have set the bar high for what I expect from kinship. I do not intend to "point fingers", rather, I am incredibly grateful for companionship and accompaniment that has made me the very opposite of complacent and has helped me refuse to be stepped on.
I have come into Zambezi with many lines drawn. These lines I have drawn are lines I have consistently placed between the people of Zambezi and my fellow classmates. These are lines that do not intercept and inhibit my ability to sit in the complexity of societal issues I don't understand or listen to people's voices, however. These are lines that I have drawn are born from anxieties and fears I have been grappling with all my life. Like I mentioned before, these fears of being hurt, of not being "enough", of missing out, and of being a burden. Among all of these fears reigns supreme the fear of loneliness. I have written it down on a rock that I have been given, as it represents something much larger than a rock – rather a shackle or chain finding home around my ankle.
I have been apprehensive about a good amount in Zambezi. Such apprehensions include not wanting to hold the hands of beady-eyed children, not speaking my mind around the people I spend so much time with, and not wanting to foolishly dive into a relationship where, without my knowing, I am ridiculed or looked down on. There is at least one person, however, that I have not felt inhibited around. There is one person so far that I have not felt the divide between due to my own line in the sand. He is the priest here where we are staying. His name is Father Yona.
I found myself the other day with Father Yona in two wooden chairs placed in close proximity to the fish pond that lies just outside both the priest's house and the convent. The Gonzaga students have been required to conduct "leadership interviews," meaning we find leaders in Zambezi and ask them things such as "what kind of leader are you" or "what leaders do you look up to?" I had interviewed Father Yona once before, that time about his experience living in Zambezi. I eagerly awaited our time together, as for me it felt like much more than an interview. It was more so a chance to continue getting to know someone who embodied values I admired and, for someone who has arrived in Zambezi just two years ago, had maybe explored the feelings of being an outsider in their own home.
Following the interview, the two of us sat half cooking underneath the heat of the sun and half basking in the shade provided by the walls of the priest's house. We spent a few moments in silence. "What was your greatest fear about Zambezi?" Father Yona asks.
I have to think about it for a moment. I respond to his question by regaling him with my fear of loneliness and not knowing to whom or where to place my trust. I mention to him instances of dreading feeling hurt. I recall to him the anxieties I've felt throughout my life and how I have felt as though these were things I couldn't give to the people I was with now. He responded very insightfully with something that seems simple, yet continues to allude me in every bout with anxiety, loneliness, depression, and insecurity I have ever partaken in
"Sometimes we have to take risks and put our trust in people. Sometimes it works out, and when it doesn't we have to learn to take these as teaching moments. One failure cannot mean the end."
I take some time to process this, and to write it in my journal. Father Yona then asks me what I've liked the most in Zambezi. Feeling less shackled and inhibited, unconscious of the lines I had previously etched, I talk to him about how I have loved the simplicity of just being able to ask people how they are while walking along the roads and pathways making up Zambezi. I talk about how this sort of openness or keenness to build something beautiful like a friendship even in passing is something that is incredibly uncommon in the United States. I hope that Gonzaga can be an environment that is willing to adopt this openness and flexibility to build the kinship and compassion that exists in Zambezi with someone who many may find to be an unfamiliar face, even in passing.
In closing, Zambezi has taught me something very important. The people that I have entrusted all share common aspects that have allowed me to give trust, remove my lines in the sand, and feel free in our togetherness. These aspects are presence, compassion, and warmth.
If you wish to hear me and to have my trust, don't be at my side "for me." I don't want your pity, I want your presence; your radiance. Be "with me." Be with me in the moments where we can share laughter, the moments we can converse meaningfully in and out of the storm, and we can gift to one another the loving embrace of feeling like, to one another, we belong.
I hope to return to the United States in these few, short days feeling less shackled and inhibited, while feeling freer to express the complex being that I am. In the meantime, I will be erasing my lines in the sand, one at a time.
Best Regards,
Spencer Weiskopf, Class of 2020
---
A note from Annika, to Alyssa: Congratulations on graduating!!!!!!! I'm so proud of you and all that you've accomplished! I miss you so much and wish that I could be there with you on this special day to celebrate! Love you, see you in less than a week! 🙂