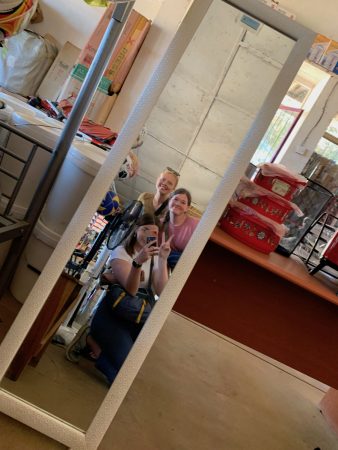 When I wake up in America, I roll out of bed at the last possible minute. I trudge over to the bathroom with my hair an absolute mess and peer into the mirror seeing the disaster that needs to be fixed before I can leave the privacy of my house. In Zambia, my routine Is almost the same, except there is no mirror when I need to look at myself within the convent. I came to Zambia in hopes of finding my passion again and reflecting on who I have been thus far, without the help of my American habits. Literally, I could walk out of the convent with no idea that I had a booger the size of Pluto coming out of my nose, but I trust my peers… I think. No, I do, my fast friends have shown me myself through their own gracious eyes and have reminded me off the person I wanted to become when I was little Kalie. While in the markets I see glimpses of myself in windows, small mirrors, and cool fridge doors that hold my coveted Coke. Yes, by God's grace they have it here. Zambians have also shown me who I am in their laughter at my jokes, absolute compassion from the moment we stepped off the plane, and vulnerability in their stories. They have all made me look inward instead of outward about who I want to be, both while I'm here and when I leave.
So, who do I want to be? Hard question, right? I want to be like the Zambian women who come three times a week to help us clean our clothes, even as they help wash away our misinterpretations of the different world we have entered. They smile as I give them my clothes with the dirt and failures of my day all over them, and they wipe away my dirty slate and allow me to grow through trying again.
I want to be like Wendy, who sells beautifully colored chitenge in the market and makes us feel welcome in the village. Every piece she gets is unique and has gone through a journey that makes them what they are. Embodying their hardships and bumps along the way until they are sold to a pair of hands that appreciates and cherishes them for what they truly are, beautiful.
I want to be like Eucharia, who treats us like her own children after only meeting us two times. Being our Mama in the hospital and offering her services to us to make sure that our work can be as valuable as possible even though she has the world on her shoulders. Truly a power woman.
I want to be like the Zambians who bring their own computers so that others in their community can learn about how to use them. I want to be like Mama Katendi, who creates the most heartwarming food with her student assistants, giving us the positivity and energy we need to thrive in the day ahead. I want to be like Jessie, the tailor who can take my two-piece set dream and make it a reality with her sewing machine, seeing visions and listening with understanding. I want to be like Josephine who takes time out of her day to teach us her language and culture so that we can gain perspective and understanding. I want to be like my peers who will never shy away from an adventure and who take the time to look out for me, seven of which even popped their heads in while I was writing this. I want to be like the kids who cheer on our sunset whiffle ball game from "behind the wall," supporting us and our competitive game without fail.
Finally, I want to celebrate like the family in town who welcomed a new baby into the world today. Welcoming random "chindeles" including Eva, Emily, and Mackenzie, from the market into their dance party and teaching us how to, "Move your hips more, like this!". Too often I pass over the little wins as I look forward to reach the next, but by slowing down these Zambians created a community and joy that I have never seen before.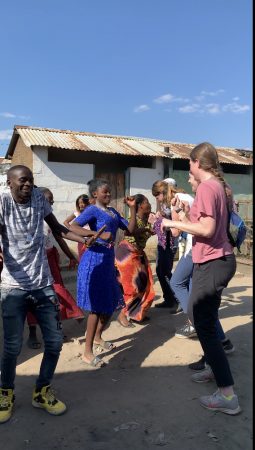 I know that noticing these things is just the first step into making the leap from my life before Zambia to the life I want to live after this. Carrying this over won't be easy or perfect, I am a human after all. However, I call out to all of you readers to please remember this when I return and challenge me to live out my goal when I forget where I came from. Reflecting in Zambia isn't conventional or comfortable, which is what makes it such a liberating opportunity to find who I want to be.
Big hug, little kiss, little hug
Kalie Dyksterhouse
Class of 2022