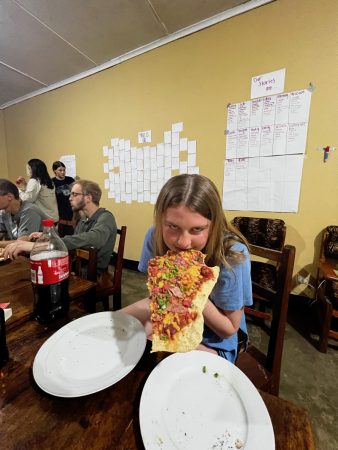 Goodnight for us, and good morning to you. I hope all of you reading are doing well, and that you are enjoying the blog as much as we are enjoying your responses. There have definitely never been tears at our breakfast table…
I've been struggling with how to write this – or rather, what to write about. There is simply so much happening in the community around us. And unless you're here, seeing it for yourself, it is difficult to fully comprehend the beauty and complexity of what Zambezi is.
This is exactly the conversation I had with Abbey when sharing my difficulty with the blog. She made a point that in Zambezi, we are experiencing much more than a snapshot glance or romanticized version of reality, as we did perhaps in Lusaka and Livingstone. With that comes amazing moments, connections, and sites that are truly unlike any we have experienced before. But it also comes with an inability to describe the community well enough to do it justice. Hence, my dilemma.
Another influential conversation that has been on my mind is one I had with Jeff while we were in Dipalata. The discussion wasn't long, but conversations with Jeff are almost always reflective and meaningful. He asked me a simple question: "What goals do you have for our last week?"
After contemplating for a few seconds, I recognized a feeling that I haven't done enough to immerse myself here, and ultimately said that I would really love to meet new people and to hopefully foster relationships with them. We made a plan allowing me to do so, but I felt a little discouraged with it being the last week. And if I'm honest, a little guilty that I just now realized how crucial it is to act on things rather than pushing them until tomorrow, especially when three days remain.
However, the next day I was very pleasantly surprised. I shared with Mama Katendi my desire to meet more people. She agreed to help without hesitation, and she introduced me to her friend, Katherine. I met Katherine later that day, and she immediately made me feel like family. Funny enough, my middle name is also Kathryn, her and my mom are the same age, and I was born the same year as her eldest daughter. Once we calculated all these factors, she jumped up and exclaimed, "I am your aunt!"
Before this meeting, on my way to meet Katherine, I ran into a young boy who I have befriended. His name is Junior. He's the same age as my youngest brother and quite reminds me of him, so a natural connection has formed throughout my time in Zambezi. Junior walked with me to meet Katherine and waited outside for an hour so that he could walk me back.
This first day in which I had been actively searching for deep relationships proved to be incredibly successful – not only in the sense that I had started said connections, but also that it truly highlighted some of the most beautiful Zambian characteristics that I can begin to articulate. Such as Mama Katendi's willingness and quickness to help someone, even when it took time from what she was doing. Or Katherine's ability to make me feel loved by someone I had just met. And sweet Junior's consideration for me without a hesitation of thought.
As I'm sure it's become a theme throughout the beautiful blogs before, the hospitality of the Zambians we have met is unmatched. And even with the way we've described this characteristic, it still cannot fully encapsulate the totality of it. How do you describe something that cannot be defined? Hospitality at home means something entirely different than here – in America it refers to setting aside time exclusively for one person, but in Zambezi it means "doing life together in a way that meets the other where they are" – Blaine Atkins.
My discouragement coming into this week truly underestimated both the powerful love of Zambian people and my own ability to connect. I was scared that I had missed my chance to make as many valuable and irreplaceable relationships as possible. But Mama Katendi proved me wrong. Katherine proved me wrong. And Junior, you guessed it, proved me wrong. I can't wait to see how Zambezi continues to prove me wrong in my time remaining here.
Kisu Mwane,
Eva Palmer '23