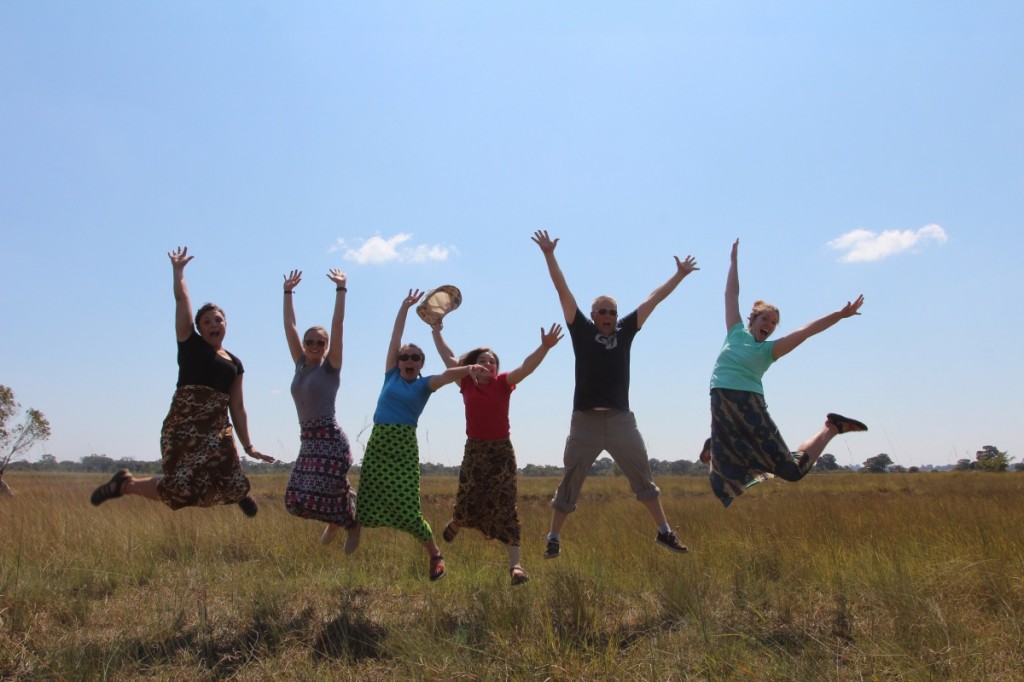 This is day three here in Zambezi, and I already feel like I have lived here for some time. Well, in some respects…. The roosters crowing outside at 4:30AM, showers resembling the polar bear swim, and all the foreign bugs and geckos still get under my skin. However, the days feel long due to no technology, and not having much concept of time. When I lie down the mosquito net draping over me, it's hard to believe everything I did because in Africa, it's just living. Time can feel so long, and yet I'm completely content in the present moment.
It has already been a whirlwind of emotions after a mere three days. The first night here, my journal read, "I'm not doing okay… I can't do this, I want to go home."
I had walked into my room for bed and found myself overwhelmed by bugs—I'm talking beetle-style, the revolting kind that you don't want to get friendly with—crawling all over the room. I stood in the middle of this chaos tearing up, hugging myself in fetal standing position.
That night was challenging, and I am still trying to understand why it stressed me out. All I could think about was, "how the hell am I going to make it two weeks like this?" One of the strangest things is that I am inside a building, and yet there are creepy crawlies and no matter how many we kill they double in amount. This challenged me in a way that I was not expecting, but I wouldn't take back this challenge because I know it's going to change me in some way or another.
Aside from this traumatizing moment (okay, not totally traumatizing), Zambezi has been pretty amazing. Upon arrival, I have never felt so warm inside, or more welcomed. Before I even made it out of the bush plane, children ran up to me pulling me out of the plane. Instantly, I had 10 little hands grabbing my two little arms. Tears of contentment and joy began to well up at this overwhelming experience. I've never felt so full or right before.  In that moment, it was pure beauty. The love and excitement that was so contagious struck me like the ice cold shower I would take the next morning. I felt like I was coming home from a long vacation to the most loving and affectionate family of little kids. I wonder how I have lived my whole life without this outpouring of love from people I don't even know. People are people here, not functionaries in others' lives.
Every time I step outside there are little hands that grab mine. It feels as though I am famous when people stop and stare as I walk down the streets. I know that is not the case, but it's the strangest sensation. It's getting hard to give out all this love though. There are moments when I decide to stay inside the convent, just so that I can avoid the children. I love it, but sometimes I don't want a child to hang onto me because that's not real life. There will always be a kid who wants to play with me. It doesn't mean that that's what Zambezi is all about and what this experience has in store for me. I am striving to experience what REAL life is like here in Zambezi.
The older gentlemen all say "Welcome" as we "Chindeles" walk by. They say, "We want you to be at home here." One woman said, "Hello sister, how are you doing today?" These people care about other people, and I feel so welcomed here by the community of people I'm afraid I won't be able to know fully. Last night, cars would drive by, roll down their windows, and ask us how we were doing. Honestly, why is America not like this? Why do we put our heads down? Why are we not friendly and open to the concept of community? It's so simple and makes me feel a part of something bigger and greater than myself. It makes me feel important and like life is about the relationships not about our next appointment. This community has already stolen my heart and filled it full of life and love.
Yesterday was the big One Nine, having a birthday in Africa was probably the greatest birthday to this day. That's saying a lot because I have been on this planet now for 6,935 days. It was like I did nothing and yet everything today. I woke up and made breakfast, worked on my project, and ran down to the market to pick up supplies and recruit community members. Today was my first REAL taste of what Zambezi is—full of life. I wandered through the small tattered little alleyways looking for chitenge (African fabric) in the many small shops throughout the market. To top the night off I saw the horizon on fire, as the orange sun set right over the Zambezi river. Walking Mama Kawatu home, we saw the moon, which resembled what we know to be the harvest moon back home, and a night sky full of beautiful stars. I felt like I was in a movie it was so unreal.
This was the best way to spend my birthday because it was not about me, but rather about living life. Instead of having hopes of it being an extra special day, I just lived in the present moment of life and let it take me where it wanted. My Zamily ended up making my birthday incredibly special and I cannot thank my loving family here enough. Each person went around saying a few words about me. All I wanted to do was cry. I am so lucky to be surrounded by people who see life, and love courageously. I cannot remember another time when I felt this special. My international birthday was incredible due to my Zamily and the community and just feeling that there was something greater going on, but special time was taken to celebrate my life. I am blessed. So blessed.
I guess that's all she wrote. My eyes have been opened and my heart enlarged as I live day by day in this beautiful place under the sun.
God bless you all, and thank you for your support and love as we continue on this journey together. I love each and every post, most definitely the highlight of our mornings.
Paxton Richardson, Class of 2016