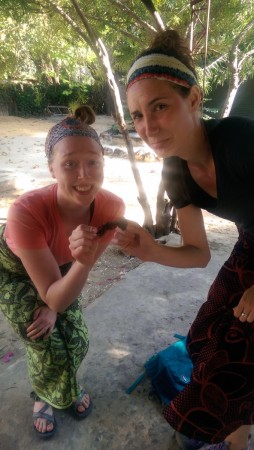 Last night the group had overnight home stays where we spent a night in groups of 2-4 with willing members of the Zambezi community. We (Hannah and Kylie) were lucky enough to be picked up by Daniel, an accountant of Zambezi, his wife Namakow, his three daughters ages 2 months to 6 years, and his two teenage cousins. Our fellow Zags, Matt and Chris, also joined us to stay with this very generous family. As the four of us followed Daniel home, we noticed that there was a gathering at one of the neighbor's houses. Without a word, Daniel led us into the party and sat us down front and center. As it turns out we ended up in the middle of a Zambezi bridal party from a wedding that had happened earlier that morning. Since the bride and groom were from different tribes, this gathering was a celebration as well as a meeting to reconcile any divisions between the newly formed family. We were warmly welcomed with dancing, singing, as well as a beef snack consisting mostly of burnt cartilage and bone. Hannah, being the trooper of the group, started gnawing on her tough snack while eyeing Kylie with high concern. Kylie casually leaned over and told Hannah, "the Zambian men are staring and pointing, choke that meat stick down!" The Zambians noticed Hannah's struggles and quickly brought her a new piece of meat, leaving her with two tasty treats. After we finished dancing, we followed Daniel out of the party and to his home. Little did the group know, Hannah found herself in quite a predicament with the hardened meat still in her hand on our way out of the gathering.  Not wanting to be rude, Hannah got the great idea to put the half eaten meat stick into her backpack…. Needless to say, there will be more to come on this brilliant decision later.
At Daniel's house we all sat in his living room watching Zambian TV and news, feeling awkward but warmly welcomed. Daniel's cousin Owen tried to teach us local Lunda and Luvale greetings, but our American brains struggled to remember them, along with our hosts' names (Mapollo, Salome, Namakou, Enni). We found tricks to remember their names more easily, including reminders to trigger them such as Apollo 13, Salami meat, mama cow, and "any"body… As embarrassing as these tricks were, we found they were our last hope in light of our extreme exhaustion and continually expanding vocabularies.
Due to Daniel's shyness, we were relieved when dinner was announced. The women, who had slaved over the meal, left the house to give Daniel and us space to eat at their table, again reflecting the generosity of the Zambian people. Hannah, once again the trooper of the group, lifted up the covering off the first dish, to find fish heads staring back at her. Not skipping a beat, Hannah looked up from the bowl of large decapitated fish and said, expressionless, "fish anyone?" After pouring warm water over our hands into a basin he held for us like royalty, Daniel taught us to eat Nshima (a maize staple in Zambia), Chinese cabbage, and the fish heads with our hands. Kylie cautiously asked Daniel with as much politeness as she could muster how to properly eat the fish like a true Zambian would. Daniel blankly replied, "We eat all of it". So the group toughened up and ate scales, occasional ribs, and whatever else was thrown our way. Our American ignorance once again came into play as Daniel passed us peach juice for dessert to serve ourselves. He told us to dilute the juice with water: understatement of the year. Our 1:1 dilutions left us drinking flavored fruit syrup that burned of sweetness on the way down. After we choked down the first gulp, Daniel's 6-year-old daughter Mapollo said quietly, while shaking her head, "you took too much juice". Yes Mapollo. Yes we did. Mapollo-1: Ignorant us-0.
After dinner we joined Daniel and his cousin Owen in the living room for a group bible study. We read passages and shared what was in our hearts about God. It was our favorite part of our time in Zambezi yet. For the first time, we truly felt a deep meaningful connection with these strong, loving, resilient people. We realized how universal God's love is and how not even 10,000 miles can change that. What a beautiful experience. With full hearts, stomachs, and bladders, we headed to bed.
The family of seven graciously offered up two of their three bedrooms for us. We reflected on how rare this kind of unrestricted generosity and selflessness really is. This description for the overnight stay would be incomplete without mentioning the return of the meat stick. As Hannah pulled out a blanket from her backpack, bugs scattered across the mattress. Kylie horrifically jumped back and exclaimed, "HANNAH, WHERE ARE THOSE COMING FROM?!!!" Without saying a word, Hannah reached into her bag and pulled out the meat stick, saying, "I sort of forgot that I put this meat thingy in my bag after the party". Kylie was less than pleased as she restrained herself from screaming, "HANNAH WHAT IS THAT THING AND WHY IS THAT CARCASS IN YOUR BACKPACK?!". Exchanging confused and exhausted looks, they both keeled over in laughter, nearly emptying their full bladders after the juice event. For at least an hour, Hannah and Kylie brainstormed how to get rid of the meat stick discretely. Considering that the family was eating dinner in the dining room outside of the bedroom, the options were slim and the ideas became quite creative.
After much deliberation, we came up with ideas ranging from disguising the meat as a little poop, hiding it in our chitenges as we casually walk towards the front door, throwing it out the barred windows, and even disguising it in a granola bar wrapper to get past the family, we were stumped. Trash bins were hard to come by and the family continually insisted on waiting on us hand and foot. They would surely ask what we needed the second we exited the room. The winning idea was simple yet flawless: put it back in the backpack, draw the drawstring tight, and place it in the far corner of the room (by far, we mean 3 feet away at most).
As we got ready to turn out the lights, Hannah realized the juice was not going to wait until morning; she would have to use the bathroom. As she approached the bathroom, she heard a stifled, defeated voice say "whhhaaaaatttt?????" and tinkering noises coming from the other side of the door. Recognizing Matt's voice, Hannah opened the door, revealing a much-relieved Matt who had spent the previous several minutes trying to get out of the bathroom door which lacked a functioning handle form within. Ignorance seemed to be the theme of the night, because Hannah happily hopped into the bathroom behind Matt, closing the door behind her. Rookie mistake. Luckily the family came to her rescue, once again reinforcing that our American brains couldn't quite wrap themselves around Zambia.
When Hannah returned form the bathroom, she found Kylie huddled in the fetal position in the corner of the bed, with a look of sheer horror on her face. Come to find out, the closing of the bathroom door behind her prompted two rabbit sized rats to scurry form their hiding place in the ceiling above the bedroom and crawl down the wall within a foot of Kylie's stone frozen body. The bugs from earlier now seemed like a pleasant alternative to our new furry friends. Yes, friends. They would soon come out to play fro the remainder of the longest and funniest night of our lives.
The damn meat stick once again became an imminent concern, now that it was attracting rather large rodents. After giggling and brainstorming for another hour, the decision was of course a simple one. Use the malaria mosquito net to literally wrap our bodies like two sausages in a confined breakfast burrito. Hannah and Kylie got close on a whole new level. Thankful to have Matt's headlamp, we were finally ready to turn out the lights. We snuggled into bed, but the comfort quickly disappeared, as we heard squeaking and scurrying form the above and below. Apparently Kylie was more traumatized than Hannah, because Hannah was snoring within 10 minutes. Hannah periodically awoke to check on Kylie who, yes, was STILL AWAKE.
At around midnight, we began to hear munching from below. The sounds of small teeth of slick REI fabric suggested that the rats had found the treat. The catch phrase of the night quickly became "it's fine…. it's fine" as we tried to reassure ourselves. Scared to even look at the damage that was being done, we waited until the despised roosters started to crow and the light began to seep in through the window. While straddling the couch and bed, Kylie finally gained the courage to check the backpack lying below. She threw sandals at it and used the strap to strategically check for any signs of rats. Needless to say, we owe REI one hell of a customer review; the backpack showed no signs of damage. Despite hearing claws sliding on slickery fabric, the infamous meat stick lay untouched inside.
We spent the remaining time until morning in our twin bed exploring the few contents of our backpacks to prepare ourselves for church with Daniel and his family: hand sanitizer, a hair tie (which snapped in half soon after), two pieces of gum, which made up for our terrible breath in lieu of a toothbrush, and travel Kleenex to blot up the grease coating our hair and bodies. Luckily, we recovered from a night of ignorance by finally coming up with a logical plan- we put the now terribly smelly stick back into the backpack and headed off to church.
Much Love and God Bless!
Kylie Edinger, class of 2014 & Hannah Van Dinter, class of 2016
xoxoxoxoxo