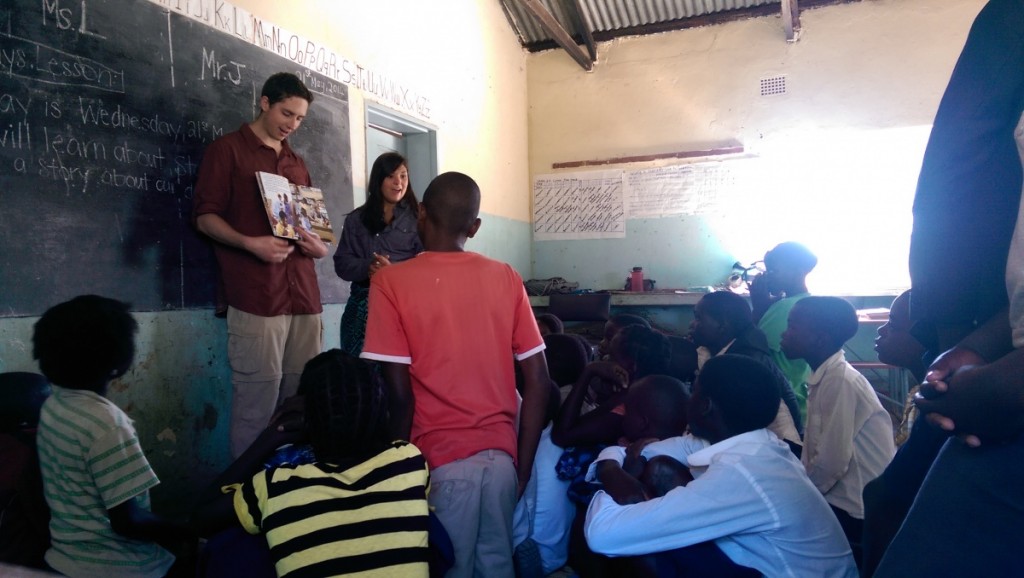 After almost four weeks in Zambia, I am feeling a range of emotions. This past week, it finally struck me: I am in Africa. I know it sounds ridiculous – I have been here for almost a full month! – and where else would we be followed by children screaming "Chindele! Chindele! How are you?"
In America, because of our fast-paced and always-on-the-go attitude, days, weeks, and eventually months and years, go by before we even realize it. All of a sudden, time has slipped through our fingers; retrospectively, you realize things that, if you had just taken a little extra time to stop and notice, or cancelled that last thing on your list to stay and enjoy who or what was in front of you, you might not be as struck when you catch yourself actually "being in the moment."
This same, sudden realization came to me when I was studying abroad this spring in Florence. It wasn't until the last couple of weeks that I fully embraced the feeling that this place of living, teaching, and experiencing was my home. Something had shifted inside me.
Being in Zambia is nothing like I have ever imagined before.  Becoming used to the American, fast-paced notion of seeing the goal and not letting anything get in your way, making your destination the only stop along the way, and not letting other distractions hinder your success or accomplishment of a task, is something that I have mastered. When I see a goal, I put my blinders on and keep my focus until the end, giving it everything I have to get there as efficiently and as best as I can. Being in Zambia it all changed; it was no longer about the set goals and not letting anything get in the way, but more like slowing down and seeing what is happening around you.
This concept sounds so simple, and yet it took me what seemed like almost a month to understand. I feel so lucky to have been a part of the Education group. I love my team and don't think I would have been able to get through this journey without them. Unlike me, they all had the ability to slow down and enjoy the moment, and to stop and see the happenings that are going on right in front of you. I am studying to be a teacher, so you would think I would go in knowing what to do in a situation like this, teaching literacy, but that was not the case.
Two nights ago I broke down at the moment of realization that maybe being a teacher is not what I am supposed to be. I am so head driven and so good at seeing the light at the end of the tunnel, that I miss the amazing little moments around me. In this case, working for two weeks and seeing a light at the end of this tunnel for the 6th graders, with various literacy levels, was something I felt like I would never be able to make clear. I remember coming home day after day wondering why I couldn't see improvement, what I was doing wrong, why I couldn't establish the relationships like everyone in the Ed group could. It took tears, and then some more to truly realize that this super speed life isn't for all, and not something for me.
The thoughts ran through my head of, "should I even be a teacher? Am I even making an impact on these kids?  I have asked this student what her favorite color is three times and all she said is "yes," why can't you get through to her?" I started noticing that while I recognized the faces behind the convent gates that yell Stefen or Steph, I really didn't know their names. Maybe if I were to take a few extra moments of trying to get to know those faces and feel like I was actually creating that bond, instead of moving on to the next thing. Bawling due to the realization that that's not how they work and maybe that's not how I should work either, hit me.
This moment of reflecting on myself and having that time to experience, the "now," was something that literally felt like it needed to slap me in the face in order to see and understand the hard way (the tears), before the understanding of the good intentional way.
As I left again another place with another piece of my heart, the space left gives me to grow and gain that understanding I have been longing for, for understanding my self, realizing that I can be a good teacher and that I will with the help of this experience, and what the Zambian people are so good at: giving what they have and doing it in love.
Today was the day that I never could see nor wanted to see. I had to pack all the chitenges, baskets, and new Zambian engraved values into my backpack for the journey home. The bittersweet moment set in as we headed to the airstrip with hundreds of smiling and waving children screaming "Chindele! I will miss you," and our new friends holding our hands as we approach the bush planes. I was excited to go, because I know that in less than a week I will be home with my families, but I'm sad because these kids start having their eyes filled up with tears, as they know their friend they have connected with in the past month is now leaving and probably will be the last time I see them again.
I look into their eyes one last time before I climb into the little 5 person plane and tell them to study hard and stay in school and to never forget to work hard and remember us. The little sad face looks a little bit at ease at the sudden memory that they know we care and that they will always be in our hearts.
As Donna Hatch says, "for every goodbye, God provides a hello."
I am so blessed and so amazed at the opportunity I have had in Zambezi. Without having this reflection and sudden realization of "being in Africa," I wouldn't be able to say that I am learning more about myself. Throughout the long workdays at Chilenga Primary, growing as an individual, seeing the amazing sunsets, trying on every chitenge possible, and learning in ways that challenge me left and right, has been something I wish I could go on and on about. I never thought I would be able to say that "I served myself," and not just others, and learning the importance of it, would be something I would say.
Mom, Dad, Up Chuck (Charlie), Big T (Tommy), Jeter Babes (pup), Oma, and all my family members, I am thinking of you all and pray every night for you. Can't wait to share more of my stories, memories, and experiences with you.  Thanks for giving me this wonderful opportunity! Love you all, so glad to share my experience with you. Don't worry I am taking lots of pics!
Kisu Mwane & Love you lots!
xoxoxo
Stephanie Leonard, Class of 2016