This is it! Today was the day we all were waiting for. Today, we arrived in Zambezi. After an exhilarating exploration of a few exotic places of the world and 24 hours of plane travel, we were all anxious to arrive in Zambezi. We had prepared for the past six months to come to this place, and it was time to see what it was all about and begin our incredible growth process.
I waited until the afternoon to make the three-hour flight to Zambezi. After what seemed like an eternity, the final eight of us hopped on a couple of teeny-tiny planes at around one o'clock. The others had been there getting sunburnt and running to the market for four hours already. I, of course, slept through the entire plane ride, thus missing much of the beautiful African scenery below. I woke up to Nick reaching back to poke me and point to the view below: it was Zambezi. I was so surprised at what I saw, not only because I was slightly disoriented from waking up, but because it was nothing like I'd imagined! Landing in Lusaka, I wasn't surprised at all – I saw the typical tall African grass with majestic trees dotting the landscape. But here, the sparse village I had pictured was more like a very small town located along the great Zambezi River. Some homes are spread far and wide, but there was a central location for most of this large area.
As we approached the runway, my heart began beating faster and I saw children running to fences and adults pausing their work to stare at this rare occurrence. I felt this weird knot in my throat as we pulled up to the unloading area with anxious children's faces and my fellow Zags waving at us. I was so happy and excited that I was beginning to cry; hence, the weird knot in my throat. I don't cry when I'm happy. Ever. Today I did because 150 smiling faces were eagerly waiting to allow us into their community to grow and learn together, and this was the moment I had been waiting for, only 100 times better than I could have ever imagined. The warmth, joy, and kindness of people are unbelievable if you take the time to notice it.
Before the pilot had even gotten out of his seat, kids were pressing their faces up to the windows and vigorously waving at us. It was so surreal as this was much better than the welcoming scene I'd imagined. I couldn't wait to get out and greet these children, but I pulled myself together before the pilot opened my door and I hopped out of my seat in the back. My friends had already joined the large group of people waiting to meet us and there were only a few children remaining. One, named Junior, clung to me. My newfound friend was talkative, asking me all kinds of questions and introducing me to his friends over the sound of some amazing, traditional singing and dancing that awaited our arrival.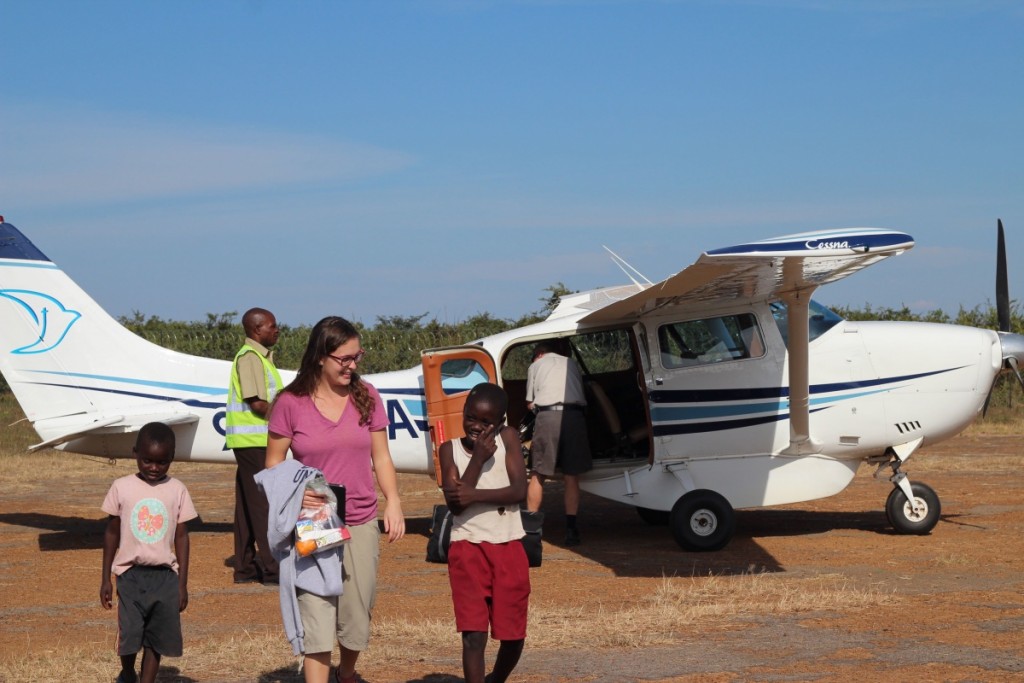 I thought I was making a real connection with this kind eleven-year-old boy after only a few minutes, but then he asked what kind of remembrance I was going to give him. We had been prepared for this type of question, but it still stung a little and left me puzzled. I replied that I was unsure, which he was fine with, but then demanded that I not touch any other kids. This was nearly impossible because random kids would come up to you without saying anything and grab on to any open space on your arm. The Zags and their posse of new friends made the short walk to the convent Junior still clinging to me and expressing fascination at the differences in our hands.
After a short stop at the convent to drop our bags, we ventured off to watch the beautiful sunset by the river. As we left our gate, the kids swarmed us again! Junior sought me out right away. We had a great conversation and he was really patient when trying to teach me some Luvale. He tenderly wiped my hand off after realizing that there was dirt on it and asked me to take a picture of us when we arrived. "You can print this out and have Joshua bring it back for me next year as a remembrance," he said. It was really reassuring after his earlier comment, but I still find myself confused. Nonetheless, before our evening was through, Junior told me that tomorrow he is going to get a new chicken and name it "Lauren," at 15 hours tomorrow, I'm going to teach him to read, and that I have to meet him for sunset again tomorrow. We will be doing our homestays tomorrow, so that will be highly unlikely, but it was still a very sweet gesture. Once again, he reminded me of the picture, hugged me, and we departed.
A special shout out to Cecilia Vollert, who had a young boy (whose name I can't remember) ask about her and to my dear friend Lauren Bledsoe, who had a young fan named Elizabeth. She informed me that she had a friend from 2013 named Lauren and her eyes lit up when she realized I knew you. I hope to make an impact like that on someone, as I know multiple people already have on me. Also, shout out to Ryan Olson and Alyssa Severson, since they asked me to, and my friends and family back home (Mom, Dad, Wayne, Jack, etc.). I miss and love you all and thank you for your support on this incredible journey.
So tonight, I head to bed with an overwhelming happiness, a concern about whether or not a real relationship will be formed with any of these wonderful Zambians, and extremely dirty feet from sand and red dirt.
Lauren Benedict (2015)