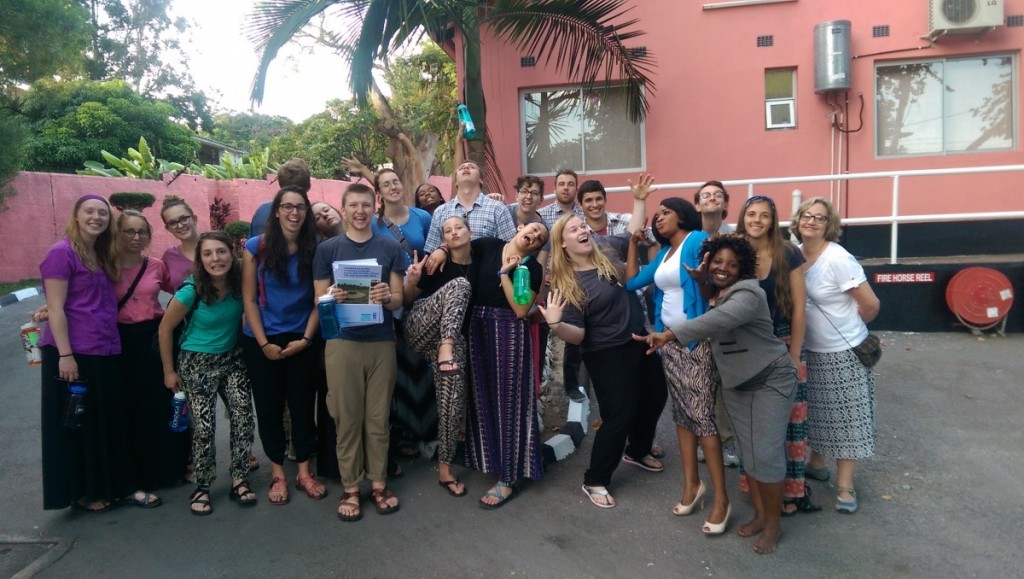 Hello Zags in Zambia followers,
While we will begin the reflections in earnest when we arrive in Zambezi tomorrow, we wanted you to know about our time in Lusaka. We began our day at the University of Zambia, meeting with a number of university dignitaries including the Dean of the School of Education and his faculty. In proper Zambian fashion, the gathering was both formal and relational. It provided us with a history of higher education in Zambia and the strategic plan for the future of the University of Zambia. We were grateful for the time spent together. We also toured a residence hall and spoke with a few university students.
After a schawarma lunch with camp missionary Kelly Huckaby at a new Zambian mall, our Zags went to hear about the long and fascinating history of the Jesuits in Zambia. Fr. McGloin joined the Jesuits while a student at Gonzaga. He's been working in Zambia since 1969. He was able to share the long view of the order's history, while also providing a more in-depth and personal recounting of the last 45 years of the 51 years since Zambia became an independent nation.
We also had a wonderful visit with staff at the Jesuit Center for Theological Reflection. As you might guess from the photo, our hosts Mwiinga and Tendei were lively and fun. They brought humor and joy to their work on behalf of the millions of Zambians living in poverty.
Josh was able to confirm that the books for the library at Chilena Basic School are on the way to Zambezi and should be there by Monday. This will be cause for an immense celebration, and we are overjoyed to be present for the culmination of many years' partnership through Zambia Gold.
So, we are on our way at dawn. We've tried to assure that our internet connection will be reliable. But this is Zambia, so be patient. We will be eager to share our first experiences in Zambezi as soon as we can.
Josh Armstrong, Jennifer Akins, and Jeff Dodd