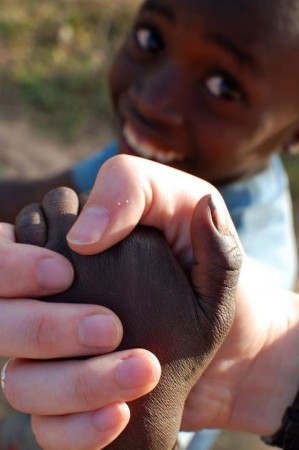 When I first landed in Zambezi, my hands disappeared into a sea of ebony. They were poked, rubbed, squeezed, and shaken. My hands touched Zambia before my feet could even reach the ground. Small, soft, dirty hands gently grasped my sweaty, nervous hands. Additional hands reached in, trying to claim at least a finger of their own. Warmth ran up my arms, down my spine, and filled my heart. As I walked toward the crowd of our wonderful greeting crew, various hands welcomed me to my new home for the next few weeks. This first experience has made me realize the importance of human contact and connection.
Our distal ends bear the brunt of our interactions with the world. They are the first physical contact with humans, objects, and the world around us. They provide a sensory experience that influences our thoughts, feelings, and actions. During my short time in Zambezi thus far, I have come to understand how intertwined humans really are.
Last night, members of Our Lady of Fatima Catholic Church graciously opened up their homes to our group. Peter, Nick, and I traveled to Mushuna outside of Zambezi. Us "chindeles" (outsiders) were welcomed and celebrated by the entire community through handshakes, claps, dancing and many hugs. Violet and Steven, our hosts, along with their five children and about forty neighboring children showed us one of our first true cultural experiences. This village, with no electricity or running water, bases their community on using their resources and working together. They grow most of their food, build their houses out of mud bricks, and most families share one room for sleeping. During our night's stay, we learned about food, etiquette and traditions of Zambians. Vast differences in culture and lifestyle unfolded; however, many similarities stood out to me. The parents were extremely hard working and wanted the best for their children. Additionally, I bonded with the twenty-year old daughter over music, dancing, and goals for the future. Peter, Nick, and I departed this morning with hugs around our legs and waist from the many happy children and hand shakes from Violet, Steven, and other adults of the community.
In general, I am not a touchy person. I value my personal space and find I share love in other ways. However, since my arrival in Zambezi, I have grown to not only normalize human contact, but to actually enjoy it. Human contact has shattered the walls between strangers and friends. Each person I have met has treated me as a friend and welcomed me with open arms. Additionally, human contact has broken language and cultural barriers. It has enhanced broken conversations with those who speak little to no English and has helped me make my point when I pronounce my Lunda or Luvale greetings wrong.
To me, hands have come to symbolize togetherness: shaking the hands of elderly Zambians, clapping in unison to the beautiful singing of the church choir, walking hand-in-hand with children, and receiving countless waves as I walk by. Hands have broken barriers and have reminded me that no matter our cultural differences, we are very similar in our interconnectedness as human beings.
Kisu mwane,
Kenzie Fuller, Class of '16
P.S. Hello to all of my family and friends back at home! I am missing and thinking of you! I can't wait to share my experiences with you all.