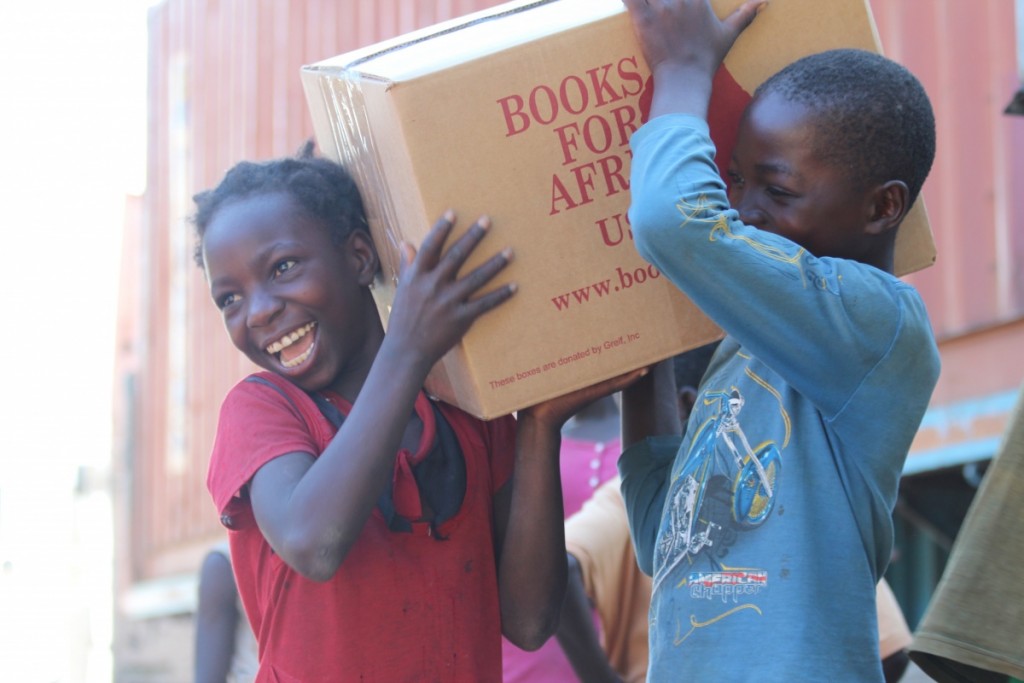 Emotions travel in waves through my body as I observe the scene unfolding before my eyes. I stand quietly alongside Mama Kawatu under the shade of a large tree as I take in every aspect of the experience from the perimeter. I crave to join the crowd of people who wait in anticipation, but I stay off to the side, so that I can observe this beautiful moment with all of the detail and activity it presents.
The large semi-truck slowly backs up, and women shoo eager children away from the truck's path. Groups of women sit in clusters, also watching the scene from a distance. Silence overcomes the area, as we all carefully listen to the sounds of the heavy metal doors opening to expose the seemingly endless boxes of books from the truck's container.
All sizes and colors of hands clap in celebration or reach up to touch the first boxes of books that are unloaded. Swarms of children and youth fight for the chance to support just one corner of a box. It seems as if the eager people below are still unaware of the sheer number of books that will soon fill the Chilena library's shelves. Twenty thousand books will be accessible to a population that is always seeking new knowledge and further understanding.
In the most disorganized and least efficient way possible, all 20 pallets of books find their way into the library building. The chaos of unloading books pushes me into a state of sensory overload, with sweaty bodies pushing past others in a rush to drop off one box so that they could transport another and an occasional team of eight young children who resemble a team of ants attempting to carry a fallen potato chip five times their size. Although I crave efficiency in this process, I recognize that the chaos is evidence of each person's desire to have a hand in the culminating event. In fact, this overwhelming number of hands DID play an important role in the realization of a dream- a dream so profound that many may have thought it to be an impossible one.
Gonzaga's partnership with the Chilena Basic School began in 2008, when Gonzaga students dreamt of creating a sustainable partnership in which organic forest honey from Zambia could be directly purchased from local beekeepers to be sold nationwide. The bursts of flavor coming from each honeycomb would surely provide incentive for thousands of people around the world to financially support the beautiful partnership that was budding. Zambia Gold, a student organization in partnership with the Zambezi community, was born. Although these founding students envisioned a golden future for the partnership, I doubt that they could have imagined this monumental moment. Years ago, Zambia Gold interns like myself sat down with leaders in Zambezi and asked them to identify needs in their community. For a community seeking improved education and literacy, access to literature was an important need.
Hundreds of pounds of honey, countless hours of students sharing their Zambezi experiences with people at home, years of construction to form the library, endless prayers by teachers and parents for their children to become educated, and months of books journeying to Zambia on a ship have led up to this moment. Finally, the many hands and hearts that have invested in this project can celebrate a culmination. Together, we have done this.
As I write this post from a shady spot on the front porch of the convent, I am overcome with gratitude for the immense blessings that Zambezi has showered me with both last year and this year. I tell my Zambian brothers and sisters that they are teaching me more than I can possibly teach through health lessons. Although I attempt to tell them, I am certain that they have no idea the ways that this community has enriched my life. The partnership that binds the Zambia Gold team to the Chilena community and binds the hearts of Gonzaga students to the people of Zambezi is the kind of connection that I dream of cultivating as I walk down the many paths that life leads me down.
As the Chilena community thanks us 100 times over for playing a part in the realization of this dream, I can only attempt to convey in words my thanks for the ways this community has changed my heart and mind. The practice of accompaniment has shaped what I know to be true about the world, and even who I know God to be.
I am thankful to know that walking alongside another, with the hope of further understanding the human experience and uncovering meaning in our lives, is the most gratifying and life-giving thing. I cannot express my gratitude to be walking alongside another ZamFam this year. It has been an absolute joy to watch 19 faces experience Zambia's blessings for the first time, and I am already impressed by each person's willingness to dive deep into authentic relationship with their new Zambian friends.
Friends, the future is looking very bright (or shall I say golden?). I do not yet know what vision the Zambia Gold partnership will work towards next or what other profound insights this ZamFam will gain through their experiences, but I do know one thing: together, we can. And together, we will.
Hannah Van Dinter, Class of 2016