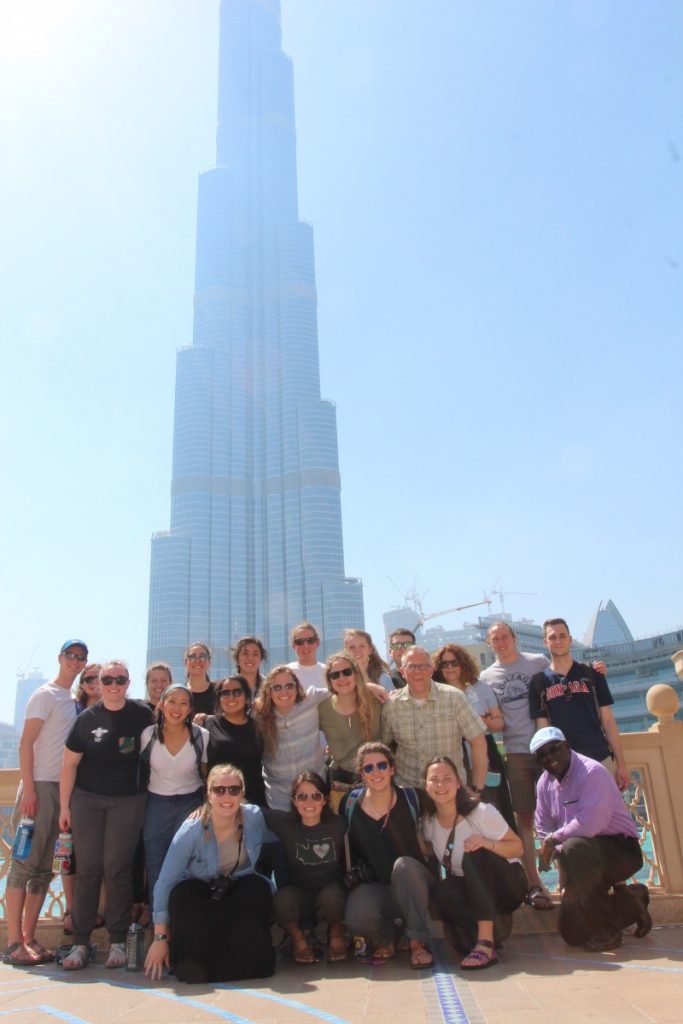 Some kind of chicken dish, a snack of apples, pears and chocolate bars, cheese pizza, and an omelet later, Gonzaga-in-Zambezi students and faculty arrived in Dubai in the United Arab Emirates. On this first leg of our journey—a 14.5-hour flight—we ate, chatted, watched on our individual screens the Academy Award-winning hearbreaker "Lion" (except for Jimmy, who apparently didn't get the message), and tried to sleep—some of us with more luck than others.
Upon arrival, we made our way smoothly through customs and to the hotel, where we ate—yes, again—and dropped off our luggage prior to boarding a bus with "Sammy," our cheerful, storytelling guide, for a five-hour tour of this fascinating Middle Eastern city.
Sammy told us that Dubai is only 20 years old. Evidence of the city's newness could be seen in the countless enormous cranes standing beside the partially built high rises. The massive, citywide construction was at a standstill during the heat of the day. Most of the work, Sammy said, happened at night.
As we rode around in the mercifully air-conditioned tour bus, Sammy pointed out landmarks—the only seven-star hotel in the world, the biggest shopping mall in the world with 1,200 shops, 800 restaurants, and the largest aquarium (for a mall—a somewhat dubious distinction), the second tallest building in the world with plans to build the tallest. Some of the new construction is fashioned after famous places in other big cities. Dubai has a twin replica of the Chrysler Building. A leaning tower of Pisa. A half-built London Eye.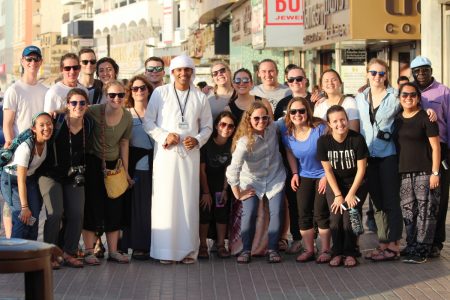 As Sammy spoke, most of us couldn't help but wonder about the soul of a city born of quick money from oil slated to disappear in 20 years' time. Our country's future, Sammy said, is not in oil but in tourism. While many of us puzzled about the building boom that seemed to be, literally and figuratively, propped up on a sandy, instable future, we were simultaneously charmed by Sammy. His stories about his faith and marriage, the UAE royal family, and the history of the region helped humanize a place most of us little understand and, too often, tend to fear or, at the least, avoid.
We reflected that night on our day well spent. We were exhausted and excited. Tomorrow we fly to Lusaka—one day away from our temporary home in Zambezi.
Kris Morehouse, Communication faculty