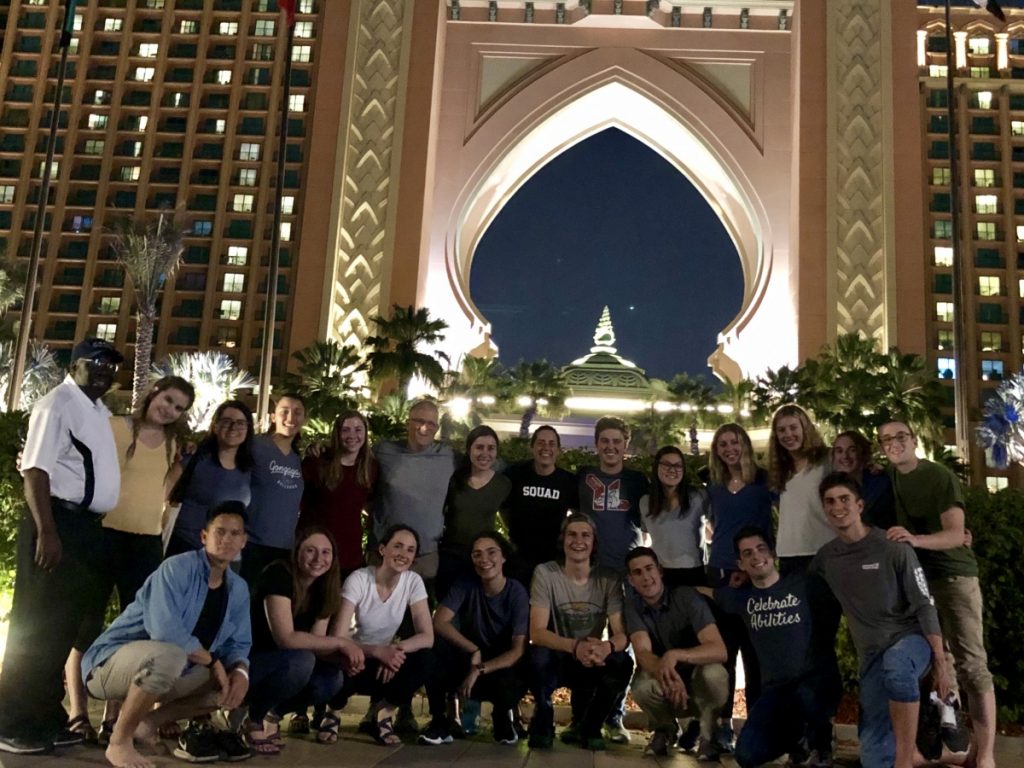 Family! Friends! Followers of the blog! You can breathe easy, as after copious amounts of inflight movies and a few awkward hours of plane sleeping, we've flown over the top of the globe and made it to the land of sand and extravagance, Dubai. Our Zags are a bit underslept and a bit overstimulated, but get used to it sugar cuz its all part of the experience. Last night we arrived weary and stiff from sitting in close quarters on our 13 hour flight, and immediately hopped to sit in close quarters for 2 more hours on a Dubai tour bus. After the quick tour seeing sights that we've only read about in Guinness Book of World records, our Zambezi Zags have a few words to describe their impressions of Dubai.
Rachel Haas: the try-hard child trying to stand out/compensate for something/earn approval
Preston: Extravagance
Leila: Middle east meets Bellagio
Bryce: Opulence
Rachel Walls: Colorful
Spencer: A Spectacle
Maurie: Big is best
Janeen: Imaginative
Sammi: unreal
Reagan: Awe inspiring
Annika: Extra…
Megan: Whoah…
Ellie: Lit up
Fr. Baraza: A place to go
Alea: Modern
Isaac: Bright
Emma: Larger than life
Daniel: an oasis of glass and steel
Chloe: the most successful 47 y/o I've ever met
Caitlyn: A whirlwind of differences
Josh: Inauthentic or plastic
The trip starts here in awe inspiring, over-the-top, larger than life, opulent, big-is-best, unreal, Dubai. In many ways it is possibly the farthest thing from Zambezi. It offers us a view of a world that values extravagance, wealth, and above all being the biggest and best. We'll soon find ourselves in a place very much the opposite. It feels bizarre and unreal here, as if we're in a Mission Impossible movie. Josh commented that it feels as if you could lean on the wrong pole and the whole place could come crashing down as if it is merely a well painted Hollywood background. I can't help but agree, because after all the glory and glitter of Dubai was built in under 35 years, and the country of UAE is only 47 years old. Most of our parents are older than the famed Dubai (and as Chloe said likely less successful than Dubai. Do any of our parents have the tallest building in the world or an indoor ski hill?). Daniel described it as an oasis of glass and steel, and perhaps it is just an oasis; an illusion to be questioned. It feels fake though. Soon we'll find ourself in Zambia a place that feels quite the opposite. Real. Almost too real. We're quite literally boarding the plane for Lusaka right now so I'm off! Thank you all for reading and supporting us from afar. Your love and support crosses continents and oceans.
Kisu Mwane,
Ethan Kane
Gonzaga Alumni '19