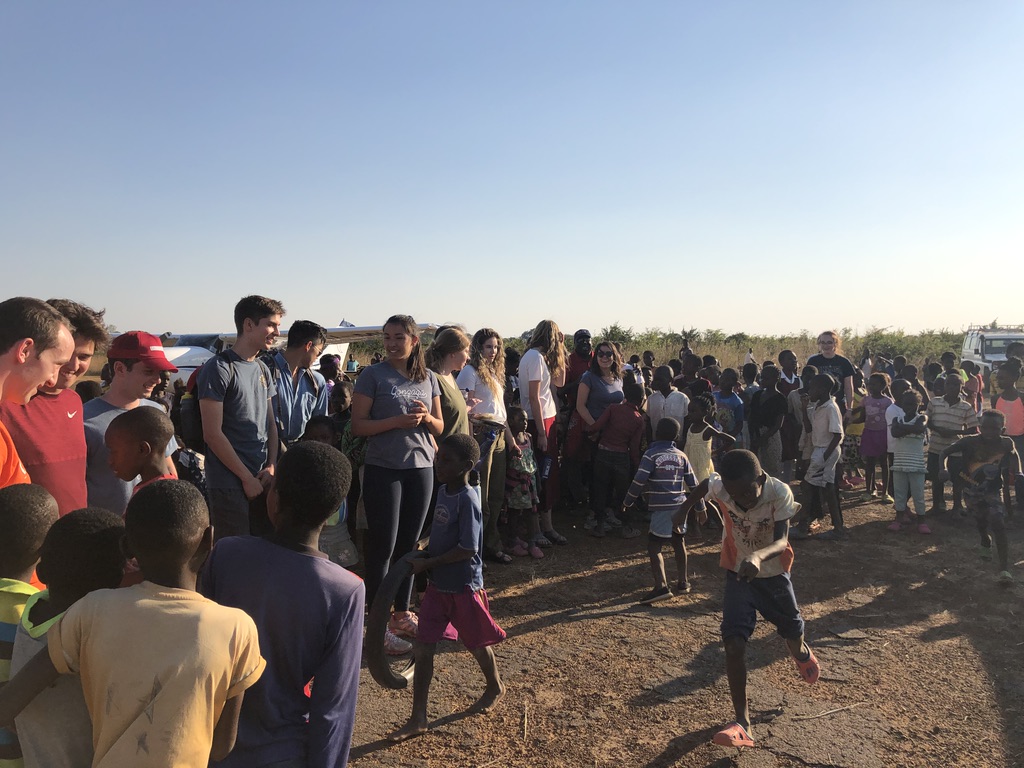 Howdy fellow Zag Family and Friends!
Regan Corley coming to you from our final destination of the trip: Zambezi! We have finally made it to the province we have been much anticipating and dreaming of since first applying for this amazing opportunity.
Today's journey was taxing for everyone but with much reward waiting upon our arrival on the gravel runway here in Zambezi. Other than Josh, Father Baraza and Ethan, I do not think that any Zag could have truly pictured the experience we were about to step into when coming off the 6-seater bush plane. Everyone that stepped off the plane was immediately greeted with a charged buzz of excitement and hundreds of tiny hands grasping for theirs. The pure joy was contagious and not a single face didn't have a wide grin plastered to it. Song filled the air and rhythm was in everyone's feet as we took in the scene we had been counting down to for months. It was completely and utterly exhilarating and many had tears streaming down their faces.
Today marked a week and one day since we embarked on our journey to Zambezi and there has been quite the roller coaster of emotions to get here. As a group we have faced trying times of fatigue, illness and searching for understanding of our role here in this country. How we have handled these situations are telling of who we are as people and what each individual hold in their hearts. One theme that has continued to stand out to me as a continuous pattern with not only the people in our group, but also the people I have encountered along the way is kindness.
Kindness is something I have been taught from a very young age and is something that I have valued greatly in my life since it unfortunately is not a trait that all people share. Growing up, like every kid, I faced challenges of bullies and unkind words every day. At the time, I would come home defeated and confused as to why someone could be so hurtful. Every time without fail my Mom would remind me to think about it from their point of view. Maybe that kid woke up and wasn't able to eat breakfast because they couldn't afford to. Maybe they had parents that didn't care enough to ask them how their day at school was. Maybe they were tired from staying up to watch their siblings until an adult came home. At the time I would grudgingly say, "Yeah, yeah, you are right Mama." I didn't fully grasp that she had been instilling within me a deep empathy for other people and to treat other people the way you wanted to be treated. Empathy should not be mistaken for pity as they are two separate things and that is very important for every person to remember on this journey we call life.
At home in California and Washington, there are a lot of kind people don't get me wrong, but the kindness that has been shown in and to our group has been remarkable. The people on this trip and here in Zambia seem to ooze kindness from almost every pore of their body. This began with simple things like a Zag holding a bag for someone else in the group or sincere complements on outfits or achievements such as someone not throwing up for 24 hours. These small things began to work themselves into bigger ones such as providing an intentional listening ear to someone in need or being understanding that everyone may be having different emotional responses to the journey we have been on thus far.
While every small act of kindness is important there have been some individuals that have stood out to me in particular who seem to carry this trait with them where ever they may go.
The first individual who has come to mind is Father Dominic. While coming to a country so far from home can be scary and intimidating, Father Dominic made Zambia feel almost just like it from the moment we stepped foot out of the airport in Lusaka. We were immediately greeted by him with the biggest, most genuine smile I had ever seen upon a stranger's face as well as the warmest hug imaginable. He continued to show his kind heart throughout our week together through his actions and wise words. While we only had a week to spend with him, the mark he made on the rest of the group and I will be carried with us forever. Father Dominic, if you are reading this I wanted to personally thank you from all of us for starting our journey here in Zambia on such a wonderful note. I do not think you can fully comprehend the impact you have had on all of us in such a short amount of time and people who can have this effect on people are special souls that should be cherished by everyone around them.
The second individual who came to mind when thinking about who exemplifies the trait of kindness is Janeen. The kindness I have experienced from her is one that is very rare to come by. She is also one I have not had the pleasure of knowing for very long, but she has already had such a profound impact on who I am as a person. I have watched Janeen find the brightness and positivity of every moment. When the Emirates Plague was sweeping through our group she was there to offer any support she could to make the experience even a little bit better. When we were sitting on a broken bus with no air conditioning she offered notes of positivity and reminded us of the memories we were making and to soak in every second. When any person has needed a listening ear to talk about the deeper questions of life she has been there to offer them support and feedback. While these are all phenomenal things, what truly makes Janeen special is her fierce compassion and love that she has to offer to every one she encounters.
Lastly, Father Baraza has exemplified kindness on a new level. With every story he tells and relationship he builds he inspires others to treat people with respect and kindness the way he so does. In this way, he has reminded me greatly of both my Grandfathers, as they also provide me with such wisdom that I will carry on with me forever.
While I could go on about how Baraza is so wonderful that he receives emails from former students explaining how wonderful he is, has songs sung in his honor, and has babies named after him, I am going to discuss something he has said that has had a profound impact on me personally. "Good thoughts. Good words. Good deeds." These three simple phrases hold an abundance of power. If every person can work to better their thoughts, think about their words and how they can affect people, as well as preform acts of selflessness and kindness than the world will ultimately become a better place than it is now. While all three of these are the dream, we are human after all. If we can focus on even just two of these, then the world will be better off than it is now.
While these people are all fantastic human beings, I am most looking forward to experiencing the kindness that the people of Zambezi have to offer. These individuals I have had the opportunity to connect with on a deeper level and I am excited to continue to build connections with not only my fellow Zags but also the people of the Zambezi community through things such as our home stay tomorrow night, working in the local school and working to be intentional with relationships I want to pursue.
After reading this post, I hope that you all can have the opportunity to reflect on how what you say and do does matter and will affect people. Kindness matters. I challenge you all to be present and intentional with your kindness. You may not see the immediate effect of your actions, but I can promise that you are having an impact on at least one person's day and life.
Much Love,
Regan Corley
To my friends and family: know that I think of each and every one of you every day and you are walking alongside me on my journey in Zambia. I love you all dearly and can't wait to share many stories with you when I get home.
XOXO,
Regz