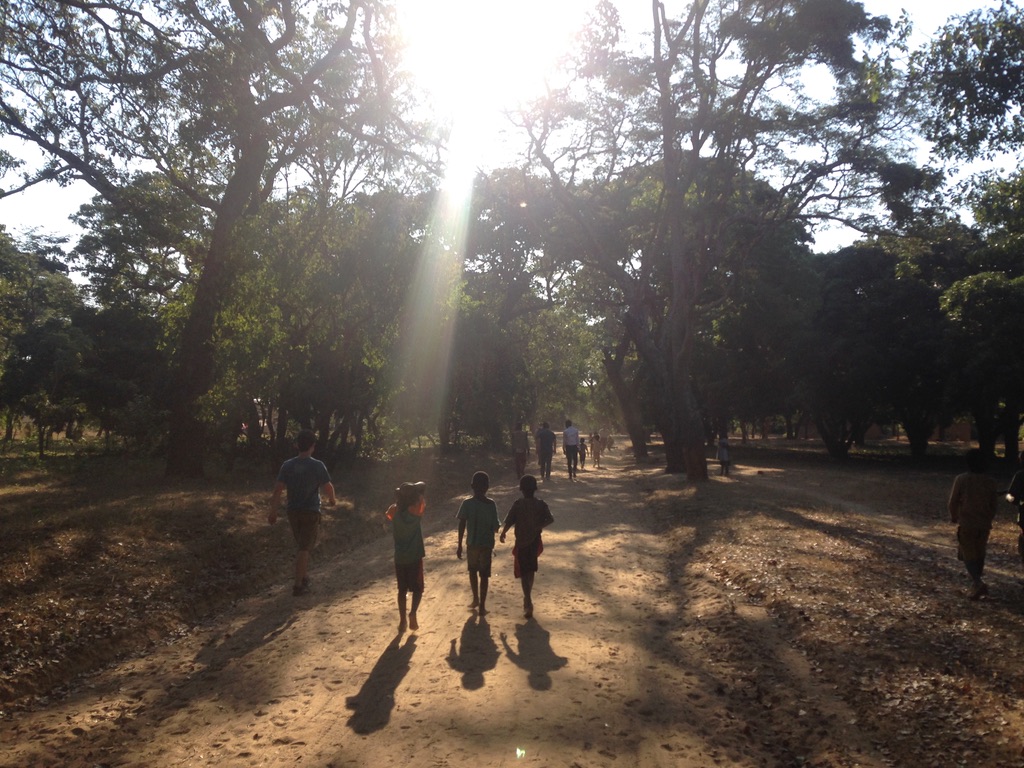 I write you today in what may be my last writing ever as a Gonzaga Student. In a fitting end to my collegiate writing career, I now write this in the wee hours of the night after a beer (in celebration of Annika's birthday). Sooooo, lets get this blog. I first want to say congrats! You've officially made it around the horn! Every one of our Zags have posted a blog now, and how amazing have they been eh? Wherever you are, give your zag of choice a round of applause, no matter how socially awkward it may be to clap in the current moment, because they deserve it!
I graduated nearly three weeks ago now (wild…). Countless times I was encouraged to "go forth and set the world on fire". I even posted a snarky Instagram joke about that quote from the SeaTac airport before I left on this trip (check it out @ethandkane). I'm afraid that too often "setting the world on fire" is pictured in shiny grandeur. Visualized as someone changing the world in a glorious and profound way in a celebrated way. At least that's the way most graduation speeches make you feel. It's a good intention to inspire us to do huge great things. But the world is full of good intention and apparently so is the road to hell. Good intentions that are not informed, or based in connection, or community based are what has led to billions of dollars of western aid leaving developing countries like Zambia often no better, or even worse off than before aid. These kinds of good intentions can perpetuate stereotypes and single stories that can disempower people through some missionary travel. They are a kind of good intentions that ignore the global west's role in perpetuating global wealth gaps. We want to go forth and set the world on fire so badly that we can end up burning it down.
For guidance, lets call upon our very own Gonzaga (the human, not the school). Old Aloysius, decided to set the world on fire by caring for plague victims until he literally died of the plague. Not a very shiny or glorious way to set the world on fire, but now the man is a saint. St. Aloysius Gonzaga exemplified a type of relationship that stands beside people in the face of what seemed like futility. His endeavor should have been considered futile. He was bound to die, and he would never cure the plague. Yet, he compiled a collection of small acts of great love that made his entire life one act of love on behalf of the sick. Even after an evil like the plague claimed his life, his legacy of love came out victorious for the rest of recorded history. Recently we've encountered our own example of this saintly love. Lilias Falconer, the founder of the orphanage we visited on Saturday lived a similar life. She spent more than half of her life in rural Zambia caring for neglected lepers, walking miles daily to preach the gospel, and founding an orphanage that stands today with an aura of love and over 70 children. She lived the life of a saint without the recognition. Her small acts of love outlive her to this day in the powerful community that exists at Falconer. Especially through the current director Simon, the human incarnation of Santa Claus, and a member of her first group of orphans. On the wall at the Falconer orphanage is hung a quote that reads, "The smallest act of love is greater than the largest good intention". What is more powerful than that? In the face of futility such as the plague, leprocy, and huge numbers of orphaned children, their only weapons were small acts of great love, and they won. They freakin' won.
I believe every last one of our Zags has encountered a frustration on this trip, a tension, a challenge, or a call to justice. The trip is designed to produce such moments. Through our conversations with Zambians we've come across a variety of issues such as unequal treatment of women, global economic disadvantage, extremely young pregnancy, tribalism, educational inequalities, unequal treatment of people with disabilities, HIV/AIDS prevalence, lack of access to healthcare, poorly resourced orphanages, and much more. We've engaged with these issues on a deeply personal level through friendships we've formed with Zambians. They are issues that can paralyze us with their magnitude. Paralyze us with futility. For any number of reasons, from the short length of our trip, to our lack of deep cultural knowledge, to our lack of training, we must recognize that right now we can frankly do nothing about these things except offer our modest acts of love and kinship. I feel okay about that, because there are people here who are much greater, stronger, more capable leaders than I can ever aspire to be, and much better equipped to enact the change needed. Leaders like the famed Debby and Eucharia who quite literally give all they have to support their programs for developing Zambezi youth. Leaders like Mama Josephine who have stood as pillars of community strength for decades. Leaders like Mama Love who have passion coursing through every vein, and words strong enough to stop literal presidents in their tracks. With people so empowering and strong around what could I possibly offer to Zambezi except my companionship? What can I offer Zambezi except for a small act of great love?
I was walking around Zambezi with a teenager the other day. His name is Mumbi, but he goes by Junior or Ga-Flow (his rapper name). He's a lanky and humble 17 year old with curiosity and gratitude beaming out of every pore. I met him 2 years ago on my first trip to Zambezi, and he's been a staple in the Zambezi-Zag experience for the past 7 years now. Zags throughout the ages know his shy smile. As we trudged through the deep sand of Zambezi, he relayed to Sammi, Spencer, and I the massive societal, cultural, and economic barriers in the way of his goal of becoming a nurse. I continued to encourage him and affirm him that his intelligence and resilience could get him there. But even as I said it I began to feel the weight of futility of my own words. I don't know if it can get him there. As that feeling began to build, Junior continued on. He said "I've known you Gonzaga guys for years now. For years you people, have told me 'Junior, you are smart, and kind, and capable, and all that.' Before then, I knew I was a nobody. But now I'm convinced that I'm somebody". Junior is finishing grade 11, taking our Business and Leadership team's class, and it is my pride to call him a friend. We can't change Junior's educational future, but year after year after year after year, we can damn well try to affirm him his worth.
We come to Zambezi for 3 weeks. It's not enough time to do much. But we can face futility, plant small acts of love, and support the amazing capable leaders who live here. After years and years and years of small loving acts, maybe we can build lasting marks that can outlive our short stay here. As we look to our return home in 1 week, I hope we can collect sparks that we find here in Zambezi, and fan them into flames once we arrive back in the states. I hope we see the faces of our Zambian friends reflected in others in the US and feel inspired to accompany them as deeply we try to do here. I hope we remember that many of the issues we see in Zambezi exist in our very hometowns. I hope we use our sparks here to set our home communities on fire in the quiet ways that they need most. I hope we go forth and set our worlds on fire.
Big ol' mwane,
E. Kane
PS. Dad! You know how I definitely teased you for making me pack all that random ass medical supplies? Well I've used nearly all of it, so thank god for fatherly wisdom. Sending my love to all.