Hello loyal blog readers and followers!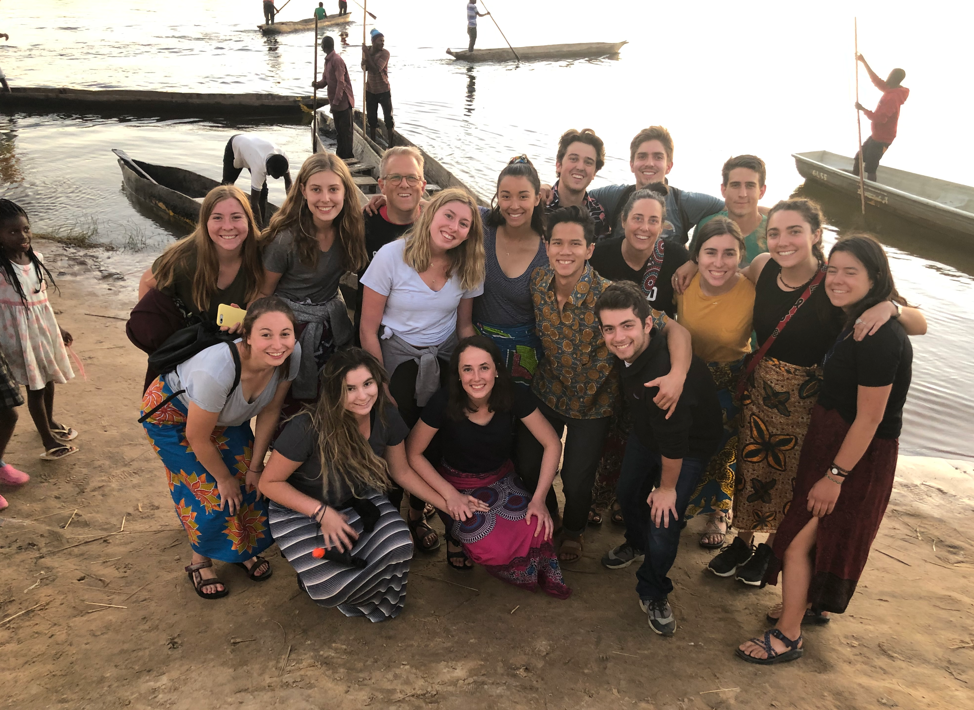 Since it's been a while here's a few updates for those following along at home:
Although the flies and spiders are still a problem, we have ventured into the world of cockroaches. So, we are currently exploring various methods of removal.
The peanut butter is a staple of our diet here and no matter what we have for breakfast it is always brought out, but we have just run out so there may be some tense moments at breakfast tomorrow.
Leila is in the lead for the best Chaco tan, but there is stiff competition for second place.
We watched Black Panther with the "saucy" youth group at the Priest's house. It was quite an experience, with lots of clapping, cheering, and whistling during the movie.
Sunday mass this morning clocked in at about 3 hours. There were 3 collections, lots of singing, and some impressive dancing
I find myself looking down quite often here in Zambezi. Many of the roads here are dirt or sand and I look down to help navigate the deep sand, rocks, thorns, pieces of trash, or feet of the little kids that are (always) around. As a result of looking down when I'm walking I have found that I have a horrible sense of direction in Zambezi. I get so lost and I can never understand where I am or how I got there. Looking up, I can see the surroundings, so I can navigate easier, and I can share smiles and musana mwane's with the people passing. But, then I run the risk of tripping so I normally put my head down and keep walking. I definitely keep my head down during the morning aerobics class as well. Debby, the leader, likes to call us up individually to lead the group in a few of our own moves. I try to avoid this part as much as possible.
I put my head down at other times here in Zambia when looking up is a little more difficult than looking down. Looking down has become a way to center myself and have a moment to not fully take in all that is around me. For instance, I looked down when we visited HIV patients last week and it became a little too hard to look at their faces when they were listening to our words of encouragement. It was difficult to look up and acknowledge the hardships they face every day that I can only dream of. Like Ellie discussed it was an intense feeling of discomfort because I could not relate to their struggles. Looking down allowed me to avoid the feelings of discomfort in this moment.
On Thursday the Health Team traveled to Mpidi and distributed Days for Girls Kits (reusable menstrual pads). We had 97 girls packed into a small classroom to hear our lesson about menstruation and how to take care of yourself during it. I looked at the ground when 72 of the girls had to leave after the lesson because we had only brought kits for 25. It was made more difficult because the teachers had chosen the 25 girls because of their good grades and good standing at the school, and they thought that these kits would push them further to excel. I didn't want to see the faces of the girls, as they walked past me to leave, who need these kits just as much as the others, but don't get one because their grades aren't high enough.
On Saturday, we went to visit Faulkner – an orphanage about 100km away from Zambezi. I felt many emotions on this day, many of them I am still unpacking. Looking down I could isolate myself and only allow myself to think of the pain that the children have and not see it with my own eyes. But, looking up I can experience the whole picture of the orphanage. Although there is pain, there is beauty in the community and so much love that is present there. Looking up allowed me a glimpse of the beautiful love the children have for each other and the love the caretakers had for their children.
Looking down, the world is a little simpler. I can be in my own world and in my own thoughts for a little bit. But, I have to remind myself that I cannot explore the complexity of the world by looking at my feet. It can become easy to think I am alone and forget about the community around me. Last week, I was looking down at the Land Cruiser 2 feet deep in sand. Looking down, the problem seemed daunting and another moment of "oh no what are we gonna do?" But, looking up I could see the 15 men, women, and children from the community that came to help. People were pushing the car, shoving branches and leaves under it, and shoveling sand out of the way. I felt an intense feeling of gratitude and a moment of community in a place we had visited for only 30 minutes. Once the car got unstuck, there was such joy and celebration and a moment of intense satisfaction for the group that literally lifted the Land Cruiser out of the sand.
Looking up requires acknowledging the world is more complex than what is at my feet. Looking up is so much more compelling and helps me to begin to navigate the world around me. Looking up brings questions that may not have answers, but looking down I don't get the opportunity to even realize the questions that might come up. It is not easy to not have all the answers, but I have found value sitting in that feeling of confusion and come face to face with complexity of reality.
Like the name of the shop in the market, our "Days are Numbered" here in Zambezi. We leave for home a week from tomorrow and although I am looking forward to coming home, I know that my time of looking up at the complexities here is coming to an end soon. Although it is not easy, I'm going to keep pushing myself to look up, even at the risk of not having all the answers. Walking around Zambezi with my head up high will be difficult at first, and I am really risking the possibility of tripping and falling, but the view will be worth it and I may be able to start navigating around here.
Mwane, mwane, mwane
Megan