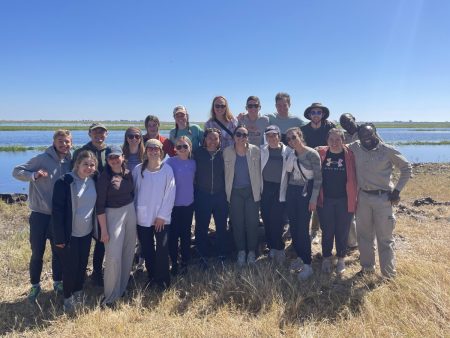 It has been an exciting two days! As I am writing this, we are in Livingstone unpacking from our safari adventure in Botswana's Chobe National Park. It was the most beautiful, inspiring, and perspective-altering experience.
Our group formed in the SeaTac airport a little over a week ago, so we are still figuring out the group dynamic and building trust. These last couple of days has provided us the opportunity to go deeper with each other. We now have nicknames, inside jokes, and the first beginnings of mutual trust and respect. The safari was a beautiful environment for us to strengthen bonds, create lasting community, and soak up each other's company before our departure for our pursuit of accompaniment in Zambezi's community and culture.
Our journey started with a boat cruise on the Chobe River—led by the charismatic and beyond knowledgeable, Mr. T. Wildlife on the river is lively, harmonious, and thriving. Each animal has a role, and they play it perfectly. The boat and the open-air Land Cruiser tour provided an ideal environment to observe, record, and bond with the animals and each other.
The animals—on the river and in the park—were as majestic, enchanting, and enormous as they seem in photos and media. Chobe National Park has no shortage of impalas, elephants, and giraffes. In the beginning of our tour, our co-leader Abbey said something along the lines of, "Impalas are the McDonald's of the bush." She was right; it seemed like an Impala was never out of view for very long. However, I learned to appreciate their comforting presence as time went on.
We were lucky enough to see a pride of lions feasting after a freshly made kill of Cape buffalo. That whole first day we were on the hunt for lions. It was approaching dusk as we drove endless dirt roads tracking them, but things felt different as Mr. T slowed our vehicle and said he smelt a fresh kill (I'm telling you—this guy was a legend!). We began to see other vehicles parked alongside the road and slowly 3 male lions came into view. We were so close! As we moved further along, we saw the buffalo carcass and more lions feasting from it. I expected to feel more sad or disgusted by the act, but it truly was beautiful. Mr. T explained it well when he said, "the lions are grateful to the buffalo for providing food for the pride." As we drove away, we saw two buffalos lying under a tree about 500 feet away grieving the loss of their loved one. It was tragic, but somehow peaceful. "Life on the bush," said Mr. T.
As majestic as the lions were, they could not compare to my love for elephants. Elephants are amazing to see in real life, in the wild. It is clear, they are wise, loyal, and family-oriented. We saw countless baby elephants with their herd, and their mamas never failed to shield and protect their babies from outside influence. We could see them playing, teasing, and loving on one another. Trust me when I say, many tears were shed.
As we sat around the fire at night and asked each other questions. My peer Kalie poised a question to Mr. T. She asked why he chose to become a guide, and in classic Mr. T fashion he responded with, "because I see and learn something new every day." That stuck with me. Mr. T is a lifelong learner, and I think we all could benefit from his wisdom and the lessons from the bush.
Our time on the safari was beautiful and amazing, but it was also reflective and challenging. There is nothing more pure than seeing mother nature in all her glory, and Chobe National Park provided us all an opportunity to grow and think deeply about our actions and behaviors. Abbey might have said it best—as she sobbed at the sight of baby elephants nursing from their mother—"why can't everyone just recycle?"
The Animals on the bush can teach us all valuable skills, and I saw unique traits in each species that reminded me of our own characteristics and values:
The strength of lions to take down prey,
the loyalty of water buffalo to mourn their fallen mere feet from their predators,
the patience of hippos to bask in the sun and float in the water as a practice of self-care,
the trust of giraffes to follow their tower blindly,
the ambition of impalas to always seek the strongest mate, and
the love of elephants to protect their young from any outside disturbance.
I wish—for myself and our community—these traits throughout our journey to Zambezi and beyond.
Nicole "TANJ" Perry
Gonzaga '23