Victoria Falls is a waterfall on the Zambezi River and it is located on the border between Zambia and Zimbabwe. It is one of the world's largest waterfalls, with a width of 1708 meters. As a Washingtonian myself, there is pretty much only one other waterfall I could think to compare it to, which is Snoqualmie Falls. I cannot begin to describe my astonishment when we first walked up to the viewpoint to see the most grand, extraordinary sight I have ever laid eyes on. If I were to estimate, I would say that these falls could equate to about 50+ Snoqualmie Falls' – and for my Washingtonian readers, you understand how massive that is!
Yesterday was quite a spectacular day! After a morning breakfast of eggs, sausage, and toast prepared by the lovely people at Fawlty Towers, our group headed off to see the famous Victoria Falls. This attraction has been something that we have all anxiously anticipated from the first walk to our hostel in which we could see mist in the distance and wondered: are those clouds low in the horizon? Or could that possibly be one of the seven Natural Wonders of the World?
From every single viewpoint, you can see a rainbow reflecting off the side of the falls, presenting a unique array of colors to the already magnificent view. The powerful "whoosh" of the water roared in our ears from any distance. We walked along a bridge crossing the canyon and felt the mist against our skin. To the right were dense clouds of mist that were thick enough to mask the enormous falls, and to our left was a wide canyon with a splendor of green plants and trees amidst the rock walls. Prior to walking to the closest viewpoint of the falls, Jeff had warned us that we would likely get a little wet from the mist, but our clothes would dry off in the sun. However, nothing could prepare us for the sheer power of these falls, showering us with every step. Upon reaching the viewpoint, everyone in the group couldn't hide their faces of joy and amazement. We all just stopped and lifted our arms out into the falls, surrendering to its beauty and letting the rains completely take over us. We lifted our feet and jumped in the puddles just like little kids. Some of us embraced each other with hugs, while others stood in awe. This was a moment that I will remember for the rest of my life.
From this joyous experience, most of the group headed to a bridge in the canyon that serves as a border from Zambia to Zimbabwe. This bridge also serves as an attraction for bungee-jumping, zip-lining, and swinging, which is what we were seeking to do. Around 1pm, after about a mile walk to the bridge we were met with some disappointing news: the staff had decided to take a break until 2pm and would continue their adventure operations after. Additionally, they were no longer serving any food. So, without any desire to walk all the way back to the market to get a lunch, we waited patiently and loaded up on granola bars and Coca Cola to fuel our tired and nervous selves.
And then it was time. Mackenzie, Emily, Ava, Tyler, Audrey and I all walked to the middle of the bridge for our terrifying free-fall. From our view, we could watch Eva, Jazmine, Joci, Sarah, Dugan, Andie, and Kalie zipline across the canyon from Zambia to Zimbabwe (quite literally!).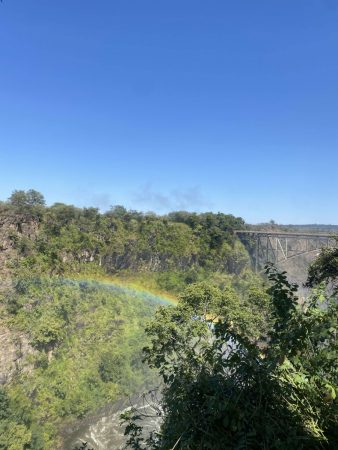 I was the very first one to jump off the bridge on a giant swing. With very little time to even process what was going on, the people working with this adventure company quickly strapped me in and dragged me out to the edge of the bridge. I wasn't ready. I didn't want to go. "Move your feet to the end!" They demanded, as I gripped their arms in terror. Just past the platform was a 413 foot descent into the canyon of the Zambezi River. One. Two. Three—Surrender.
I jumped, then fell. And fell some more. It felt like I was falling for eternity. Finally, when I was met with the cushion of the rope, I realized I wasn't dying, but in fact flying in the most picturesque place I had ever seen. I spread my arms and legs out and screamed and laughed in delight. I couldn't help but keep laughing. Looking up 413 feet above, I could see all my friends cheering me on. What a life this is!!
Tomorrow morning we embark on the real journey of this trip, as we will see what life outside of this tourist city looks like. None of us really know what to expect or how to prepare for this next step. But if there is one thing that we have learned thus far, it is that we just need to surrender and trust in the process. There are many things that are out of our control, but I believe each of us are here for a reason and our unique qualities are going to blend together beautifully in partnership with the community we meet in Zambezi. Thank you to everyone reading and keeping up with our journey, we can feel your support from many miles away. This is just the beginning of it all, and we could not be more excited.
–Katy Rettenmier, Gonzaga '24