Mwyanga mwane friends and family and people who fall in to both categories! We are back to blogging after spending last night in Dipalata, a rural village an hour and a half from Zambezi. In Dipalata we taught some short classes and attended a three hour church service, but mostly spent time hanging out with people who lived there through Mama Josephine, Katendi, and Violet as translators, broken English, or just gestures and laughter as well as shared activities like singing or playing soccer together. I read The Giving Tree by Shel Silverstein to a group of kids, and vastly summarized the last few pages so I could put the book away and go cry. Stupid tree. Mom and Dad, some of the things you did when I was little slowly start to make more sense as I get older.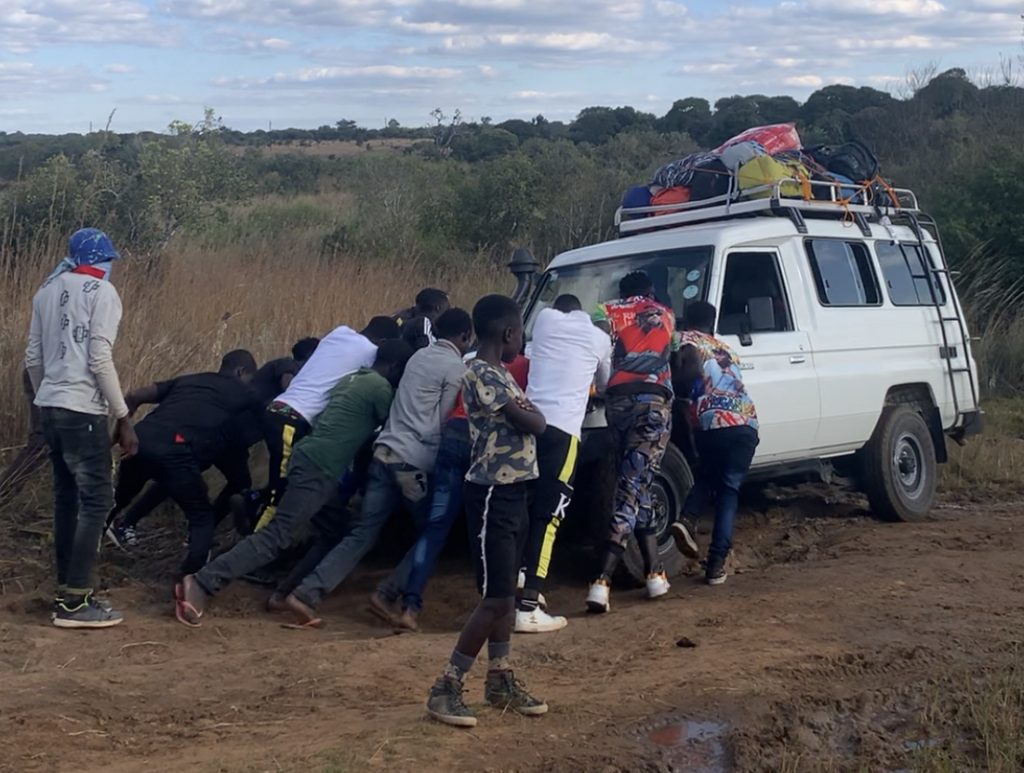 As you may have guessed from the above photo, one of our cars got stuck in the mud on a hill on the way to Dipalata. What you may not have guessed, is that we don't know any of the people in this photo. Our car got stuck in front of maybe 20-30 people walking up the hill that we were driving up. Pretty soon everyone had gathered around the car and we had gotten out to help lighten the load. Very few of them spoke any English, we don't speak Lunda or Luvale, and Father John (who speaks all three languages and was driving) couldn't hear anyone very well from inside the car. Thus, there were no introductions and instead instant beautiful chaos of suggestions and gestures and a lot of Lunda all focused exclusively on solving the problem.
What struck me particularly was how communal the chaos was. None of the people passing by were obligated to stop, yet all of them did and most were genuinely invested in helping solve the problem. Each person who called out a suggestion appeared to have seriously considered the situation first, and quickly accepted if their solution was dismissed by the rest of the group. In this way the group quickly moved through several potential solutions, trying the promising ones, seemingly without hurting anyone's feelings and all the while getting closer to solving the problem. Eventually, the group of young men in the photo jumped in and tried pushing the car first uphill, then downhill, and when that worked, they erupted in to whooping cheers and ran up the hill through all the onlookers and around the bend, cheering all the way. It could have been a scene out of a movie. A few minutes later, we drove past them walking in to a village bar up the street.
This whole interaction was fascinating to me because despite all my frustrations with American culture, I've always considered problem solving to be a strong suit: what's said is exactly what's meant, people have the social freedom to say most things, and among other things, this moves towards the best solution quicker than most high context cultures. So seeing another way of approaching problem solving that was very effective, and also included so much joy throughout the whole process was really neat. The communal investment made the result seem all the more worth celebrating as the young men did.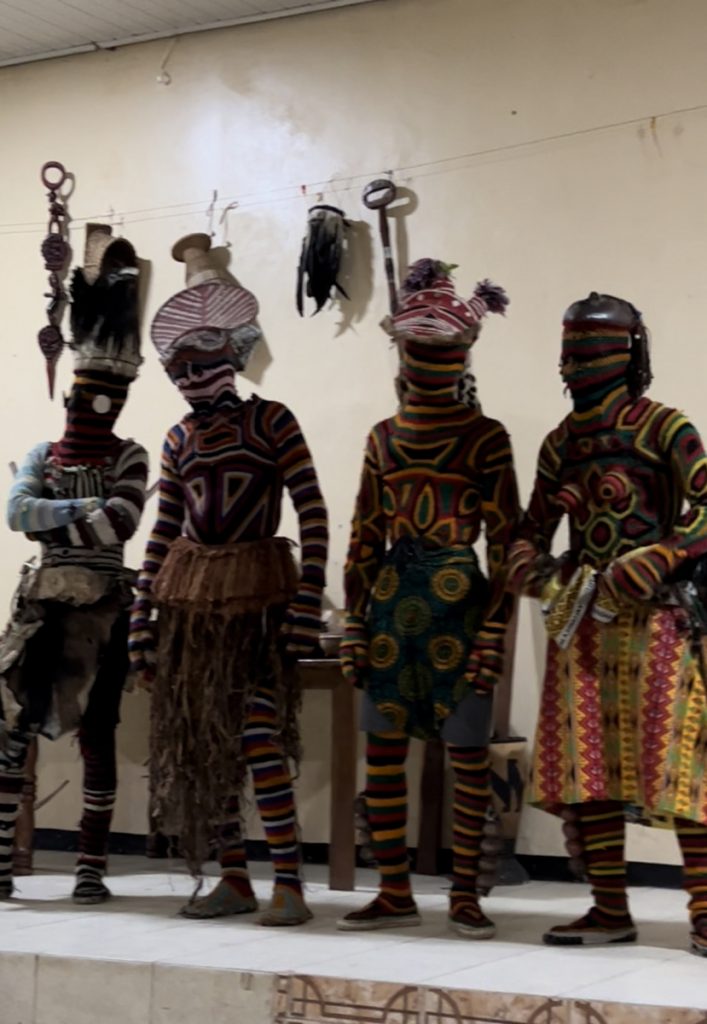 Prior to Dipalata, we attended a performance of Makishi dancers. Historically, the Makishi would be involved in the coming of age ceremony for men and women in the Luvale tribe. Each Makishi had a specific purpose during the several months-long training of the young people (trainer, guardian, etc). At the ceremony, each would dance a specific dance. The coming of age ceremonies are rarer today, but there is so much Luvale culture contained in them through the dancing, incredible drumming, community gathering, and the values for men and women that the ceremony represents. Because of this, they will still hold sorts of "performances" with Makishi like the one we attended to keep all that alive. The performance was specifically for us (and we were all regularly pulled onstage to dance with them!), but the back of the room was full of Zambians who'd heard about the event, and even more kids were pressed up against the windows the entire time. The buzz of the Zambians prior to the event, and then shrieks and general noise of excitement as the Makishi came out made it clear how important this was to each individual in the room.
For the next hour or two, these masked, anonymous, speechless, highly decorated figures commanded the attention, pride, and respect of the room. Everybody participated, most by dancing (however poorly) onstage, and the rest with their voices. Each Makishi seemed powerful and purposeful in a way that felt really special. Watching them and how they energized the room reminded me of playing a sport where your team is just unstoppable: shouting SO loudly in celebration together and working in perfect harmony, crushing every point. Feeling entirely unbeatable. I'm not sure I can think of a place in our culture outside of sports that I can point to a community coming together in a similar way that doesn't feel harmful. Maybe it's good that we're trying to cultivate a society in which we seek to understand others and not presume ourselves to be the best. But maybe in doing it the way we are, we're missing out on an important emotional experience of being human. After all, the ceremony we attended was pure celebration that wasn't exclusory in any way. I wonder if the lack of this celebration culture feeds polarization in America. I think we all need to feel like we're a part of something wonderful, and lacking that, we find ourselves associating with people who tell us we are unstoppable and can do no wrong if we're part of a certain political party, fanbase, etc. Definitely something I will be thinking about as we get back to normal life. I miss playing volleyball.
Kisu Mwane (I still don't know what that means, but most blog posts end with it),
Blaine Atkins, class of 2022