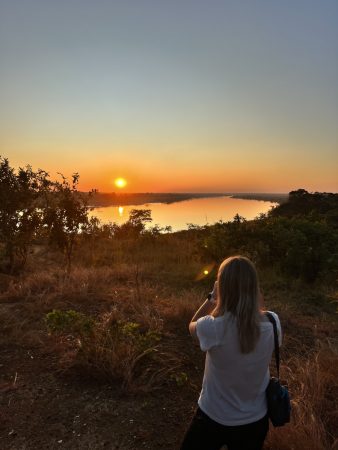 About one week ago, a crew of us loaded up and drove to Chingolala a nearby village to visit the home of Michael Sapilinya. Micheal is one of Jeff's longstanding friends which we have spent quality time with, in Lusaka and Livingstone. As we pulled into the driveway of Micheal's home we were greeted by the dancing and loving embrace of Lidia, Micheal's mom, and a big grin and handshake from his father Edward. I was overtaken by emotions as I could clearly see how Micheal's explanation of his life story was unfolding in front of my eyes as I met his parents. I felt that I got a glimpse into Micheal's childhood as I asked his mom questions about his youth, values, and what motivated him at such a young age to pursue university.
While it was such a joy to talk with his parents, I could not help but notice a young boy in a light blue shirt who was sitting on their porch. He sat on a wooden stool watching us as the sunlight touched his skin. As I watched him gaze in curiosity, I could not help but question what he would do with his one precious life. Will he take after Micheal's example and pursue university? Or will he do something totally new? Will he stay in Zambezi? What will his one precious life look life?
I am challenged by this question as I have noticed that life in Zambezi is about the present. About now. And about living for today. Each day is not a given, so how are we going to live for today, and make it count?
I have wrestled with this question because I think the answer is not definitive. There is no answer but choosing to wake up everyday and do something positive with what we have. I have met a few individuals who have taught and showed me what this looks like.
I want to keep loving and welcoming others into my home like Eucharia. Eucharia has a beautiful way of bringing others into her fold. She treats us all like children of his own. When I had the chance to visit her home for the very first time, I noticed how the whole soccer team and some, were running in and out of her home as if it were their own. Eucharia kept saying "Feel most welcome. My home is yours". When I have a home of my own one day, I hope to do just the same.
I want to keep finding the joy in my passions like Kelly. Kelly was a young man we met at Sports for Life. He was the DJ that was setting up for the event who is an experienced music producer. He shared that both of his parents had passed very recently. He is the second born and is now responsible for raising his two younger siblings at home. I asked him what brings him the most joy. He immediately lit up and said his music. He learned how to produce music from his father and therefore the passion in producing is very special to Kelly. He described that he has no idea where he would be without music. Music is what fills him up and brings him close to his parents. I was inspired by him sharing so openly and honestly with me about some of the hardest things, but also some of the things that bring him the most life. Kelly is a strong human being who is making a living with his music as he provides for his two younger siblings. I hope to live like him as I follow my passions that bring me the same joy and bring me close to family.
I want to keep trying at everything I do like little Sombo. Sombo is the daughter of Eucharia and Debby (the two legends here in Zambezi). I have helped coach soccer to her throughout the past few weeks. She is seven years old and is working on juggling. Each day she comes to show me with that big smile of hers and the soccer ball that is too big for her, but she tries anyway. Sombo keeps practicing one juggle at time. One day she will reach her goal of ten soccer juggles. I too, hope to keep trying, practicing, and not give up just as she does.
I want to connect deeply like all of my Gonzaga friends. As someone who is an observant leader and learner, I am so impressed by this team. I am impressed by every single person's willingness to surrender to the process and honestly just jump in. It has been so beautiful and cool to see the relationships within the group form but mainly the one's each person has established here in the community. I want to keep connecting and diving deep like I have seen you all do throughout out time here.
Ultimately, with my one precious life, I hope to wake up, love, and let others in like Eucharia, pursue my passions and find joy like Kelly, keep trying at everything I do like Sombo, and connect deeply like all my new Gonzaga friends. I think this question can be a big question, but if broken down and focused on how one will live out their only and precious life daily, it makes it all the easier. What will you do with your one precious life?
Caroline Larsen '23