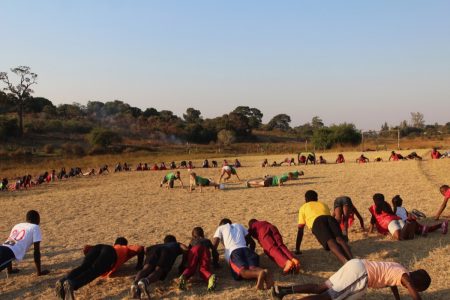 Last night, as our Zambezi friends slowly filtered out the door after our accompaniment dinner, I walked towards the familiar sounds of the local choir and the sight of two fires in the sand; all alone in Zambian darkness, the grand vibration of travel and adventure and feeling far, far, from home swallowed me whole. The drumbeats and the swishing of my feet in the sand grew as I walked, and I stared upwards at the stars within constellations hidden away in this continually new hemisphere. For just a moment, I imagined my location on the spinning globe lamp at home in Idaho and felt utterly alone. In that moment, I could not comprehend how I could ever explain what we did here or why we even tried, and the only people who would understand would soon be too far away. I turned and briefly walked back towards the familiarity of the convent before realizing it was time to take a breath and walk into another new situation. I walked again towards the choir fire and the night began in earnest.
The happy fire seemed like a good place to bring friends, with music, warmth and some more Zambian dancing all included. So, I returned to the convent once more and recruited a small crew ready to keep expanding our growing comfort zones.
It turned out someone had died.
This party was a funeral.
However, the mourning choir still wanted us to stay. I asked a few people which individual had unfortunately perished, but they didn't not know the name. I asked how long they would sing, "all night" was their only response. Brendan, Joci, and I only managed to 3:30am.
We stayed as long as we were able, balancing our feelings of living in the moment and respect for a custom we do not understand. The choir danced and sang with other mourners, stopping only once for tea. Others cooked food or prepared sleeping mats with blankets inside a small building behind the fires, while some sat silently at the adjacent fire covered in blankets or laying in the sand. Brendan, Joci, and I remained among the choir, trying to learn dances and songs our Chindele hips did not understand. They appreciated our effort, and we loved their grace and warmth.
We are all trying to soak in as much as we can before our group says goodbye to Zambezi. I am grateful to be here at all. I planned to come to Zambezi with Gonzaga in the summer of 2020. That trip was cancelled due to the COVID pandemic, and I never thought I would have the chance to experience this wonderful place, but here I am in Zambezi, Zambia. Those words still don't quite make sense after everything that has happened the past two years. My first blog post was on the first full day we were here, and my second and last post is on the last full day we are here. It seems obvious to say, but I truly believe we have all learned more than we could ever explain in the time between.
I am tiring of saying goodbye to so many good friends and stories. As a group, we must wave farewell to our Mamas, Violet and Katendi who have cared so dearly for us the last few weeks; the students in our class like Julius and Guyauna; the shop owners and tailors in the market like Mary and Jessie; and the leaders who taught us during our stay like Eucharia and Debbie Kasoma. Of course, we will never forget our trusty white truck – despite the bruises on our asses – or the color of the Zambezi River at sunset, despite Jeff's claims that the sun sets everyday, everywhere. We must say goodbye tomorrow morning to a whole world that has welcomed us with open arms and refuses to let go without a fight. However, I believe we can leave in grace, knowing we have danced, cried, sang, negotiated, taught, learned, and lived and worked towards the high Zambian standard.
Today was our final full day in Zambezi and I am still amazed when the lessons of travel and accompaniment sneak into my brain. I woke up thinking of a sage Abbey observation: that Zambians give what they have. If you eat in their home, they will feed you and your friends, no matter how many you have, and with whatever they have; if you need directions, they will personally take you to where you need to go, no matter their schedule; if you die, they will dance and sing for you all damn night, even if they never knew your name. I hope to embrace the love of life that Zambians manage to hold in their everyday interactions and activities. From the big lessons learned here, we can make small changes that will benefit us and those we meet forever. Thanks for everything Zambezi.