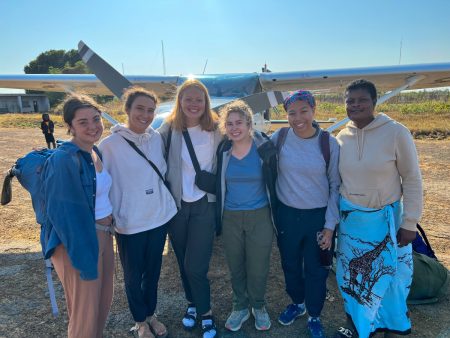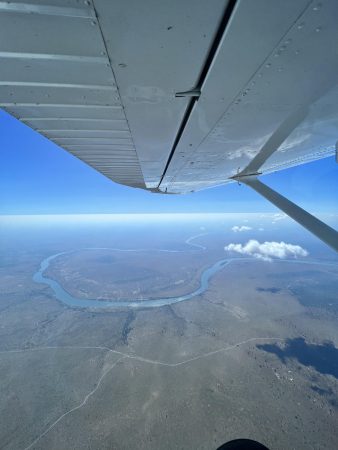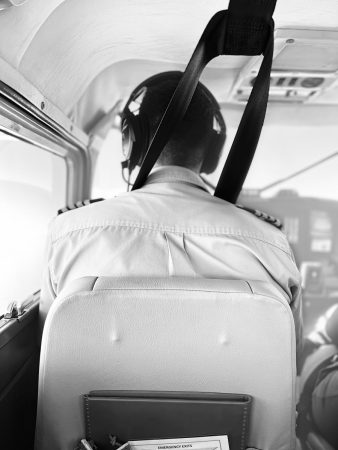 Hello dear friends and loved ones,

Today is yet another turning point in our time together and our relationship with Zambezi, the community that we have come to cherish so dearly. I am coming to you live from the cockpit of our bush plane, just having taken off en route to Lusaka and soon the United States. I wish you could see the beauty and immensity of the landscape below-its untouched green purity is remarkable and inspiring.
As you all can imagine, many emotions are present today. Immense joy for the time we have shared together with Zambians and Zags. Resounding gratitude for the people, old friends and new, that have impacted each one of our lives through their stories, generosity, and welcome. Wonderful laughs for the fun jokes, convent moments, open air drives, and dynamic students we have been graced with. Curiosity for how our time here in Zambezi will percolate into our daily lives back in America. Admiration for the sense of community that exists in this special place. Sadness for the apparent closing of this chapter together.
Just twenty three short days ago I sat right here in this same seat. Seat belt fastened tight, I was curious for what lay ahead. Never could I have imagined the depth of love, warmth, challenge, adventure, beauty, resilience, and togetherness that would shape my time in Zambezi. How is it possible that in this short time people and a place can become so incredibly special?
While I have been grappling with this question for the past few days, I am continually reminded of its possibility simply because Zambians care. They care so deeply for themselves, for one another, for each child, each mama, each neighbor young and old, and each visitor. Family is important and no one goes unseen or uncared for. It was apparent to us too, we felt most cared for, we truly felt most welcome.
This sense of care is facilitated by authentic intentionally and pure hard work. No where in my life have I ever seen a community of individuals that day in day out each work so hard with the intention to support each other, provide for one another, and enjoy life together. I am reminded of some poignant words Josh shared with a few of us in the land cruiser on our drive to Dipalata, "In America you can be lazy but still successful. In Africa you can be hard-working but still not offered opportunity." Wow. Many moments have arisen in which these words have become painfully present for me. In a land where hard work is prevalent and foundational, what could I share to those who yearn for a chance for the opportunities that I am blessed with? Instead of persisting on these thoughts that at one point I may have become stuck on, I now feel that I am called to witness the joy, celebration, worship, dedication, and authentic hospitality of these beautiful people and instead receive their example and appreciation for the goodness of life.
At the accompaniment dinner two nights ago, our beloved friend and skilled tailor, Mary, shared a foundational Zambian sentiment, "Twama Nge Mulya". In her words, it means that "You should not be seated and want eat. You should instead stand up and be counted, work to eat." Through the fervor of her speech, the collective desire for all to contribute and provide was articulated. It was clear that she and the other Zambian guests were passionate about this call and it's representation in society. Let the power and strength of her words and voice be an example for us all.
No one better personifies this Zambian proverb than our beloved Mama Katendi. Dedicated as the Mama of the group, she has worked diligently with Gonzaga in Zambezi for 15 years, starting the very first year Gonzaga came to Zambia. While she lived in Zambezi for many years, she has since moved to Mufulira, however continues to return each May/June for another ZAG crew. Each day, Mama Katendi beautifully prepares lunch and dinner for our group, often using 5 pots at once with stir sticks ablaze as nshima is boiled or greens are simmered. Each day that chicken is on the menu she is in charge of the dispatch, quick and clean, she is the definition of a strong Zambian woman, working hard to put food on the table. While she always says that she loves working with us, internally she is working to support her family as a single mother. She is working so her children can go to university in Lusaka and seek opportunity. She is working to put food on the table for her young children back home. She is working hard in pure love for her family's survival. Walking through the market with Mama Katendi is so inspiring as she is often stopped by dear friends so delighted and grateful to see her. Her selflessness and passion for serving others has fostered a vast community of love surrounding her in Zambezi. Mama Katendi stands to be counted as a woman of resilience and fortitude, working hard literally for the livelihood of her family. I am inspired by Mama's selflessness and her steadfast passion to see her children thrive.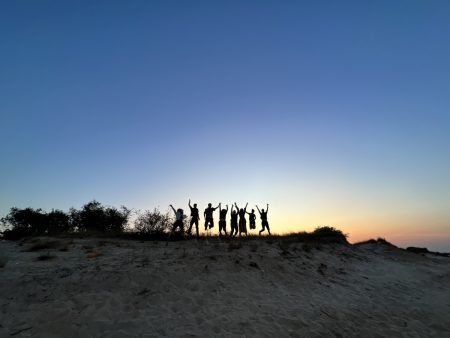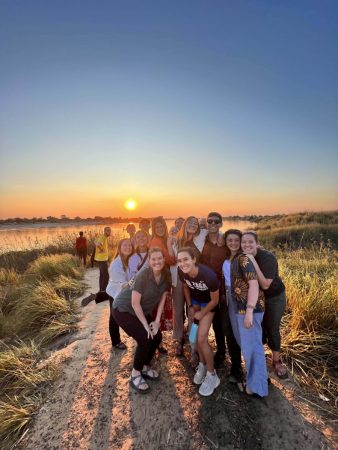 As we journey forward, the lessons and memories are plentiful and deep. Each one of us has a unique piece of Zambezi etched into our hearts that will no doubt impact the course of our life path. While I feel called to dig into being intentional about what it means to work hard in all times, inspired by the example of our fearless Mamas, each Zags heart will individually lead them in growth. For many of us this may be the only time in which we are physically in this place; however, our friends will always be on our hearts and in our WhatsApps, captured memories will be treasured on our cameras and phones, newfound food loves may grace our home tables, beautiful melodies will be on our minds, and we will be able to relive special moments annually through the words and reflection of future blogging Zags in Zambezi. Even if it's cheesy, this is only the beginning for this group of Gonzambians 2022.
Each morning at the breakfast table sharing the blog post has become a precious routine moment. Through the comments and replies you are there with us. We love and appreciate your support and dedication as faithful followers in this experience 🙂 See you soon!
Before I sign off, I would be amiss if I didn't mention the EPIC dance party all of us shared after dinner with our Gonzaga longtime friend Dom and mama Katendi's sons Teddy and Goodson. A memorable start to our time in Lusaka.
Kisu Mwane.
All my love,
Emily Bundy
Gonzaga University
Class of 2023