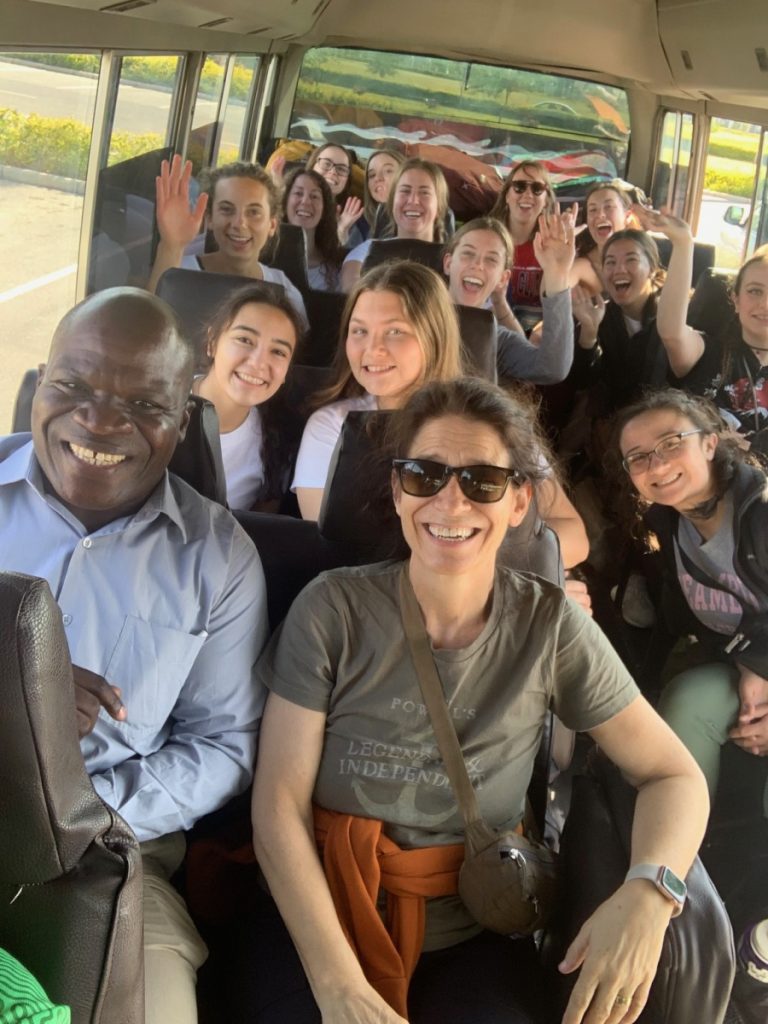 Good Afternoon for all of you and Good Evening to us here in Lusaka! We have finally finished our initial journey, so no more planes and airports for at least a few days.
Although, all our travel has already laid the foundation for some new memories. Like when we were waiting at the gate in SeaTac comparing what took priority on the packing list for each of us. For Bella and me, it was lots of plane snacks, while for Genesis it was wilderness survival gear. Pretty similar in importance if you ask me. Boarding the plane was a bit like Christmas morning for Claire, Grace S, and me in row 36. We explored all the games and movies available to us for our 14 hours in the air. I also learned the hard way that when Malaria pills are supposed to be taken with food, a Crunch bar doesn't really count.
Once we landed in Doha, the group had a luxurious 9 hours in Hamad International Airport consisting of "detox water" and some light stretching led by Hattie. Some of us chose a quiet and restful layover, while others chose the airport-exploring route. Kylie (and Lotto, of course) took a quick nap despite Jeff's recommendation not to. Maddie and Grace E. enjoyed the indoor playground, though it was definitely designed for children and probably not for a D1 volleyball player.
Then we boarded our final flight and were ready to complete the last leg of today's travel. Megan, Lauren, and I felt some disappointment when we realized our row on the plane didn't get a window, so we didn't get to see all the views we were hoping for. But it was mostly for the best because we all had intentions of trying to squeeze in a few extra hours of rest before landing in Lusaka and packing in a full day of activities.
We were enthusiastically greeted by Dominic, a friend of the program and the former priest in Zambezi, the second we walked out of the airport. He eagerly learned all of our names and quizzed himself as we got on our bus to the hostel. More than one of us made the joke that we were driving on the wrong side of the road as we pulled out of the parking lot. At the hostel Sierra spotted the first spider of the trip as we were setting our bags down. Dee and I shared our hatred for spiders which we will hopefully (and probably need to) overcome within the next few weeks. We all did a quick change into clean clothes and sandals and headed off again for the day.
Our first stop was exchanging currency, which was way easier than I anticipated. I've inspected my new Kwacha to see all the different designs on the bills. At lunch, Dominic wasted no time and asked if we could talk politics. We covered all the bases from the 2024 election, Prince Harry and Meghan Markle, and the impact of colonization on Zambia. I expected these types of conversations to happen at some point but I will admit it caught me by surprise only being here for 4 hours. It was cool to hear Dominic's perspective on things and begin the process of cultural and social immersion here in Zambia. After telling him that I was a broadcast major, he was very happy to share with me that he has was a guest on GUTV when he visited Spokane. I filled him in on all the updates regarding the Integrated Media department since he's been there. After lunch, we went to an art gallery and the longer drive exposed us to more parts of the city. We had some solo time to shower and rest once we got back to our temporary home base. Then, we finished off the day with reflection time as a group.
Our ankles are still a bit swollen, our necks are still a bit stiff, and eyelids are getting heavier by the minute. However, we are very excited for what's to come!
Kendall Adams, 2025