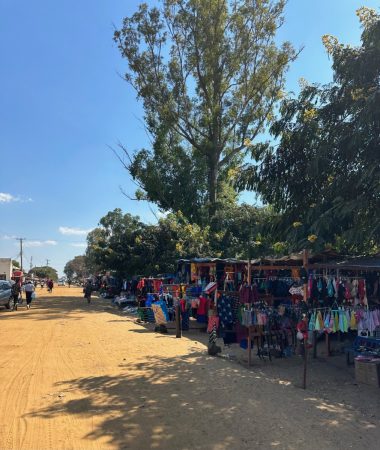 Good afternoon to everyone following along! We have enjoyed your comments and appreciate you keeping up with our time in Zambia.
After receiving the warmest welcome yesterday, the group woke up feeling excited for our first full day in Zambezi.
My alarm went off bright and early at 7:00am, so I was able to catch the final colors of the sunrise. An orange glow rested on the wall that surrounds the convent, and rays of sunshine poured into the room where Bella and I did a morning workout. While the two of us sweated it out—laughing all the while at how squeaky my shoes were—others from the group went on a brisk run, and others wisely caught on some sleep. 
Breakfast was "bussin," a term we've become very fond of. We devoured a delicious array of cereal, eggs, and jungle oats (Thank you Bella, Clare, and Hattie!). As the table began to clear, a heated conversation about Lin Manuel Miranda, and whether or not he gives us the "ick," boiled the air. Kendall ferociously defended him. Way to stand up for what you believe in, Kendall. 
The rest of the morning was slow but productive. We first sifted through Mama Violet's beautiful fabrics, which Genesis so kindly ironed for us. I was quickly informed by Mama Katendi that I would need not one but two fabrics if I wanted a dress to fit my 6'1″ frame. 
A few of us also participated in some much needed "floor time." This simply consisted of laying on the floor of an empty room together (I can't explain it, but something about laying on the floor just hits different!). During this time, Dee and I bonded over our shared interest of Psychology. Her desire to help others through her knowledge of the mind inspires me. 
At around mid-morning, floor time came to an end so that we could attend to our group duties. The education team headed off to Chilenga school, the business team got to work on their leadership curriculum, and the health team—my team—began preparing for our lessons. We folded about a million pamphlets and created a schedule for what health topics we are going to teach on what day. 
I use the word "teach" loosely; perhaps we are going to be sharing some valuable knowledge with the community here in Zambezi, but the real purpose of us being here is to build relationships. We saw glimpses of the friendships in store for us as Jeff led us through the market, a bustling and lively place with a variety of products being sold. Jeff introduced us to Mary, Jessie, Jasper, Edith, and several others. Mary and Jessie are tailors, who I am very excited to get some skirts made from, and Jasper and Edith are shop owners.
After a fantastic lunch made by Mama Violet, Mama Katende, and Grace S., we were sent back to the market in small groups. Each group had a special task to complete. Grace S., Dee and I were on a mission to buy some peanuts and get them crushed into peanut butter. We got the peanuts, but had no luck finding someone to crush them up for us. Hustling from shop to shop was no use, and eventually it was time to head back to the convent. Peanut-butterless. Our attempt at making peanut butter on our own by smashing the peanuts with a spoon was… humbling, to say the least.
But no matter, because more friendships flourished during our time at the market and on the way home (aw, home). We met a student named Justin, who said he would come to our health class on Thursday! We also stopped by Jasper's shop, and said hello to the women I bought a yummy fried sweet potato from this morning. The stroll back was an unexpected gift, as children began running from their backyards to walk with us. At first there were just a few kids at our side—including Grace, a young girl I met yesterday who was very excited to have a name buddy—and then suddenly there were dozens. They were wide-eyed and smiling up at us the whole way. The sounds of their laughter mixed gracefully with the choir rehearsing just across the street, and it made my heart sing.
At the end of the day, we finally got to meet Debby, Eucharia, and a little bit later at dinner, Mama Josephine. Debby is in charge of ZamCity, a youth sports and development program, and Eucharia is a nurse at the district hospital. The health team and I got to ask her a load of questions. I, in classic psych major fashion, was particularly interested in the culture surrounding mental health here in Zambezi. Eucharia explained to me that despite its value, not many mental health resources are in place, and it is not often talked about. I look forward to working with her so that we can spread information about this mysterious and powerful thing we call the mind. 
This brings us to Mama Josephine (holy moly, we met a lot of incredible people today). Over an exquisite dinner, Josephine told us her story, describing her involvement in the fight for Zambia's independence. She emphasized the importance of women being active participants in political leadership because, well, we simply "do it better" (so true, Mama Josephine, so true). I am continuously in awe of the women here and their leadership, as well as Kris and the 12 young women I have the privilege of living with. 
Mama Josephine said something else that resonated deeply in me; when asked about her values as a leader, she said that love is the driving force behind everything. The proof of this is in her commitment to her community. It is in Lauren, Kylie, Hattie, and Maddie, and their eagerness to teach the next generation. It is in Megan, Bella, Kendall, and Dee, and their excitement about engaging with local leaders. It is in Grace S., Sierra, Genesis, and Clare, and their dreams of changing lives through healthcare. It is in Kris and Jeff, who have guided us so passionately and with great care.
To my family and friends, I miss you dearly and hope you are doing well. Please know that I am in good hands, surrounded by the most thoughtful, funny, and generous group of people.
With love,
Grace Ehler, '24