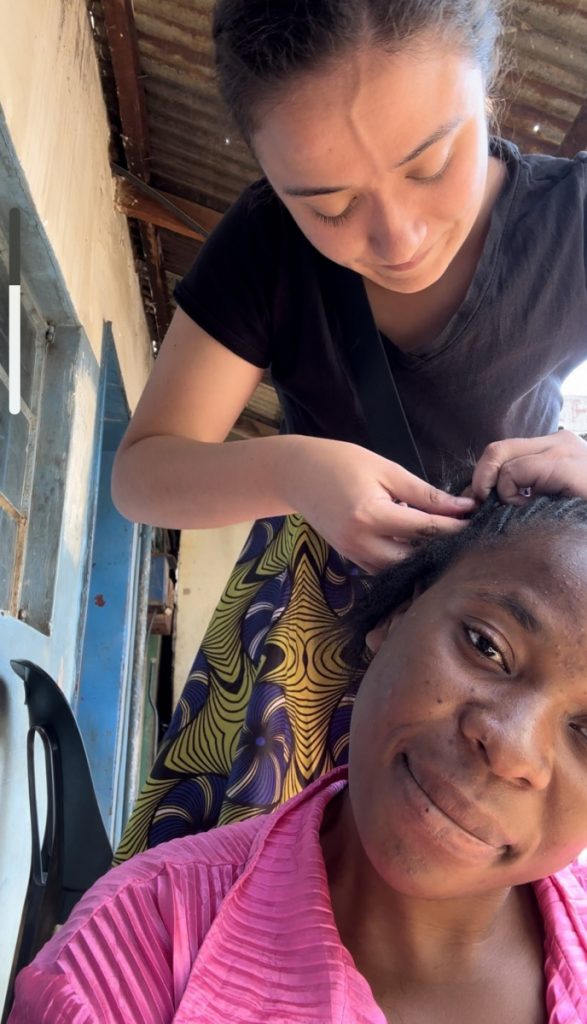 Musana Mwane from Zambezi. My name is Maddie, and I'm very excited to have the blog again.
This morning, the business team continued to help individuals build their project proposals. They are enjoying learning what business leaders value in Zambezi.
The health team attended a conference organized by a local NGO, Save Environment and People Association (SEPA), with a variety of leaders in and around Zambezi. The conference focused on sexual and reproductive rights. They emphasized that by enhancing preventative measures such as increasing educational opportunities, they can lower teenage pregnancies or underage marriage.
The education team had a very successful day at Chilenga Day School. Hattie sat in on a math lesson about simple interest. Kylie sat in on a lesson about grammar. Lauren taught a really fun lesson about the different provinces in Zambezi, and I attempted to teach a lesson about flowers. Part of the lesson was to find flowers to examine. We went on a hunt for flowers only to realize it was winter and only dead grass could be collected. We spent the rest of the class pretending we had flowers in our hands while I walked around and talked about the pictures of flowers in the textbook. Never the less, the classroom was full of laughter, collaboration, and the desire to learn.
After lunch, the health team taught a lesson about human physiology. They constantly come back with both wholesome and hilarious stories about the things they hear from the people who attend their classes.
The education team and I attended the district spelling bee. Zambia follows the British education system and British spelling patterns, so our spelling knowledge was challenged on some words with British spellings were asked (diarrhoea?).
We had several dinner guests tonight. Mama Josephine shared her last meal with us before she needed to go out of town. We will always be thankful for the wisdom and knowledge that she gave us during our time here. The Muke family also joined us. They are two generations of change agents in Zambezi. They shared how they advocate for a better Zambia and how we can advocate for our own communities.
As we are wrapping up in Zambezi, I wanted to share how I have struggled with being in the spotlight. I am a shy individual who prefers to watch on the sidelines. But here, like the rest of my colleagues, I stick out like a sore thumb. I have been overwhelmed by the amount of children who want to touch my hair and the people who point at me in the market. Some laugh and say stuff in their native language, and when I can't understand what they are saying, it can make me feel small and insecure. At the beginning of the trip I wanted to hide to avoid that feeling of embarrassment. However, the relationships I have formed helped me realize that instead of hiding when I am laughed at, it's okay to laugh with them and learn why I look so funny to them. When my host family Linda and Bernard taught me how to eat nshima for the first time, they laughed at me for eating with two hands. By the end of the meal, I was a one-hand nshima-eating pro.
The other day, I had the chance to observe a hairdresser braid hair. Being the honorary hair braider of our group, I was intrigued to figure it out. She let me try and I failed miserably. Everyone in the shop laughed and took videos, and I couldn't help but giggle myself for how little I knew about braiding. Some students at Chilenga taught me netball. I asked one of my teammates why she was laughing throughout the game. I found out I had been accidentally cheating the whole time and had been messing up the plays. Last week, I attended a church choir practice and attempted to learn some of their songs and dances. Churchgoers were so kind to help me learn the steps in between bouts of laughter. Prior to this trip, laughing made me feel insecure and small but throughout this trip, laughing has taught me that I still have so much to learn around me. How can I learn something new if I'm too afraid I'm going to embarrass myself? There will be many times where I will continue to embarrass myself on this trip and in my future endeavors, but I know that the people around me will be laughing with me and supporting me as I continue to learn about the world around me.
To my family and friends I love and miss you so much. I can't wait to tell you all about my adventures!
Much Love,
Maddie Ford, '23