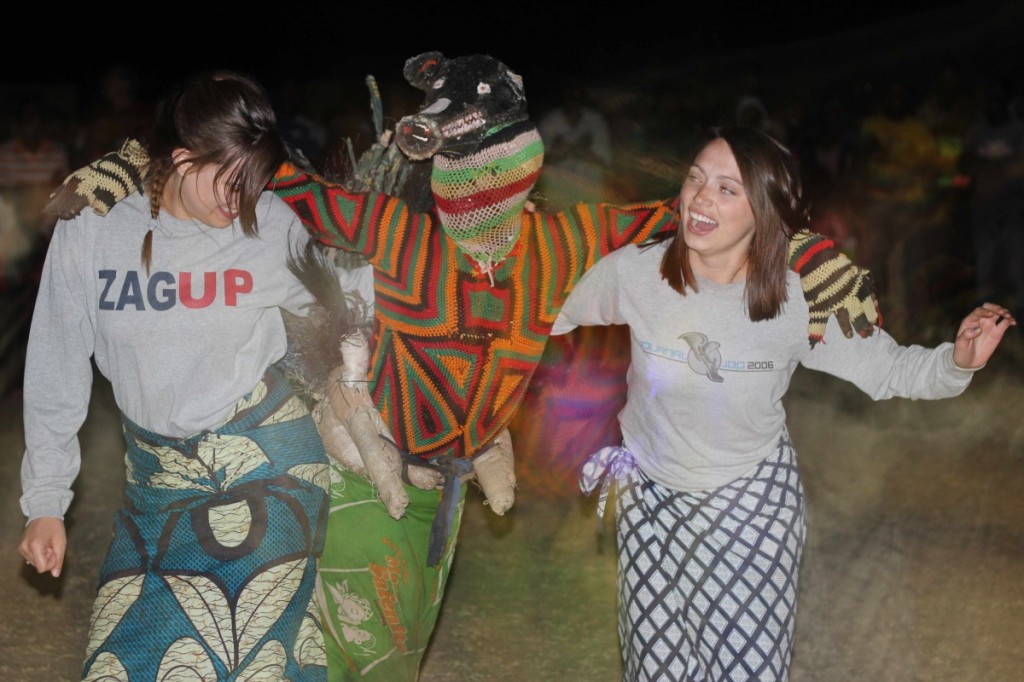 Our time in Zambezi is too quickly coming to an end and I face the fact that only two full days here remain, a great deal of thoughts seep through my mind.  While attempting to live in the past and present as the people do here, I have noticed that recently it has become a great challenge.  I find my mind wandering to the future, to goodbyes, and to the adventures that are to come.  I have begun to recognize that the lists of "finals" have started to settle in here in Zambezi- our final mass at Our Lady Fatima, our final mound of nshima, our final leadership class, our final hug from our homestay parents, and our final lock of hands from a little friend.  However, this list of lasts also hold so many firsts; so many unforgettable relationships, so many memories, so many lessons, and so much love that has gripped my heart, similar to how the kids here grip our hands.  I take confidence knowing that each of us will never let go or be forgotten.
As I look back on the firsts, I ponder the journey we have so recently embarked and can not help but think of a vivid image of a Zambezi road. This road is dirt, often thick with sand, quite uneven, the occasional deep pothole, and full of people with intense desires to get to know each other and live loving lives.  Everyday, each of us travel these roads in one way or another- strolling to the market with one another, interlocking hands with a child as we walk to the sunset, or driving to Chinyingi or Chilenga to teach and to be taught.  Each travel holds a multitude of adventures and stories.  I quickly realized these roads are quite similar to our time here in Zambia.  They are different from the ones we have at home, at least at first glace, just as the cultures here are different from those in the United States.  But when it comes down to it, there are so many similarities, each holding a very comparable yet unique purpose.
On the Zambezi roads there are thick sand pits and uneven surfaces that while running in the morning or even walking to the market can be seen to some as a slight inconvenience.  To us, they are all part of our fantastic adventure and fail to slow us down.   Similarly, daily we each encounter small challenges. Lately for me, I have been pondering the questions that have arisen that do not appear to have simple answers.  Why don't they use manure as fertilizer? How can we help as they wish? Are they learning as much from this experience as we are?   While this was quite challenging to accept at first and still pulls at my strings, I have come to learn that these are the questions that make me grow.  There is not always an easy solution but the challenges have been accepted, and I know all of us will continue to search for some sort of answer.  These questions have definitely made our minds wander, our journals full, and our conversations deep, allowing us to discover more about ourselves.
The potholes are the larger struggles we face.  Each of us have been confronted with diverse challenges.  Recently, I have been struggling with serious culture shock.  I would have assumed that this would have struck me when we arrived here in Zambezi about three weeks ago as opposed to just a couple days before our departure.  This culture shock has left me with an immense feeling of confusion.  I have felt the most mentally and physically uncomfortable in my life in the past couple days which leads to a longing for the most comfortable place and people I know- home with my friends and family.  With only a couple days left, I do not want to get lost in this feeling of confusion.  This would be quite difficult on my own, but I know I have my Zam Fam here to support and walk along side me.  Because we have each other, I know that overcoming obstacles is only a bump in the road and finding the beauty in each individual, continuing to form those loving, meaningful relationships, and truly being present is what will prevail.
And finally, on every road you travel in Zambezi, you will encounter loving, lively people.  These people have taught me the importance of taking time to get to know individual's stories, to love with all I have, and to be intentional with every action.   The people are the most important aspect of the Zambian roads.  Sure there are obstacles, potholes and sandpits, but the Zambian people are those that help you through it, they tell the stories I will remember for years to come, they love with an open heart, and they have built such great relationships with us that I consider them family.  It is the relationships, the people, and the love that last lifetimes.
These Zambian roads now make up a very important part of the path of our lives, full of learning experiences and loving friendships.  While our time here is Zambezi is coming to a close, the roads are far from ending- they will be incorporated into our daily routine back in the United States. It is all part of our life journey.
To all those following our adventure, we love and miss you very much.  I know I speak for everyone when I say that the routine of reading the blog posts every morning at breakfast has become a wonderful part of our journey and something we all look forward to.  Thinking about you all!
Kisu Kisu Mwane
Hayley Medeiros, Class of 2015
P.S. Family and Friends! I love you guys so much.  I miss you like crazy and hope everything is going well at home, and for Taran in Chimfunshi.  I am thinking and praying about all of you all