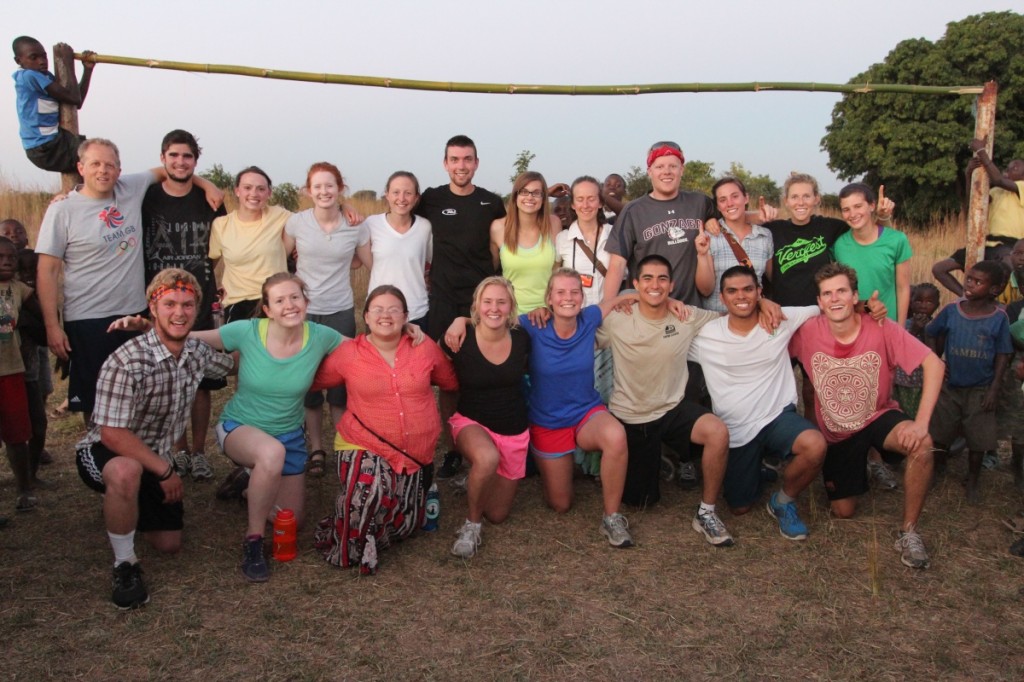 Hello loyal fans of the blog! It doesn't ease my nerves to know so many enthusiastic fans are reading my words with high expectations set by my fellow Chindeles. But as I sit among my Zam fam watching the Lion King on a rare night of having power, it seems like the perfect setting to reflect over my time in Zambezi. Watching this movie reminds me of home which leads me to think about the inevitable question upon my return "How was Zambia?" It will be difficult to do the experience justice because each day I feel growth and so many different emotions. Trying to capture the experience in a quick conversation would be impossible.
Life in Zambia is different in good ways and in bad. I came on this trip excited to experience the joy radiating from people's faces as they talk about the children singing songs, the long walks, the sand, the oochi (honey), or the busy market. Although I have experienced this joy I also have struggled during my days here. After the first couple of days I had a difficult time adjusting. As someone who prides herself on adaptability, this shook me. I found the cold showers shocking, the market overwhelming, the children sweet but sometimes suffocating, the conversations awkward, everyone staring at me unnerving, and losing my grip on time disorienting. I understood that pushing myself out of my comfort zone was what made the experience beautiful but I never thought it would actually make me SO UNCOMFORTABLE.
On one of the first walks down the dusty path to watch the sunset, a boy stepped on the flipflop of a girl who was holding my hand and it snapped. I didn't think anything of it at the time but the next day she showed up outside the convent with just a sock replacing her lost shoe. It was something that barely caught my eye but sticks with me. I think about this little girl each time a rock gets into my shoe, which happens often. Since that day I have noticed so many children who don't have shoes at all and walk barefoot through the tough grass, rocks, and thorns.
One of the major shocks of the trip came with our visit alongside the Home Based Care workers. We traveled to visit six patients deep into the bush. A particular patient's story broke my heart. She was HIV positive and had no husband to support her family. Her daughter, who came home to take care of her for a short while, was divorced by her husband for leaving him. The patient had a stroke and her whole left side was paralyzed. The family barely had enough nshima for one meal a day, even though the HIV medicine needs two meals a day to be effective. She was bone thin from hunger and her body was being ravaged by HIV. Yet, this family still met us with kindness and offered us their seats. I felt so helpless that I couldn't breathe. All I was bringing her was broken Luvale and a smile and in that moment it wasn't enough, she needed so much more. I barely moved out of sight before I broke down into tears of deep sorrow. It was then that I discovered Africa isn't the magical land I had read about in books as a kid and there is more to this Zambezi journey than I had imagined.
We continued to travel to other patients and support groups and heard more and more of the problems that afflict Africa. Problems that I realized are much bigger than me. I started to lose hope. What could I really do for these people? Why was I here? What could I give? Doubt and sadness crept into my heart. I wanted to go home and shut out this place and not think about the problems and the despair. The harsh realities of the world were starting to change the way I saw the world for the negative.
As time went on, the struggle with adjustment lessened. The life in Zambezi that I have become accustomed to is so different than that of back home. I only know what time it is based off mealtimes, sunsets, and those darn chickens every morning. The dirt underneath my fingernails and toes, the simple choice of what to wear in the morning (chitange and shirt, repeat), shaking hands and greeting everyone I meet, the fact that we thought a mouse lived in our room and were oddly okay with it, the mob of children who run to greet us as we return home, the prisoners who walk around the market in their jumpsuits have all become routine aspects of our time here.
Father Noel, the priest of the parish that hosts us, said something in church yesterday that resonated with many of my Chindeles. He was giving us a farewell speech and as he sent us of, he said that Zambezi has shown us the good and the bad of the community, and that as life dictates, there are good and bad parts to everything. Experiencing the awkward, frustrating, heartbreaking, and confusing aspects of this community allowed me to understand and become a member of this it. Now that I had seen the most difficult aspects of people's lives, I have been able to grow and use all the hardships and relationships to discover the immense goodness in this community.
This last week especially, I have time and time again been shown the immense beauty of the land and people. I see this beauty walking back from a support group in Mize, where I watched Mama Catherine as she held my hand when we crossed the river in rickety canoes and as she greeted and walked with everyone she met all the while making sure we were safe from motorbikes, oxen, or wrong turns. I see it when I sing outside with the kids who meet my enthusiasm until we are screaming and jumping around. I see it reflected in the growth of my Zam fam and how we respond to each other's needs naturally, as if we had known each other since childhood. I see it in the music that shakes my soul and hips at church. I see it in Zambians who eat only one meal a day but still offer up food and time for their poorer neighbors. I see the beauty dancing with the Makishi in a circle of 300 Zambians. I soak in the beauty celebrating our soccer victory and chanting "we are GU" with so many kids I couldn't see the outside of the circle. I see beauty in handshakes, sunsets, laughter, pats on the back, morning runs, star gazing on the airstrip, Jason and Lucy's singing, holding babies, and watching myself become forever connected to my extended Zambezi family.
As Father Noel said, life is full of good and bad. Sometimes the bad in the world can shake you to your core and question the beauty. But life is fullest when you overcome the bad together and grow from it as fellow human beings. I started to feel connected to this community once I had seen both sides of their lives here, the despair and the beauty. This journey has not gone the way I would have expected it to and has by no means been easy. However, without these tough times I wouldn't have been able to experience the radiating joy reflected on those who have taken this journey before me. So when you ask me "How was Zambia?" expect a lonnnnng answer.
Megan Newman, Class of 2015
PS I never get homesick but I have been so much on this trip. You all mean the world to me and I can't wait for hugs at the airport and to visit 1005 Sinto.
PPS Dad, Mr. Jerry Jeremy Goat has left this life and will not be returning to the States. Mysteriously there was no body to bury.