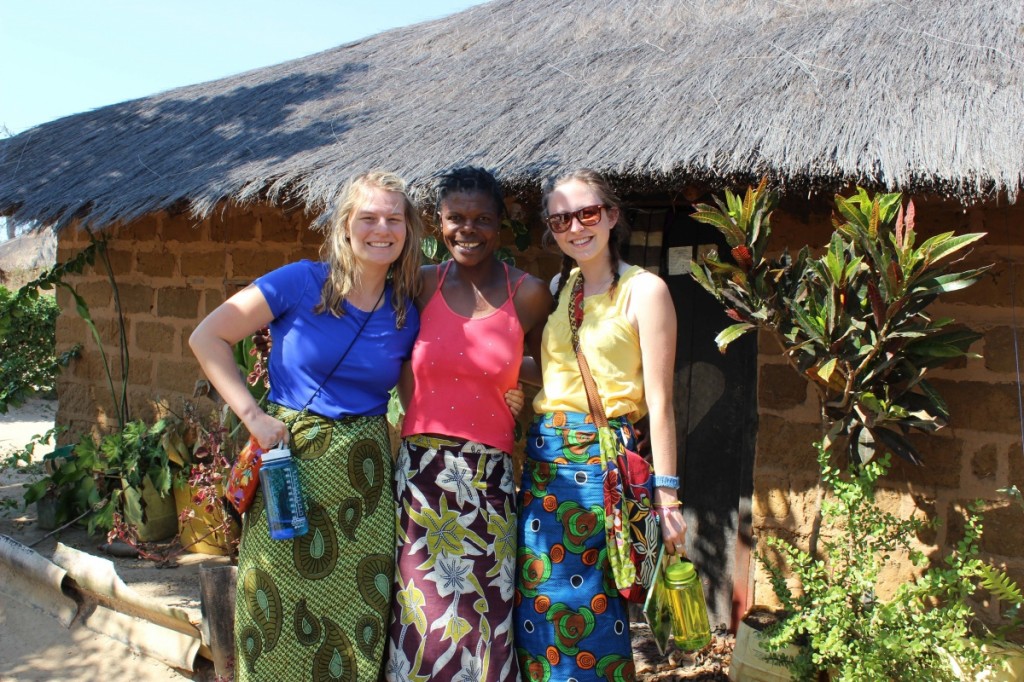 A huge hello to all of our beloved friends and family back at home! It has seriously been so heartwarming and encouraging to read all of your comments over breakfast each morning. Over the past seventeen days, I have been anxiously awaiting my turn to post a blog for you all. In that time, I have seen, heard, and felt so much that it becomes difficult to truly articulate how incredible this experience has been. However, I can say with great ease that not only has it touched my heart, it has changed it for the better. As our time in Zambezi quickly comes to a close, I am struck by how prevalent the concept of time has been on my thoughts and actions since arriving. Similar to my anticipation over writing this blog, I have often found myself waiting for "big, planned events" throughout our stay. With so many awesome experiences to look forward to, it isn't easy to refrain from counting down the days until that next exciting adventure.
As the first weekend here approached, I nervously prepared myself for the homestay visits. My anxiety over my first day of teaching at Chilenga weighed heavily on my mind for the better part of several days leading up to it. The privilege of getting to be Mama Kawatu's assistant for a day, an experience we each take turns doing, left me eagerly hoping for the future. And of course, despite our reluctance to leave Zambezi, the trip to Livingstone has us all extremely excited.
With these few examples in mind, the realization of how constantly I have been waiting leaves me frustrated as I recall some insight Father Baraza provided during our prep class back at Gonzaga. In his attempt to prepare us for Africa's foreign concept of time, he eloquently explained that unlike in America where we rely so heavily on the future, here there is really only past and present. This mindset dictates a genuine appreciation for the little moments that occur in between the big, planned events. I have now witnessed this lifestyle firsthand, and have been powerfully inspired to adopt the same mentality.
Although it is natural to be excited or nervous for the future, it is important not to let this distract you from the now. I have grown to stay mindful of the present and open my eyes and my heart to each passing moment, for each one too quickly becomes a part of the past. Looking back on my time in Zambezi, I realize these unplanned, "in between" moments have actually been those that I appreciate the most. These moments include my daily walks home from Chilenga with Michael, Lauren, and Lucy, talking with each other as we listen to the pitter-patter of children's feet chasing after us in the sand repeatedly screaming "Chindeli! How are you?!" It is taking a break from preparing for tomorrow's school day to step outside and stare in awe at the stars, which Megan describe as being "out of this world!" It is the humbling moment when 9th grader Caleb walks three miles home with me just to have a Polaroid "snap" taken of the two of us. It is stopping to see Mama Catherine (see photo above) who, despite her busy schedule, always willingly takes time to happily greet and walk with me for a while. It is the sunsets, the bumpy Landrover rides, the taste of the bananas, and the warmth of complete strangers. These moments, along with so many more, are the ones that keep me grounded in the present, and that I appreciate the most.
This afternoon, our group was honored to host many of the Zambian community that we have each been so inspired by over for lunch. As we spent our morning preparing an authentically American meal of fajitas for our guests, I was warmed by the realization that these relationships we have built were not founded on big anticipated events, but rather a result of small moments that accumulated over the past seventeen days. It was a beautiful thing to be a part of as my fellow Chindeli and I ate with, talked with, laughed with, and even danced with these people who will forever have a mark on our hearts.
With only three full days remaining here in Zambezi, I am determined to let the past and present guide my actions as my adventure continues to unfold. I am so blessed by the experiences I have so far been exposed to, and will continue to soak in every last moment, making lifelong memories with my beloved Zam-fam along the way.
Thinking of you all & gwaku nzanga (I love you!)
Katie McCann, Class of 2015
P.S. So much love to my family and friends at home, I miss you all so much! Mommy, you have earned the title of MVP blog commenter, and Christian you are always in my thoughts! Hi to Ambs, Morg-kung-fu and Kirst as well, thanks for your regular postings J X's and O's!