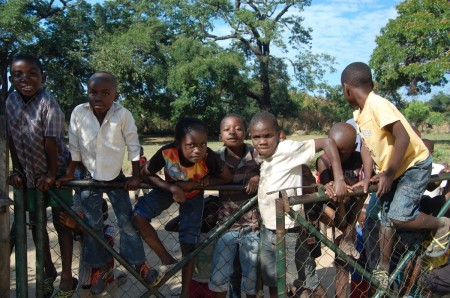 After a few days in a place where time seems to stand still, I find myself forgetting what day we arrived here.  That may be a sign that we have finally started to feel comfortable here in Zambezi. We are outsiders — every searching stare, every joyous laugh as we mispronounce a name, every hand outstretched just to touch us — reminds us of just how differently we are viewed here than in America. Yet, through all the differences, we have carved our niche here. We adjust to a new normal, displaying skills of resilience and adaptation that make many of us feel more free than we ever could have imagined.
On Sunday we learned what it's like to live with a Zambian family and participate in a local cultural event (Sunday Mass). Today we poked our noses deeper into the Zambian life, engaging in our first days of teaching with the Zambian community. The health, literacy, computer and leadership groups all put their five months of preparation into practice.  We soon realized that every reflection from past Zambia Zags was true: As much as you prepare, Zambezi always finds a way to surprise you. While that may be the main theme of our time here so far, here are six lessons I've learned along the way:
6. You don't know a true welcome until you have experienced a Zambian welcome.  Probably the most common phrases here are "You are welcome here," "Welcome to Zambezi," and "Feel at home." Perhaps my favorite phrase the Zambians use is "Feel free." In America, we love to say that phrase too, but we complicate it by saying "feel free" to do something specific: "Feel free to grab a cookie" or "Feel free to look around." In Zambia, you can just feel free — without specifications or caveats.  Everything is simpler here, and even the language reflects it.
5. Not only does the "feel free" attitude apply to lifestyle, but it applies to material goods as well.  Today, when some of us went to the market, we came back home with free gifts of a watermelon and a stick of sugarcane so long I could have pole vaulted with it. Our host family offered nearly a whole chicken, a whole fish, nshima and much more for us when we stayed with him, and his whole family waited to eat until after we had gone to bed. Mark, my fellow Zag who stayed in a very simple home far from town, told us about how his family told him they couldn't even afford Coke — and followed up the comment by offering each one of their Zag guests a Coke for breakfast.
4. The degree of esteem that most of the people in Zambezi gives us is both a blessing and curse.  Whether that respect comes from the relationships Josh and past Zags have built here, or whether that comes from the fact that chindeles (western/white people) stand in such stark contrast to the Zambezi community, it forces us to be wary of our actions in a way many of us have never experienced before. No Gonzaga Study Abroad presentation can prepare us for the number of eyes that will be on us during almost every moment. That can be seen as pressure, but I prefer to see it as a challenge to rise to the occasion and be a person whose actions are worthy of such respect.
3. Patience is key. With almost every name you learn here, you have to ask each person two or more times how to pronounce it. You must wait quite a while for people to show up for classes, since we're on laid-back "Zambia time."  Most importantly, you have to be willing to field question after question. During our homestay, our host was shy to the point that the word "shy" doesn't quite do him justice. Yet he answered every single one of the thousands of questions we asked him. It's our challenge to model that attitude, since our mission here is a combined one of teaching and learning. We must be willing to foster an atmosphere of learning that encourages questions and doesn't downplay them as annoyances.
2. This isn't the first time we've noted this on the blog, but the number of children here is astounding. Mama Bessie, the superintendent of the schools in Zambezi, told us tonight that there are 20,000 children in the 110 schools in the area. As Josh discussed during our reflection last night, we must be intentional about seeing kids as more than a backdrop — as more than just an overwhelming presence waiting to swarm us whenever we venture outside the convent gates. We must see them as individuals with their own stories. As a teacher at Chilenga Basic School, I must be intentional to see children as they truly are — beings of infinite worth and potential whose care I am entrusted with during the hours I am welcomed to teach.
I also feel a challenge to be especially kind in my interactions with young Zambian girls. As Mama Bessie pointed out tonight, there may be 20 percent of Zambian men who treat their wives with respect.  She believes the rest treat women more like house slaves.  They believe that the women's place is in the kitchen and force their wives to cook and clean for them, even when some of the men lie around drunk all day.  The power structure is very male-oriented here, but if we treat a young Zambian girl with respect, maybe she will be less willing to put up with a man who treats her like a slave when she's older. That is my hope and my desperate prayer.
1. At the end of the day, we learn to adapt to life here. My left big toe is inflamed and infected, and I have come to terms with the fact that I need to soak it in hot saltwater every night. When the shower water comes out as a trickling stream of 45 degree water, you learn to nut up, strip down and get yourself clean. I didn't go a day without my protein bars this entire semester, but I've already gone three full days without one — and thanks to some divine providence, I'm doing just fine. I also stand here as a witness that two grown college boys can fit into a twin bed (thanks to Chris for putting up with me during the homestay), and that when you take college students away from their cell phones, the world does not implode. In fact, life off the grid just might be a more pure and engaging experience.
Josh breaking out his dance moves — including a funky adaptation of the running man — and an ant crawling across this computer's keyboard might be signs that it's time to sign off.
Kisu mwane, God bless and Go Zags,
Matt Johnson, Class of 2016
1 Peter 5:2-3