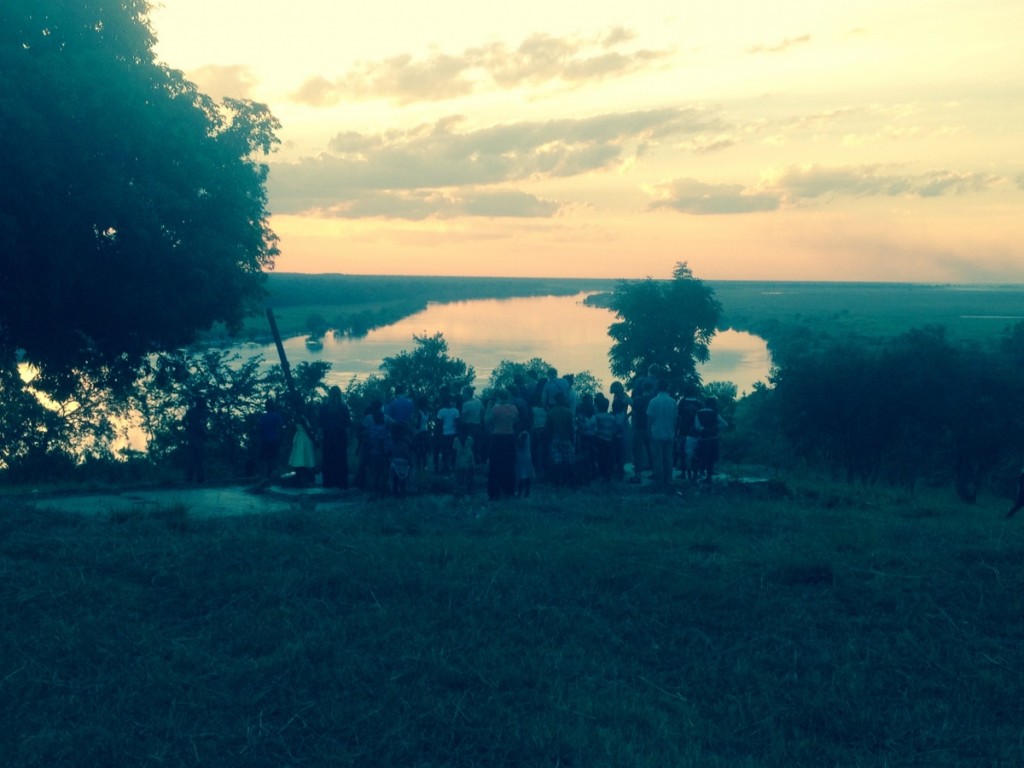 Hello blog readers. Most of the previous posts have provided excellent insight into some of the emotions we experience and some background of the program in Zambezi. However, I thought it might be a good idea to introduce what a day in the life of Zambezi is like. So here goes.
This morning I awoke with a start under the vast mosquito web netting that makes me feel like a princess. I immediately began calculating ways to silence the rooster that has dutifully provided a 4:30am wake-up call three mornings in a row now.
This morning, the engineering squad took a stroll to the market in order to charge the new battery we had purchased for a project. We took off after breakfast with battery in hand. As we waddled through the sandy roads, children flocked to the street in order to get a glimpse of a few lost "chindeles," the Luvale word for outsider. It seems that the first words Zambezi children are taught to say in English are "How are you??" followed by "yes" and "thank you." It is not uncommon to find children as young as two or three yelling "chindele how are you?" When we would reply "Good, and you?" they would simply respond "yes, thank you," feel our arm hair, then run off again.
Upon entering the "old market," it is usually a good idea to brace one's senses so that the smell of dried fish does not hit you quite so hard. Collin, Allie, and I, being complete neophytes to the scent of salty fish baking in the sun, were hit with the full force of the odor and had to take a moment to absorb the experience so that we could describe it as a form of "imagery" to our professor, Jeff, later on. We eventually found the place where we could charge our battery and left it there for the remainder of the day while we meandered through the town to attend to other activities.
Our next errand was to visit our friend Samson in order to look at the pontoon crossing for tomorrow. We realized we were ten minutes late, and after debating whether we should walk a little faster, we quickly dispelled the notion realizing that the concept of Zambian time applied here. Zambian time means you that when you make it to an appointment, you make it to an appointment. Start times are just kind of suggestions, but everyone is happy because they know the meeting will happen eventually, no matter the hour. During classes later today, a group interested in health education arrived an hour and a half after the decided start time for the session, but no one was really that miffed about it because that's just how things go. The concept of Zambian time is a brilliant one and I hope that maybe a few professors on Gonzaga's campus would be willing to adopt the idea.
Anyway, back to Samson. Our friend Samson works for Seeds of Hope, an organization that builds bio-sand water filters that can be installed in homes and are good for a lifetime. Tomorrow we will venture to a village called Mize, across the Zambezi river. Today we decided to inspect the river crossing in order to ensure the filters' safe transportation for tomorrow. After helping a broken car roll up the river bank and failing a price negotiation with the pontoon operator, Samson suggested that we take the canoes available at the shore to the other side in order to inspect the road. On the other side, Samson began a lengthy conversation with a few women sitting under a shady tree in the sand. Approaching us glumly after his discussion, he looked up and said "I have some bad news for you." He solemnly looked each of us in the eye, all of us thinking that somehow our whole project won't work out, me preparing for the worst. And he says, "these women don't have any fish." We each nod and purse our lips in a silent, sorrowful fashion looking from one to the other. With as much sincerity as I can muster, I tell Samson I am sorry and we have a moment of silence for the lack of fish.
The roads being as inspected as possible, and the pontoon man agreeing to meet us at eight hours the next day, the engineers began our walk home on the only paved road in Zambezi, recruiting anyone we could for our engineering classes throughout the week. We met Jeff and LaShantay along the side of the road and stopped to watch a casual goat fight. Collin tells me the mother was teaching the baby goat how to butt heads for its inevitable encounters later in life. I guess goat diplomacy is at an all time low these days.
Jeff and I continued our stroll through to the old market again while Allie, LaShantay, and Collin returned back to the convent for a recharge. Jeff convinced me simply by saying he was on a biscuit hunt. And biscuit hunt he did. In no less than thirty minutes, Jeff hit four shops, purchased 6 different packets of biscuits, had an interesting conversation about a Lunda bible, bought two toilet seats, and secured a ginger beer for the walk home. It was like poetry in motion. During the transition from our toilet seat purchase to the Lunda bible conversation, we ran into a man asking about our classes for the week, a fairly common question we hear from people in the market. The man began discussing his interest in enzymes, and we informed him that the health team could probably talk to him about this issue. The silences became more drawn out as the man tried to find the right words to sufficiently articulate his thoughts in English. After a particularly long pause and perhaps a small, but firm throat clearing from Jeff, the man spurred into speech, admitting that he was indeed drunk, but that we should forgive him and that maybe he would come to classes anyway.
Tonight was special because we had two visitors, Father Dominic, a priest from Solwezi and a good friend of the program, and Ann, a supporter and advocate for the library project at Chilena Basic School. Tonight at dinner Mama Kawatu, our chef extraordinaire and cultural guide, led a welcome song in Luvale to greet the newcomers. As we clapped and sang, the new arrivals grinned broadly and greeted each of us in turn. We sat for dinner and the hum of voices filled the air. The emotions felt by our visitors reflected our own. We are finally settled here in Zambezi. With good food, good friends, and good energy surrounding us, Zambezi is now home.
Reilly Dooris, Class of 2015