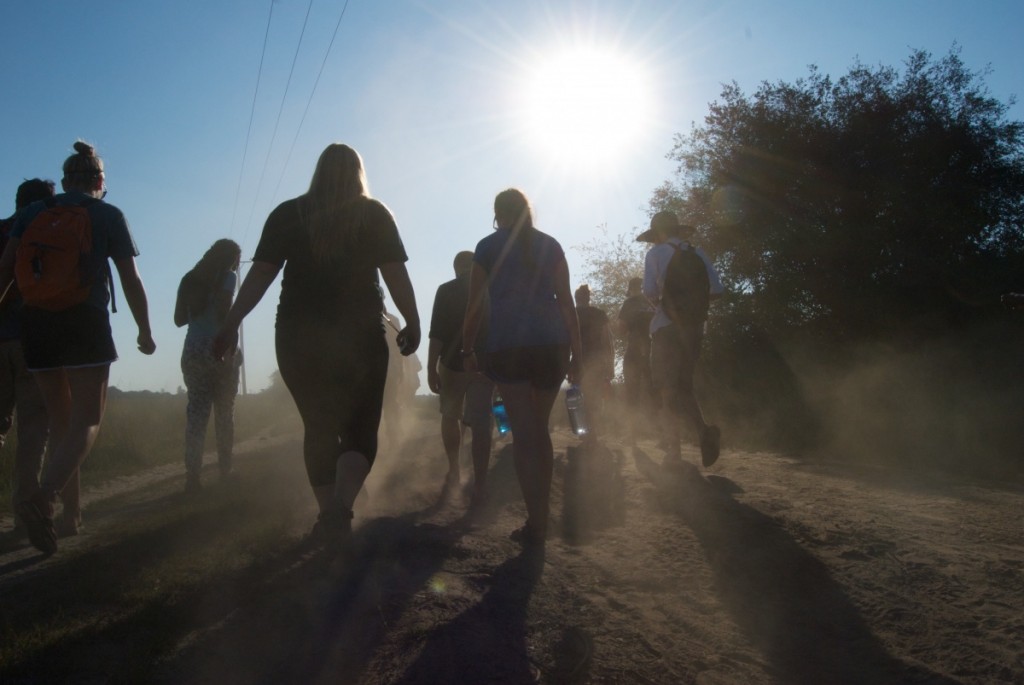 As we sit around the breakfast table each morning and hear the previous day's blogger read her or his post and all of its comments, I am often brought to tears. My fellow Zags' descriptions of the astounding beauty of Zambezi and its people is more filling than any homemade banana bread (shout out Joel and Lindsey), and the interconnectedness of the Gonzaga-in-Zambezi community, its alums, and its fervent supporters assures me of my place here. I, too, am so grateful for children who cling to my arms and leave traces of dirt, for sweet bush bananas, for handstands and rooibos tea and sunburns that reflect back the color of my love for this bright place. It's hard for me to concentrate on anything but goodness for too long as I sit in the hot Zambian sun, writing this post and pretending I know how to eat sugarcane. But I think that, to some extent, we are all guilty of glorifying Zambezi—all 22 of us and each of you reading this blog from around the world. It is human nature to idealize any place that is a home. Zambezi is beautiful both by itself and because we love it, because our lives change here, but the love and transformation we feel can blind us to the ways that Zambezi falls short of our hopes.
There are so many good and pure things about Zambezi, and I do not mean to diminish the beauty that my classmates have so gracefully communicated. However, if we do not recognize problems in the Zambezi community, we inadvertently show that we do not respect Zambians enough to believe that they are capable of enacting positive change. By seeing or saying nothing, we define Zambezi as a lost cause, something that is beyond fixing, and we establish ourselves as people who will love a place for a time, think about it often, and detach ourselves from the parts that do not align with our idea of a picture-perfect African experience. Here, I have come to know the glaring reality of my privilege. When I see the trash on the sandy roads or feel uncomfortable when someone yells "chindele" at me in the market, I have the comfort of knowing that I can return to a safe place 10,000 miles away.
At dinner the other night, we hosted a Catholic priest whom many of us have gotten to know through our classes. After the craziness of two dozen hungry people scraping forks against plates and after one individual was lucky enough to find a flattened chameleon under her plate (a trick we've been playing on one another), Father Chomba asked us a question more surprising than any dead lizard: what is the most disappointing thing about Zambia? There are many easy answers, several of which someone could guess without having ever traveled here: the treatment of people with disabilities, HIV/AIDS, unclean water, subpar healthcare, etc. I am beginning to see that, for many chindeles, it is easier to list off the problems Africa faces than to name its countries and know their differences. While these issues make Zambezi seem worlds apart from my life in Spokane, it is the everyday problems that families and communities face that make me feel as though I haven't traveled very far at all.
Right before the end of the spring semester, I was invited to the going away party for a 5th grader I saw each Wednesday at an after-school program. His mother was asked to leave a recovery program just months before her graduation because she had started to use drugs again. Because of one choice a parent made, the whole trajectory of this boy's life might change. He is sweet and considerate and has often told me about the "lil bit of Jesus" in his heart, but I worry that this harsh world will chip away at his strong character. In Zambezi, I have met children who want only to be talked to, listened to, held and cared for deeply. It seems that children around the world are the innocent victims of adults' shortcomings. It is not something unique to Zambezi or Spokane.
Last weekend, I had the opportunity to stay overnight with a woman from our host church who lives in a rural community on the outskirts of Zambezi. Racheal opened up her home to me and Lindsey, graciously shared a meal with us, and showed us the beautiful shape of her life—its depth, its soft spot, its firm reliance on God. After dinner, we sat out under the brightest stars I have ever seen, and I talked with her nephew about his interest in studying history. When I asked him for a story about Zambian history, he told me about the destruction of peaceful tribal culture by European disease and colonization. In return, I told him of my trip to the Blackfeet reservation this spring and the similarities between the stories of our two continents. Lindsey and I cozied up in our shared bed and journaled, and I remember being at a loss for words because I was so overwhelmed with experiences and conversations. Not much of what I wrote down that night makes sense, but there is one phrase that I've repeated many times since that night, and I think it perfectly describes what I have learned here in Zambezi so far: none of us is very different at all.
As a global community, we struggle—hard—against one another, against government, addiction, and infidelity, but that does not mean that we never triumph and reach a place of virtue and peace. As a global community, we strive for justice and the greater good, but that does not mean we do not, at times, meet failure and sink deeply into its blinding darkness. In the moments where I find myself thinking of Zambezi as either all good or all bad, I must remind myself to wrestle with the tensions, to ask questions, to practice self awareness, to let little hands braid my tangled hair into a hundred twists.
Kisu mwane,
Katie Polacheck, Class of 2017
PS- Happy graduation to my baby sister. I'm so proud of you, Bear, and I'm sorry I can't be there to support you on your day. It's like first communion all over again! Happy early 20th to Zackery, too. Hope London is treating you well! Miss and love you both.