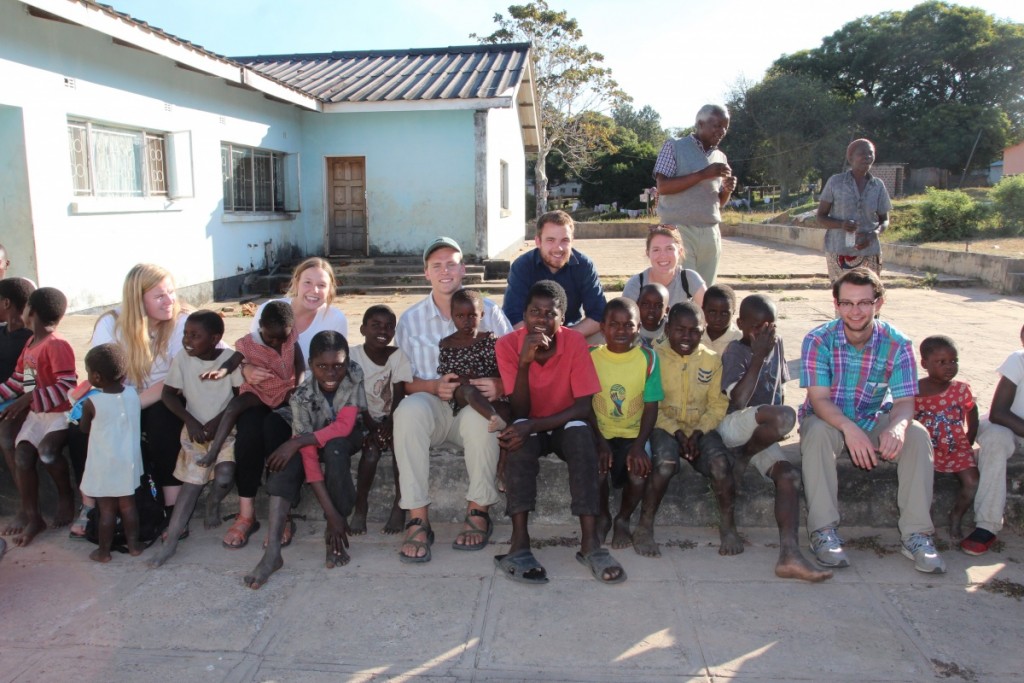 The past few days have consisted of a great deal of observing and listening. I am scuffling to take in the experience that I am presented and scuffling to put these images into a meaning that can be shared with our group and my friends and family at home.
On Wednesday, the Health Care team (Hannah, Kenzie, Shelby, Nick, and myself) was accompanied by Jeff on a tour of the local Zambezi District Hospital. It was an experience I had been eager for since long before we arrived in Zambia. The Head Nurse, Mrs. Moplanda, led us on a discomforting tour through the wards of the hospital, taking us to visit the bedsides of sick men, women, and children, where they were accompanied by their worried and grieving families.
We passed a strange mixture of young mothers, children giggling at our attempts to greet them in Luvale, alongside the sadness and worry of other patients fighting to become well again. During an awkward silence, Nick asked Mrs. Moplanda what happens when all of the beds are full or when supplies and resources are low. Do they ever turn patients away? Mrs. Moplanda answered quickly and sternly with one word: "Never." Never ever would they turn someone away to die. Never ever would they deprive someone of the basic human right to be cared for, to be looked after, to be loved.
Her profound one-word answer has been sitting with me for a couple of days now. It sat with me while we visited the Falconer Orphanage on Thursday, where the Health team had planned to teach a lesson about clean water while the Engineering team installed two more BioSand Water Filters in the orphanage. I saw the love and joy of 118 children, ages ranging from infancy to late teens, and the few adult men and women that care for them so deeply and tenderly. Many of these adults were former orphans who felt an obligation later in life to return to the place that cared and loved for them so well as children.
And again, I thought of Mrs. Moplanda's concisely eloquent answer this morning as the Health team went back to the Zambezi District Hospital to shadow and observe different areas of the facility. Logan and I found ourselves learning and observing the work of the Clinical Officer, David, as he examined patients, listening to their symptoms, prescribing them medication, and directing them on to the next steps of their screening process. Toward the end, we had the opportunity to talk with David about his schooling, his experiences as a clinician, and his reasons for being where he is today. Throughout his answers, there was one statement that stood out to me and that I couldn't help but jot down: "Wanting to save lives is something that is in you." When he said "you," he wasn't talking about me or Logan or himself only. He was talking about everyone. The people in our small communities. The people in our global communities. I can see that we, as human beings, have an innate desire to make a difference, to improve someone's life, to make this world a better place.
And here I am now, thinking back on that one word spoken by Mrs. Moplanda on Wednesday afternoon and trying to formulate how the simplicity of her answer has demonstrated to me one of the beautiful aspects of human nature that has been presented to me in my short time here in Zambezi: the human capacity to love. The human capacity to love will overcome the limited number of hospital beds or inadequate amount of supplies and federal funds. It is this human capacity that gives us those moments that "restore our faith in humanity" when we are able to see it.
As Lindsey so perfectly explicated in her earlier post, we are all "mutually indebted" between the members of our own community, no matter how big or small. We are tied to one another by the power of such human connection. We are connected by our experiences, our strengths and weaknesses, and our triumphs and failures. These things we share allow us to see one another and to feel obliged to act and care for our community. It is who we are. It is how we demonstrate our capacity to love. We are not perfect, and we are not all perceived as good, but I have faith that we as humans are blessed with this obligation to care for one another.
We can all think about the warmth we feel when feeling noticed, cared for, or loved. When a doctor listens to our symptoms, when a community embraces you when you have nothing else, or even when a friend is able to give you a perfectly-timed hug when you are having a merciless day. We want to be cared for, and we want to care back. We are not completely selfish, as some might argue; we are indebted to care for one another. This is how we love, and this is how we fulfill our purposes as human beings.
Blessings,
Peter Sherman, Class of 2017
P.S. Mom, Dad, and Katie – Love and miss you three! Hope the CO sun is treating you well. Give the pups a squeeze for me.
P.P.S. For those of you following along at home, there will be no blog tomorrow (Saturday 5/23) as the group will be spending the weekend in Dipalata. Stay tuned!