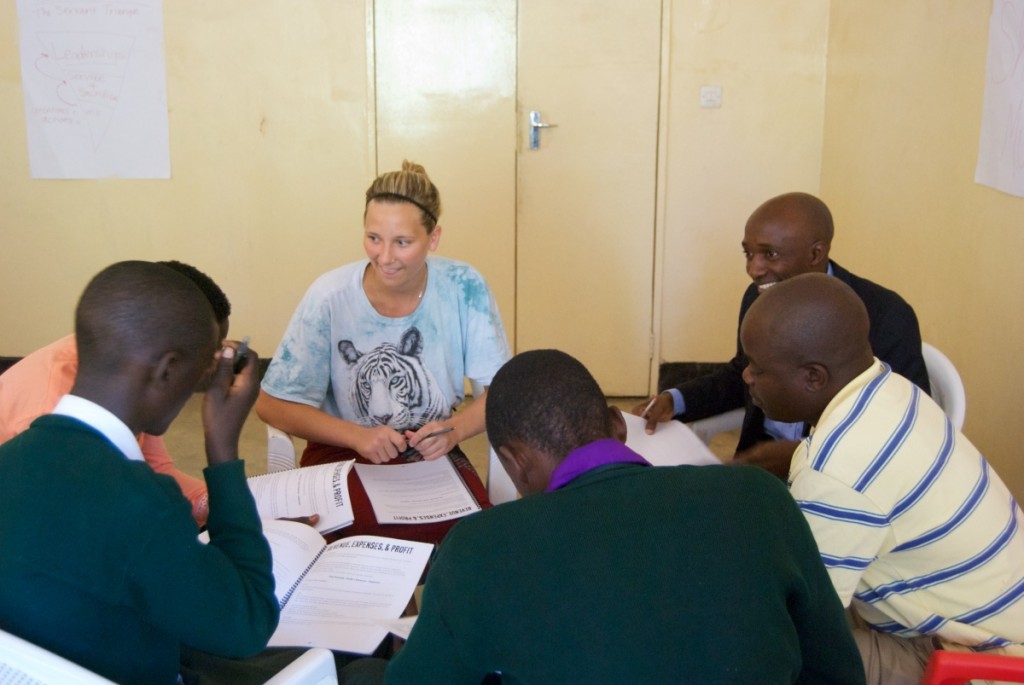 Culture is a complicated word to unravel when you think about the depth and variety of societies in this world. In the past week, I have familiarized myself with the Zambezi culture but during one of our leadership class discussions, a piece of this culture began to reveal itself, getting more than just the tip of the iceberg, and I've been trying to digest the unsettling parts of this society ever since.
On Friday, I was privileged to lead a discussion about women in business and leadership roles to a group of about 25 men and 4 women. Our purpose for the discussion was to leave our students with a more open mind about the capabilities that women possess and for us to have a better understanding of typical gender roles in a Zambezi family. The conversation started with us asking about a woman's role in Zambezi. We received answers that were similar and for the most part expected: A woman's role is to care for her children and to cook food for the family. When we asked what a man's role was, we received answers like, "The husband is the "President of the house" as well as "A man's job is to provide for his family."
Our class asked us how marriage works in America. I explained that, though my experience doesn't represent America as a whole, both my parents work full time and house chores are split relatively equally. They asked me, almost in unison, "Who is the head of household!?" When I answered, I could sense the utter amazement and confusion when I said, "I don't think either of them is the 'head of household'; they make decisions for our family together. While this answer seemed so normal to me and would probably be a pretty common answer among American families, the Zambezi students were wide-eyed and puzzled. To try and continue to decipher who the head of household was, they then asked me, "Well, who pays the dowry?" and I quickly responded, "What's a dowry?" While they explained, my uncultured brain was becoming confused once again. Apparently, a dowry is a gift, usually money, that a man gives his future wife's father if he wants to marry her.
Many men in the class agreed that women were equal to men. They explained that a woman could do anything a man could do, but I haven't been able to understand why, if they believe what they are telling us, they also believe that a man must be the "head of household" or that there even needs to be a "head of household." I was under the assumption that in Zambezi, financial provision equated to decision-making authority. With that assumption in mind, I presumed that men are always the head of household here because they are the ones who make more money, but later one of our students completely challenged my thoughts by telling us that his wife makes more money than he does. This is the same man who told us a man's role is to be the "president" of the house.
The conversation became more intriguing and at the same time more unnerving when I posed the question, "Why do you believe there are more men in this class than women?" This subject led to a discussion on women being less educated. One man explained that a father might stop paying their daughter's school fees because she will get pregnant anyway and it will just be a waste of money. To this statement I asked, "but is that a common situation?" To which they replied, in agreement, "yes."
We also learned that in order to keep class sizes an equal number of boys and girls, girls have lower standards to pass than boys do in school. Girls, in general, also test lower in Zambezi than boys. After asking many questions, we figured out a few possible reasons why. While girls are in school, they are still responsible to help their mothers with duties around the house. The boys have more time to study as well as more encouragement from their parents because one day they will need to provide for their own families.
You can imagine their faces when we explained that there are more women enrolled in Gonzaga than men.
The more I process this class the more I am able to understand how much of a culture shock this conversation was for all of us in the room. I'm still processing this class but what I have come to understand and accept is that there are many different cultures in the world and there is no "right" way of doing things. This conversation has led me to think more about our culture in the United States, and it is far from perfect. There are certain things we do as a culture that would be hard to explain as well. Why do we take a man's last name in marriage? There are many causes as to why this is but it's something we don't question as a society. Many western cultures—even my own—have strong traditions of gender inequity. Back in the day, women weren't allowed to own property, so assets were passed down through the last name of the man. In patriarchal cultures ruling power was passed down through the male line. In our day and age, a woman can own her own property or be the Queen of a country but most still take a man's last name in marriage. I don't think it's wrong to question someone else's culture but I think we need to question our own in the process.
Nothing I do here, no amount of time spent in Zambezi or any other part of the world could erase the American experiences I've had or the values I possess. I am proud of who I am and where I come from but this also makes it impossible for me to accept other cultures without being critical. My hope is that in my remaining time here, the people in Zambezi will continue to help sculpt my views of the world by sharing their culture and values with me.
Kisu Muane,
Bree Fealy, Class of 2017
P.S. To all my friends and family, I miss you all and I can't wait to share my experiences with all of you!