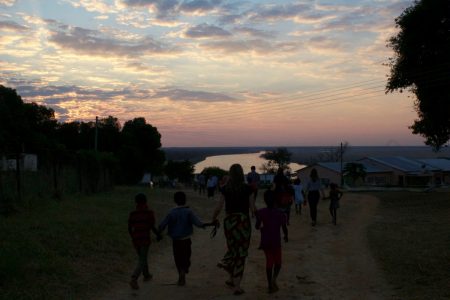 On my first day in Zambezi, when I stepped off the tiny bush plane with three other students, we were greeted by a joyously singing mass of children. One of these children I was blessed to meet just a few minutes after landing is a 12 year old girl named Glory. Glory is the eldest of four children and has the sweetest voice when she speaks. I was eager to learn everything about her that I could. Unsure where to start, I asked what she wanted to be when she grew up. She very quickly responded, "a doctor". I asked why and she explained, " I want to do my best in school and become a doctor so that my little brothers and sisters will do their best, and so they know they can do anything." I was surprised and impressed with the love, drive, and passion this girl had at only age 12. She later wrote me a letter with a vocabulary list of Luvale words in English so that I could learn. She also asked me in her writing if I slept well, suggesting I pray in the night like her so that I can keep the bad things away. Once again, her compassion and beautiful faith overwhelmed my heart. I was so excited that she was my first friend in Africa and I've only begun to know this little girl. But this is not the story of Africa. This is Glory's story.
Nevertheless, Glory's story is just one of the few I've began to open and read. Others include that of Mama Josephine, Father Dom, Mwamba, Jessy the tailor, and that of my home-stay family. What struck me about my home-stay and its comparison to other students' home-stays is the extreme diversity of experiences we had. Some students slept on a bamboo mat on the floor of a mud hut, others shared a bed with members of the family, while Dakota, Katie K. and I piled into a full size bed. Our family had running water, a television, a toilet in the house, and a few electronic toys. Others, let's just say, had a more limited selection of amenities. When our Gonzaga group got back together the next night for reflection, we talked about how some home-stays were more of a "traditional African" household and others were described as "more American". This seemed strange to me. Lots of other homes in other countries have televisions and we don't call them American, and there are mud huts in other continents but we don't call them African. I left for bed that night still surprised by how radically different each home-stay was, despite each home being within a 5 mile radius of each other, and I was confused by our interpretations of these differences.
The following night, we watched a TED Talk by Chimanda Ngozi Adichie titled, "The Danger of a Single Story". Slowly it started to make sense. I'd developed a single story for Africa. I called our home-stay "more American" because a television and smart phones did not fit into the box I'd built for this continent. Neither the story of Africa nor Zambia can be defined by one home-stay, or by one month of studying abroad. They are defined by a mass compilation of the stories of James the tailor, George the shopkeeper, a schoolgirl named Barbara, and millions of others I have not yet met. These are the individual stories of people of Zambezi, not the story of Africa.
What is our Gonzaga in Zambezi story? Once again, this is a difficult and probably impossible question. Despite living in the same convent, eating the same meals, and often meeting some of the same people, we are all having very different experiences. Some of us enjoy chasing sunrises during early morning runs, while some of us prefer remaining happily in our beds until the roosters so graciously wake us up. Some of us spend our afternoons shopping for chitenge and snacks, while others play Chi Tomato with the children. Some of us dance in church (Jeff Dodd), while others attempt to fake putting money in the church collection box when they forget to bring some, causing us all to stifle our laughter as we walk back to our pew. (I'll allow this student to remain anonymous). Some of us are the convent's brave critter removers, while others are fierce and adaptive kitchen chefs alongside Mama Kitendi throughout our battle with an unreliable stove and water source. Some of us journal under the night's stars, while others prefer reflecting on events with empathetic and listening ears. We will all come home with different stories, none more or less important than others, and none of them individually define our group experience or story. Rather, together we make up our story.
Now what is my story? We are only on day six in Zambezi so I apologize for not having a very complete answer. But so far I have loved playing with all the children and conversing with students in our leadership class about life in Zambezi and the challenges that come with gender roles and business. I cherished my afternoon today listening to the church choir practice outside while sitting under a tree with Glory. She spent an hour teaching me new words in Luvale and I repaid the favor by teaching her how to sing "My Only Sunshine," one of my favorite childhood songs. So far I've been struggling with trying to manage and embrace awkward encounters that are a result of my already awkward personality combined with the misinterpretations and challenges that often come with cross-cultural interactions. The sight of so many children hanging out on the streets all day because their family can't afford to send them to school makes my heart ache with a longing for them to receive an education that I take for granted. I wonder and worry whether Glory will ever make it to medical school like she dreams of. I am trying to understand what us Americans can learn from our new friends in Zambezi and the importance they place on family, community, and the most loving form of hospitality. I am still feeling like a strange object to stare at in the market, like something that disrupts normal conversation and results in whispers of "chindele". I wonder when I can become real to them and when they will become completely real to me. I am constantly finding new ways to spill water in the pantry and loving every beautiful laugh and tear of this trip thus far. Like I said, this is not very complete and it is pretty messy, but I guess that's life, and I guess that's the beauty of my story.
I keep finding myself feeling overwhelmed by all the stories I hear everyday. I feel the need to write them all down so that, when I come home, I can answer the questions about "How was Africa?" and "How was Zambia with all your friends?" in a complete and organized way. But my experience here is not the story of Africa and it is not the story of our entire group's experience. It is just one tiny little part I'm sure will keep expanding throughout these next couple of weeks and beyond. I'm reminded of Adichie's words when she explains that the danger of a single story is not that it is untrue, but it is incomplete. Those that know me well know that I do not like not knowing the answers. I can get very frustrated when I don't understand. But I am able to remind myself that I don't need to have a neat, compact, single answer or story about my time in Zambia or Africa in general because that would discount or discredit the stories of so many others. I don't know what all this means. I don't understand how to find answers to all my questions, nor do I know if I am even asking the right questions. I'm not sure what God has planned for me these next few weeks. But in the mean time, I will do my best to listen to the experiences, hopes, dreams, and fears of people like Glory, so that slowly, story by story, I can develop my own story in all its complexity, challenges, whimsy and love. But I think that that is the beauty of stories. All of our stories are the compilation of other stories, and through that we cannot only tell our own story, but work together to become one and tell the story of us.
Kisu Mwane, my friends. Sending you all my love.
Katie Barger
Class of 2018