It's nearly impossible to go through a day in Zambia without at some point being drawn into a dance circle. Usually it's at least fifteen children eagerly clapping and pulling their favorite chindeles into the middle to perform a goofy and rhythm-lacking dance move. As the kids laugh at the moves we come up with they sing "sala chi tomato, chi tomato, sala chi tomato, chi tomato." The song was originally created to teach the younger children about growing tomatoes, with "chi tomato" meaning "big tomato." Each day these dance circles bring us closer to the Zambezi community and a step closer to understanding who the big tomatoes of this world are.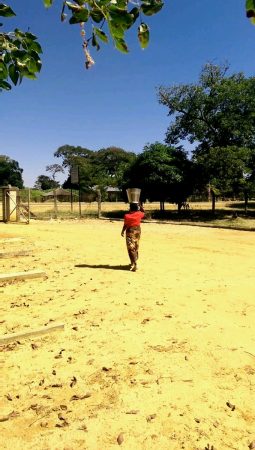 Over the last week in Zambezi I have seen as many powerful women as I have seen stars in the sky. In our rural village lacking city lights, that is a lot of women. Our own convent home would fall apart without the presence of our two Zambian mamas, Mama Katendi and Mama Violet. Dressed in their bright chitengi and with soft-spoken but commanding voices they guide us through life in their town as they cook for us each day. Tonight I was tasked by Mama Katendi with cooking the apple crisp for our dessert. As I began to combine ingredients, Mama Violet watched me with skepticism. In front of her stood the girl who dropped four eggs at her homestay five days ago, flooded the pantry two days ago, and was currently spilling two cups of flour all over the floor. The woman looking at me had managed to walk two full buckets of water (one on her head and one in her hand) back to the convent while our group struggled to load ours into the car to drive them home. Yet both of my Zambian Mamas supported me in my desperate endeavors not only to cook but to reach their level of empowerment. With each of my endless cooking questions, the Mamas reminded me that I already had the knowledge I needed as they gently pushed me back toward the cookbook. These women did not leave me to fend for myself but instead encouraged me with the same kind of quiet and wise love I know so well from my own mother at home. Later, as she announced dinner was ready, Mama Katendi smiled warmly at me and assured me that yes, my apple crisp looked beautiful. She saw my anxieties and she calmed them with a simple smile.
Zambian women posses a strength beyond what I could have imagined. These women are the cooks, the innovators, the counselors, the shop workers, and the mothers of this village. Walking through the market I see countless women running their own stalls and shops. My host sister, Karen, works ten hour days at a grocery store followed by a twenty minute walk home to cook dinner in an outdoor stove for her family. She dreams of going to university and studying Psychology some day. Mama Love and Mama Josephine are Zambian women who work together as community organizers fighting for increased women's rights and education. Mama Josephine guides us as we stumble through our Luvale language lessons while Mama Love never misses an opportunity to speak abundantly about her passions. Every single day these two do something that changes the life of a woman in Zambia for the better. Vera, one of the girls in mine and Katie Kenks' grade 7 English class is quiet and speaks little English. But her gentle demeanor gives way to a thriving desire to learn and a perseverance to read the sentences we give her, even when she seems to have no idea. Each time Vera reads I am blown away by her ability. These are women who live with no running water and often no electricity. They work with fire-lit stoves and grow a great deal of their own food. Zambian women have dreams, they have goals, and they have some of the most intimidating and powerful personalities you will ever meet.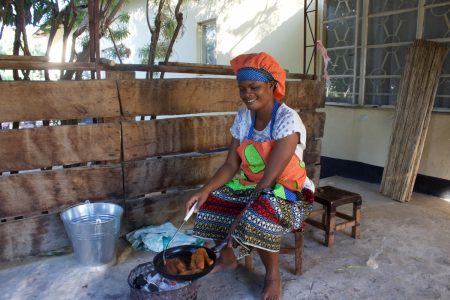 Before I came on this journey I thought I was coming to empower women. I thought I was walking into a world of strict gender roles that confined women to the home under the masterful hand of their husbands. I was prepared to respectfully disagree with the role of women in their culture. I was prepared to thank God every day for my own women's rights at home. I imagined I would meet many men with strong voices and an abundance of opinions, while I was served food by women and occasionally passed them carrying babies in the street. I believed I would need to tell these women how valued they are and remind them of their abilities. I was right in some ways, but in many ways I was very wrong. Yes, this is a society with pretty strict gender roles. Yes, I am often served food by women and I pass multitudes of women carrying babies wrapped in chitengi on their backs every day. Yes, I thank God every day for my rights at home. However, no, these women are not confined to their home. No, I have not found myself abhorred by the role of women in this community. No woman demands respect quite like a Zambian woman. At first glance it may seem like the men are the big tomatoes of this community. At second glance it may seem like those of us with a skin color that gives us automatic respect and authority in this community should be the big tomatoes. But spend five minutes with a Zambian woman and you will no longer question who is the big tomato here. Instead of me empowering these women, every day here I have been empowered by their voices. They push me outside of my comfort zone and prove that this is where I can truly thrive. Each day that I sing "Sala chi tomato, chi tomato" I am reminded of the beautiful big tomatoes that I interact with every day, and each time I feel united in our power as women.
Love and kisu mwane,
Emily Handy
Class of 2017