As I walk up to the distorted metal gate, fine sand in my shoes, and the irregular cobblestone-like porch I step up to the creaky wooden door and open it. I walk in, there are the grey floors with the contrasting black stove in the opposite left corner, walk-in pantry to the left, double-sink and refrigerator to the right, and a quaint set of double doors entering to an large, open worn-down yellow room. To the right is a wing of rooms filled with beds covered by mosquito nets and to the left, a storage closet, a few more rooms and two classrooms that echoed with the chatter of students during the first week of classes. Welcome to the convent, welcome to our home.
For the past week, we have settled and made our mark on what is our home for the next two weeks. The custard yellow surroundings speaks volumes of the incredible people inhabiting the walls of this place from novel quotes, morning inspirations, affirmation posters, and a personal goals wall. In particular, honoring not only each other, but also the community that has so graciously embraced us as we arrived, our community agreement epitomizes the ambitions we collectively strive towards in our time in Zambezi: honesty, authenticity, intentionality, meaningful and wise use of time, respect for the human person, and of course, fun.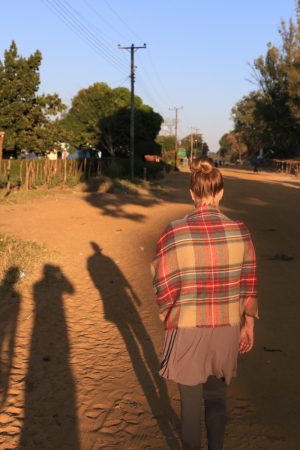 Its kind of ironic that after ten days being away from the States, countless conversations, and witnessing simplicity of such a happy place, I struggle to fully accept where I am at. I give credit to the relationships that transcend my current place in time to those who walked the rugged sandy roads, irregularly power surging halls of the convent, and the undertone of love pulsing from handshakes and greetings surmounting to ten years of cross-cultural interactions.
I spoke with Simako, a young twelve-year-old boy who told me he wanted to be a teacher. He attends school in the morning and the afternoons are spent singing, dancing, and learning how to read with some of the remarkable people I have the pleasure of knowing on this journey. Witnessing the struggle and success of Simako throughout his day has been one of the most impacting experiences I have had yet in Zambezi. I look back at the time I have spent at Gonzaga and am reminded how fortunate I am to have received the education I have thus far. As I sat listening to the aspirations Simako shared with me, I am dismayed in the moments over the past four years of recoiling from something academically associated because it wasn't motivating. Simako speaks of his goal to learn enough to pass that knowledge to those after him. It is a gift to have a newly found appreciation and motivation for the education I received. What makes my friendship with Simako as meaningful as his longing to learn is throughout the restlessness, distance and struggle God gives me a gift in the form friendship: "Do you know Cecilia?" Simako asked me. Immediately, I flashback to my friendship back in Spokane with a fellow Zag and Zambezi Alum. The subtle reminder of the people that I am continuously surrounded by in Zambezi can create a sense of belonging in an unfamiliar place.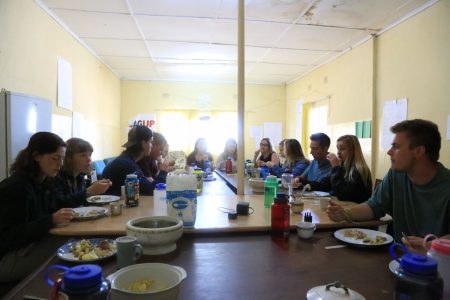 At dinner tonight in the living room of our convent lit by the unequally distributed power lighting and yellow walls hugging our family, we set the multiple, oddly shaped and configured wooden desk tables for what is to be a meal full of more stories and laughter. Upon the conclusion of dinner, we recognize an esteemed individual who has made an impact on our time here in Zambezi. Father Dominic, received affirmation regarding his selfless heart, compassionate spirit, and his ability to attack each day with a vigor that inspires us to do the same. Father Dominic quelled some of the initial nerves I had regarding my time in Zambezi by uniting our family in the first moments in Africa, becoming my first familiar face here. I hold this quote dear to my time in this remarkable place: "It is not the length of life, but the depth of life" by Ralph Waldo Emerson. With Father Dom's departure quickly approaching, I am challenged again to make the most of the deep connections Zambezi has to offer for the short time that I am here.
At the conclusion of dinner Father Dom makes his round of goodbyes, journaling commences, and the dishes are being done to familiar American tunes, another peaceful reminder of how close home can be.
Each night we conclude with a guided reflection that triggers dialogue to further analyze the tension in our vastly different experiences in Zambia. Tonight, we revisited our community agreement and deconstructed where we as a family are thriving and where we could use some growth. Themes ranged this evening as we hit points of tension and resolution regarding our first week together as a group. Emotions ran high when recognizing the beauty in struggle and overcoming cultural and domestic adversities that challenged each of our perspectives on actions and words. Elly spoke of the language of love and just as different tongues can unite through love, our family experienced love as the universal language of hope and desire for our best selves.
I am writing this blog from the irregular cobblestone-like porch of our home when I look out and see the moonlit courtyard in front of me. It brings me great ease that Zambezi has provided a safe place to call home because, after all, when we look up and admire the moon in the evening, hear a familiar name, make a mutual transcontinental friendship, or listen to American music in the kitchen, it makes our loved ones seem that much closer in a place we've all learned to call home.
PS: We will be traveling to a rural village outside of Zambezi this weekend. We will be returning Sunday evening and will resume blog posts then. Have a great weekend!
Kisu Mwane and Go Zags,
Zachary Chelini, Class of 2016