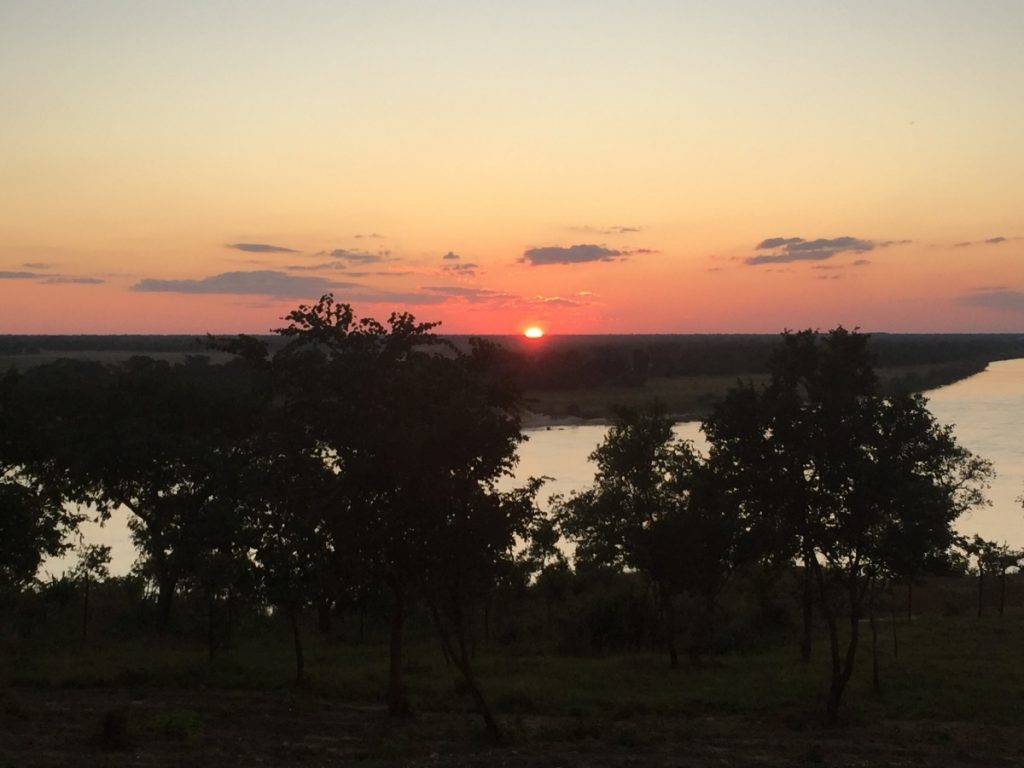 Zambezi Sunset
Where do I start? In the past few days I've laughed, cried, made new friends, learned a new language, held my friends while they cried, taught a computer class, made nshima. Hell, in the past few hours I've bought Chitenge, danced, laughed, had an anxiety attack, listened to John Mayer, and dabbed. Life is moving at an extraordinary rate, but at the same time it seems to be almost still. While eating dinner a few hours ago, I felt enjoyably peaceful. There was no pressure or rush to do anything except tally up Surprise Butt Pinch's attacks (context later). Perhaps this is the Magic of Africa Shakira so fondly talks of in her song Waka Waka (This Time for Africa).
If you ever want to feel incompetent, hang out with an African family for a day. Two days ago we all went to homestays with various families throughout Zambezi and mine sure was humbling. As soon as we got there Morgan Green and I started watering the family's garden with the brother of our homestay mom, Vernon. After finishing, we gathered on the porch to make dinner. They had set up two outdoor charcoal stoves that we used to prepare, among other things, nshima (SHEE-muh) – a thick corn mush that the Zambians use to scoop up and eat their food. You start with boiling water and a few scoops of corn meal, and then begin stirring. Morgan and I were feeling pretty good about ourselves, stirring and scooping at our leisure, but when the water boiled, ohhhh when the water boiled, our character was tested. A one hand casual flick of the wooden spoon turned into a two handed mêlée with this corn meal beast. Grunts and snorts evacuated our body. As the children suppressed their laughter and mom frantically tried to reassure us, Shelly, the 13 year old wonder woman, ripped the spoon out of my hand and, full savage status activated, grabbed the red-hot pot with one hand and whipped the nshima with the other. Upon this display of pure authority and force you can't help but feel useless. The next morning we had a similar experience as Shelly cleaned three dishes for every one of Morgan's and mine. Shelly is the real MVP of Zambezi.
I think jet lag and post mono is hitting me in full force. I've slept three nights in a row in my day clothes and Chacos because by bedtime I've been so tired I didn't care to take my shoes off, let alone change into something more comfortable. This was no different at my homestay. I've never been in such a new and stimulating experience before and physically not been able to stay awake. As we sat and made food and talked about our respective cultures with our homestay family I could not for the life of me keep my eyes open. I was mixing "Yes's" and "Mmmhmm's" with bouts of falling off my chair. It's a miracle no one noticed because I imagined I looked drunk. I guess I held it together though because Shelly never intervened. The only comment I got was one from Morgan just before bed when she told me she was wondering why I suddenly stopped talking for 30 minutes.
Despite the fights with nshima and struggles to stay conscious I managed to have lovely time at my homestay. I was blessed with a beautiful family and a mom and dad who seemed to love us as much as they love their family and their culture. I have never been welcomed into a home so graciously and lovingly (except maybe my own home, mom you have stiff competition). A sign of hospitality in Zambia is to kill a village chicken and prepare it for your guests who come to dinner and they did this for us. As explained by my homestay mom, this is done for important guests so knowing that they did that for us made me feel very loved. We talked into the wee hours of the night as we gathered in the living room and de-kernelled the corn for tomorrow's nshima. Previously mentioned Vernon and up and coming Zambezi rapper collaborated with Jimmy Mac as we tandem beat boxed and rapped. I learned lots about their culture and their politics and they were ever so full of questions for us. I felt a part of their family and a part of their culture and leaving the next morning was like leaving my cousin's house when I was five years old. I will be visiting my homestay a lot during my three weeks here.
I could go on and on about all the experiences I have had recently and the trials and tribulations I have faced, but I simply will not write a 2000 word blog while falling asleep. Zambezi is a place full of immense joy and love amidst much pain. I hurt for myself who is so desperately trying to open my heart up to the people around me and I rejoice in the love and friendship the Zambians have shown me. I am in a beautiful place with beautiful people and beautiful friends to experience it with. A cracked chair that pinches your butt cheeks as you sit in it (aka Surprise Butt Pinch) has become a joke and lasting memory because of the joy my friends insist on showing around me. The tears will continue to flow and the love will continue to be poured out because we are in a good place, a place that I already know I will love and cherish until the day I die.
P.S. Love you mom and dad and all my fam bam hope you're kicking some serious a$# over in America. I miss my dogs.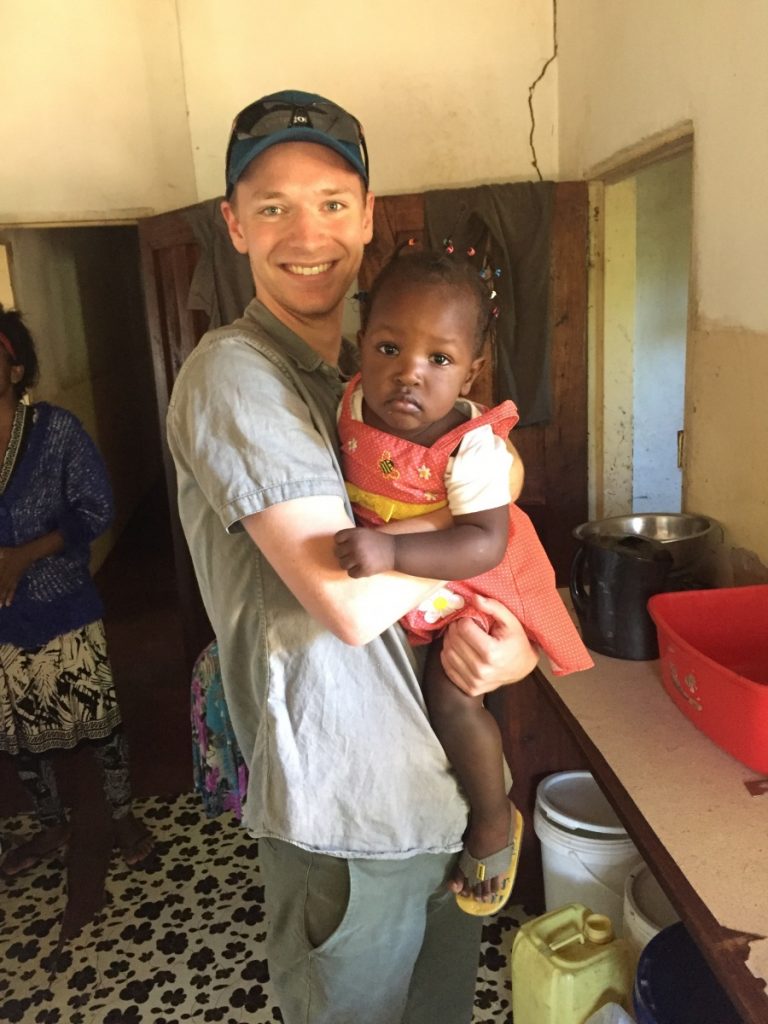 Me at my homestay with baby Grace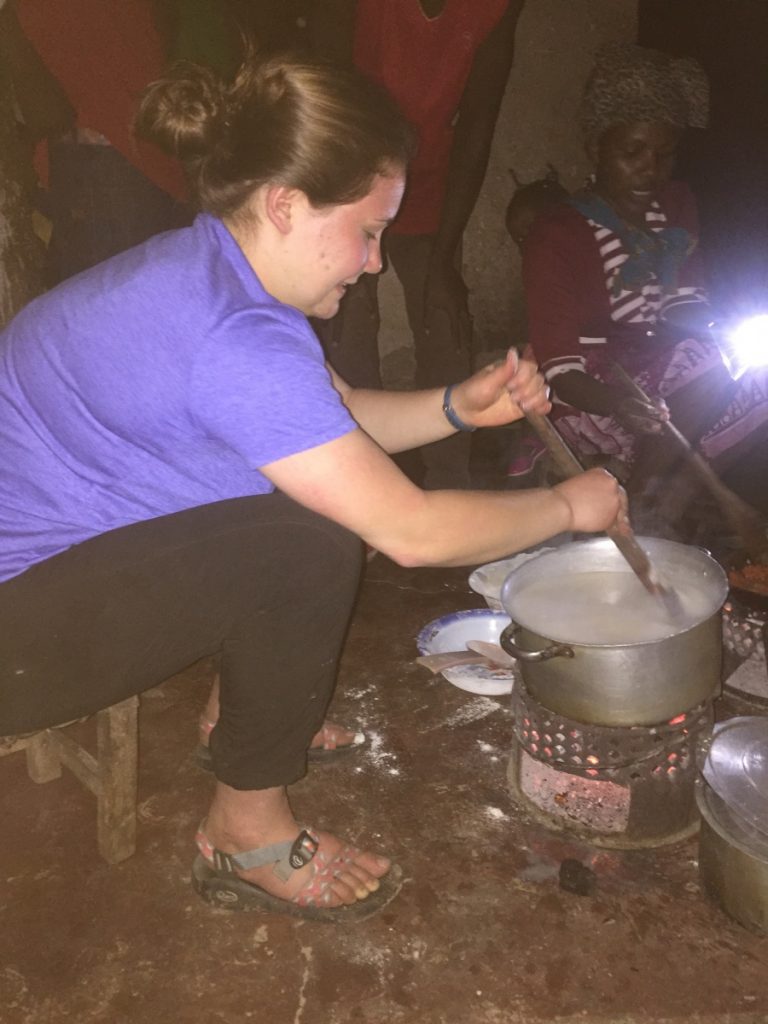 Morgan vs. Nshima