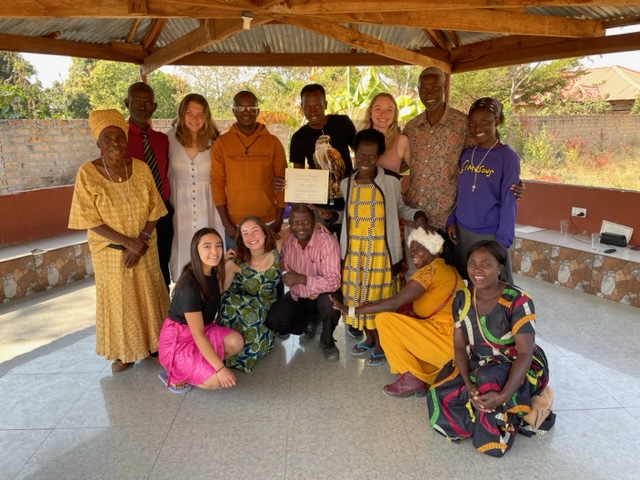 Today has been a difficult day for all of us, as it is our last day here in Zambezi. It has been full of goodbyes, hugs, and celebration.

We had our business and leadership class graduation this morning, where we gave out snacks, juice, and the hard-earned certificates to each of our students. Mama Mary started a dance party by singing a song that we learned from Mama Josephine so that we could all celebrate together. We are going to miss each and every one of them so much. There were hugs and pictures with every single member of our class as well and lots of contact information exchanged so that hopefully some of us will keep in touch. It's going to be hard to leave tomorrow.

Seeing the convent walls all bare has felt strange, and everyone seems to be in a bit of a funk today: conflicted about leaving but excited to go home. There has been so much fun, love, joy, and happiness here that makes us sad to leave, but also hardships and homesickness that we can't wait to move past. It's extremely confusing to feel sad and excited at the same time, and at least it is a feeling we can all share with one another.

After class I spent some time sitting outside watercoloring cards for some important people who I'm really going to miss here and watching the ducks/chickens wander the yard.

Glance came by for a quick meeting and it was a sad goodbye for me as she is a strong woman in this community who I will miss dearly. She gave an amazing business proposal for an all-in-one beauty salon (including nails, hair, and makeup) that she dreams of starting, and her business proposal was so well thought out and organized. I hope to see it flourish one day.

I took my last trip to the market with Lauren, Grace S., Clare, Grace E., Maddie, and Sierra. We visited tailors, got some drinks, tried to hunt down chips spice (which was a sad fail), and I said goodbye to Wendy. It was a difficult goodbye and she gave me a gift to remember her by that I will never forget. It was a cute flannel jacket and some elephant pajama pants that both fit perfectly.

Eucharia came to say goodbye and I can't even begin to explain how much I am going to truly miss her with my entire heart. Her sweet smile and kindness is something I will never forget and I hope that someday I may see her again even though I know it's unlikely. We dropped her at home on our way to the Royal to watch the sunset and got to wave goodbye to Eucharia, David, and sweet little Grace. I won't lie, I shed a tear as we drove away. I will miss this family so so much.

We enjoyed the sunset together at the Royal and tried to cherish every last second we have together. I'm so not ready to leave these girls and glad we have a few more days before we separate.

It's so hard knowing we are leaving and will most likely never see all of these people again. It's the hardest goodbye and I can't even describe what this experience has meant to me. It's something I will share with these girls forever. We have so much love for Zambezi.

Can't wait to see you soon to all of my loved ones at home – I miss you and love you bunches!!
Megan Benham, '23