I am here. I am here in Zambezi. Many of you know that the journey to write those very words began for me in November of 2015, when I first applied and was accepted to study abroad in Zambezi for the summer of 2016. After some health complications, I said goodbye to last years group just two weeks before they departed on the journey we had spent the whole semester prepping for. The loss of Zambezi left me grieving and broken but it also asked me to find within myself the courage to do the work necessary to not only make it here but to make it here as the person I am today. A year and a half from the start of this journey, with the help of so many, I am here.
May 20th, 2017
It is my second night in Zambezi. I am walking from the convent, which houses us for our time here, to the house I will be spending the night at. "Balanced" on my head is a mat made of tied up sticks, which unbeknownst to me at the time, will be my bed for the evening. The first 30 minutes of the walk is fun, we walk through the market as everyone laughs and cheers for the chindeles pathetically using their hands to stabilize the large mats. Grace, my homestay buddy, and I laugh with them and at the situation we have found ourselves in just 24 hours into our time here. For the next 30 minutes, we walk deeper into the bush. With every step, I become increasingly aware that I have zero idea of what lies ahead of me tonight, all I know is there is a direct correlation between the kilometers walked and the amount of times "what the hell am I doing" goes through my head. Yet, the raspy voice of mama Violet is there to coax me out of my own mind, checking in to make sure the mat is not too heavy and cheerfully introducing us chindeles to her many friends along the route. It took a bit of time to calm my anxious heart but once I did, I could not have asked for a better family to begin my Zambezi experience with. The night brought with it so much comfort once we found a common language in dancing with the many children who gathered from the surrounding villages, killed the cockroach on the ground in our room, and shared in conversation with Mama Violet and Steven around the fire under the most beautiful, untouched by light starry sky.
And just like that, not even 24 hours in, Zambezi is already teaching me so much.
Do not look forward- It will only cause you unnecessary anxiety. Walk the unknown path with the kind of hope that does not equate to optimism but holds strongly to the idea that whatever finds you along the way or at the end has meaning. When the vehicle breaks down for the 100th time, use it as a playground, don't sit counting down the minutes until you return home. Our days here are full and looking forward will only make it seem as though we will be stepping back on the tiny bush planes the second we stepped off.
Look forward- On the mornings when the anxiety attack happens the second you wake up and the days where you just don't feel like you can be here anymore. There is a starry sky ahead, there is comfort from a world away in the comments read aloud every morning, and there is a cold Cadbury chocolate bar with biscuit waiting at George's. You got this. Just don't stay in the future for too long. You don't want to miss what is going on around you.
May 28th, 2017
We have just returned from our weekend adventure in Dipalata (refer to Joe's blog for a more detailed post about it). I walk into our backyard to find Grant sitting at the cement block, which has become the go to gathering spot for our group. Today, I walked out here hoping to put my headphones on and journal away my confusion, questions, and anger. But Grant looks up, offers me some tangerine, and says, "let's talk. How are you?" "I don't know Grant. How are you?" "I don't know either." "Why don't you know?" and we began a conversation that would change everything about this trip for me. As our friends began to slowly join, we began to realize that we were not alone in the questions our hearts were holding. The courage to be honest, to be vulnerable, and to not have the answers opened up spaces in our hearts for the joy and laughter, too. From telling ourselves that we are a burden on this community, to asking "what the hell are we doing here", and questioning if every relationship with Zambians is built upon the color of our skin and the country we come from, we slowly began to see our time in this community as more than our questions. Some of the questions are real but I am learning to not spend so much time seeking the answers. Instead, I am showing up to love the people around me in all the questions and messy circumstances of our togetherness. I know we will never stop seeking the answers but for now, I love that we have found small ways to allow ourselves to just be here.
Do not look back- there are lessons in those days you are not quite ready for. They are not yours to understand yet. Write long and hard about what hurts, write the questions, tell others you are struggling too, sit in those questions together. But do not get so caught up that you miss out on embracing the joy and beauty, too.
Look back- hold in gratitude the people who got you here, the place you left behind, and the journey that began far before stepping off the bush plane just 3 weeks ago. Acknowledge the answers that have come, rest in the peace of being right where you are suppose to be, let your heart fill with gratitude for those who came alongside you. Always look back to make sure the second car in the caravan is still there. We are a family and nobody gets left behind or forgotten.
Look around you, look at who is alongside you, look at what is going on within you-do not be afraid.
June 3rd, 2017
Tonight we read a piece by Fr. Greg Boyle that took me back to my spring break trip earlier this year. While I was in East LA, I was welcomed into Ana's home to share a meal and sleep for the night. All that she had, she offered to us wholly. And I immediately think to Zambezi and how Mama Violet and Steven welcomed Grace and I into their home for a meal and to sleep. And then again immediately to the many families who have welcomed me into their homes and families during the holidays. I don't want to create barriers in my heart and life between Zambezi and the US. Both places have so much love to give and also so many ways they fail in extending that love to every one. It would be a disservice to not question the treatment of women, to not question the lack of access to education, and the lack of food that are very present in both of these countries I love. They have both taught me so much and deserve to be seen in all the light and darkness they hold.
Do not look up-there are way too many spiders on the ceilings. And you do not want to miss what is going on around you. No place is perfect. And we have so much to learn from one another. So I will hold both, without looking up to one so much that I do the injustice of not loving it enough to want it to be better.
Look up-there are vast blue skies and the stars blanket the sky in a breathtaking way. Remember how small you are.
June 5th, 2017
As I walk along the road with Ezra and Damien today, I'm asked a multitude of questions: "when do you leave?" "will you miss me?" "are we friends?" "will you remember me?" I pause after each question, trying to measure what I want to say against the weight of knowing I will never see these boys again, trying to sit with the truth that I am leaving them. On the wall in our living space is the poem "With that Moon Language" by Hafiz, it is a daily reminder that we humans have a longing to connect, to be loved, and to know that love exists. The pain that is left in the wake of love is so much better than the pain of not believing you are loved. So I reply, "We leave Friday, of course I will miss you. I will think of this place everyday. You are my friend. I love you."
It is with the same courage that got me here, that I will say goodbye to this place and these people. The courage to acknowledge how much it has mattered, and how much they matter. The courage to sit with the questions it has left me. The courage to let it change me. The courage to embrace the joy and love that make it hurt so much more to say goodbye to. And the courage to say loudly, and with my whole being…
"I love you. And I will miss you, too."
Kisu Mwane
Taylor(or Telah as it is pronounced here) Ridenour
Class of 2018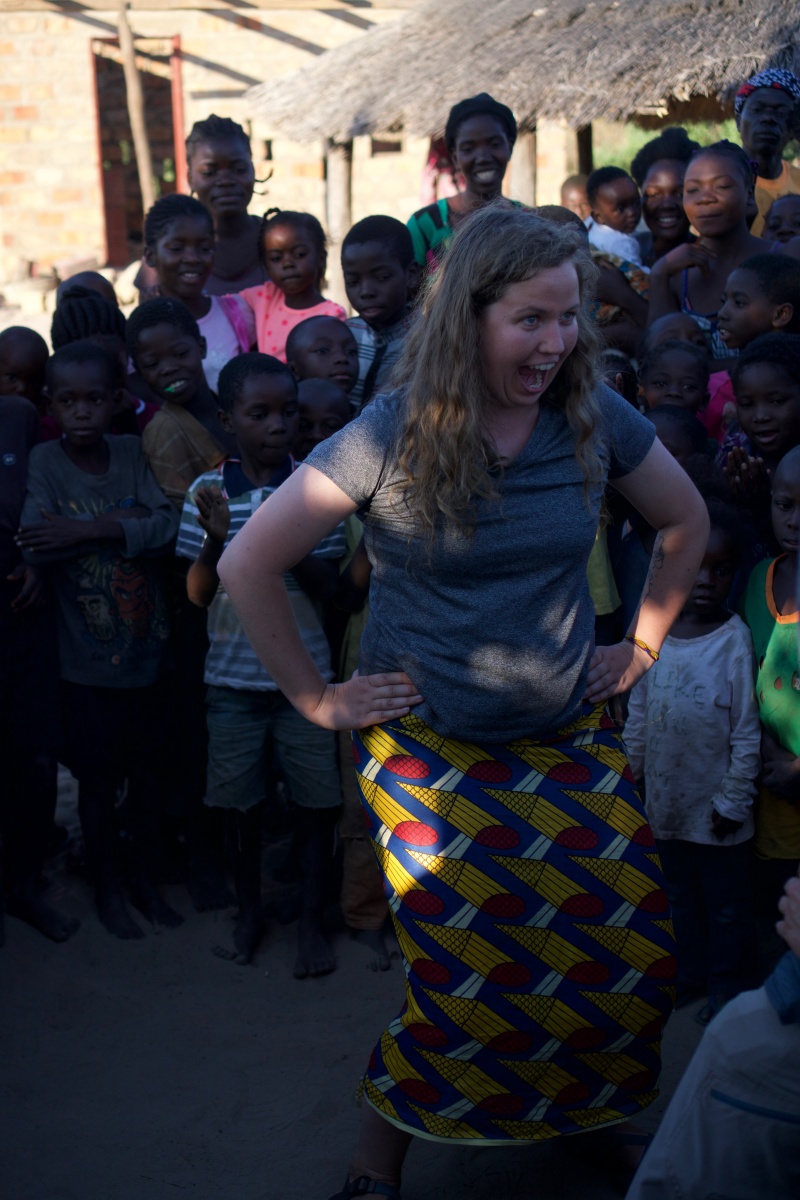 P.S. To all the people (there are so many of you and what a freaking tremendous gift that is), who came alongside me this past year—thank you, thank you, thank you. I cannot wait to squeeze you.
P.S.S. ZamFam 2016-there is a photo in my journal that I took on our retreat together last year. It is on a walk and I am many steps behind you. I think of how symbolic the photo has become as I walk on the dirt paths of Zambezi, know you have all walked them before. I feel you here, each one of you. Know how loved you are by this community. I love you so much, too.
P.S.S.S. Anyone who has ever had a homestay with Mama Violet and Steven, they still have the journal with all your names and addresses in it. They are so proud of it and so full of love for each of you. It also made me feel so connected to this place and this long line of zags in Zambezi.
P.S.S.S.S. During our language lesson today with Mama Josephine, she asked us to share one of our songs with her. Our group quickly broke out into our fight song and G-O-N-Z-A-G-A. At the end of the latter, Mama asked "so what is the meaning of this song?" and we broke out laughing. And then Amazing Grace began being sung, all of us together, and if this moment doesn't embody our group, I don't know what does. A balance between silliness and seriousness, between light and dark, between business and stillness. I love this group so much.