"Love the Ordinary Moments" This quote is pasted in bold letters across the front of my journal. When I made my journal at our retreat this spring I cut and pasted this quote without really giving it a second glance or thought. I liked it so, therefore, it was put on my journal. I did not realize the truth of this quote until just a few days again when I was reflecting on the time I have spent here in Zambezi.
We have now been in Zambezi for almost three weeks. At times it seems as if I have been here forever and at other times I feel like it is my first day here. Trying to remember and recount the moments I have had here so far seems almost impossible. There is so much to tell about, yet only so much I can write. I have tried my best to compile the most memorable and impactful moments I have had here in Zambezi. So here they are. I am sure I have missed many and will make sure to have my fellow Zags remind me of them, but the ones that I remember are as follows:
-Grace grabbing my hand as we took off in the bush plane because she knew I was nervous
-Crying when I stepped off the plane and heard the Chilena choir singing
-Singing "Twaya Monta" with Mamma Josephine… 50 times in a row
-Father Baraza talking in proverbs which sometimes make sense and other times left us looking at one another saying "what?"
-Anna screaming after every bump we go over in the car (which is about every 5 seconds)
-The health team's trip to Kalendola which at one point consisted of 18 people, 2 live goats, one dead goat in a cooler, 10 pumpkins/squash and 10 woven baskets all on top of or in our what is suppose to be a 10-12 person land cruiser
-Looking down at a child and smiling at them and receiving a shy smile or giggle back
-Singing "No One", "Sunday Candy" and "Brown Eyed Girl" in the back of the land cruiser while sliding, bumping and smacking into each other as we drove over the bumpy bush roads and the pure joy that is felt with the wind blowing in our faces as we drove the road
-Distributing Days For Girls menstruation kits to girls who would have had to miss a week of school each month because of their period and empowering them to become beautiful and powerful women
-Trying to greet Zambians in Luvale and receiving giggles in return because I for sure pronounced it in an American accent or said the wrong thing
-Looking around the reflection circle seeing the Chaco tanned dirty feet that all have a story to tell about how their feet got so dirty that day. Many from walking to and from the market for a cold coke or chocolate bar, one from helping the Mammas at the market so they can help cook our meals, a few maybe from walking up and down the hall in our sandy convent, the health team's from walking to the church hall a few yards away or traveling to a nearby village or the teachers from the long walk back to the convent
-Making PB and J's while listening and dancing to the song "Peanut butter Jelly"
-Saying something weird to Caroline knowing that I will get a head shake and a "oh McKenzie" in return
-Sitting in the silence and grief with Mamma Katendi after she learned her sister had passed away and being okay with sitting in the sadness with one another
-Mamma Violets sweet and soft "ohhhhkay" after anything we say to her
-Elly saying something weird, dancing or yelling like a Zambian woman knowing we would both laugh about it
-Chiwala (the old man who walks 30 minutes and takes a boat across the river to attend our health class almost everyday) asking questions that make us laugh and shake our head such as "Can I breath under water?"
-Getting the land cruisers stuck in the sand (again) and not having a doubt in our mind that we won't make it out but rather getting out to have an impromptu dance party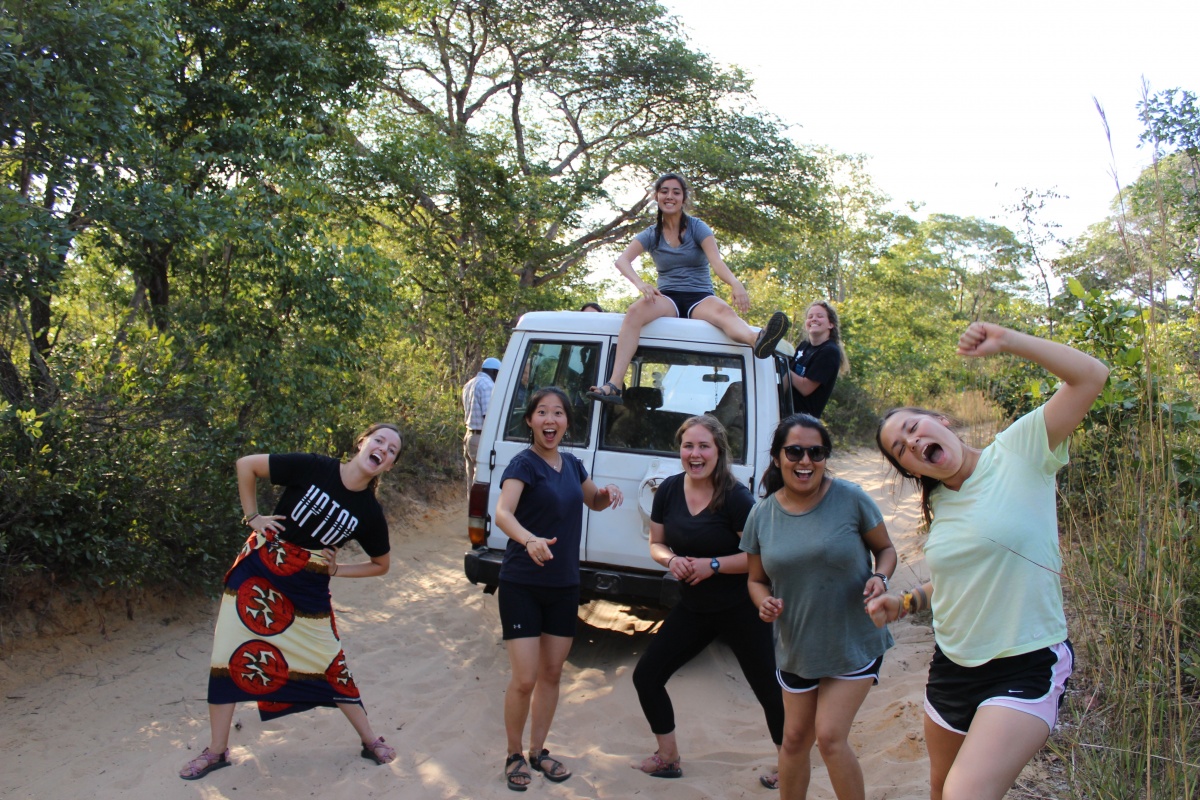 -Listening to my little friends Patrick and Emmanuel tell me about their family and not know what to say when they ask "What are you going to give me when you leave me?"
-Knowing that my fellow Zags who sleep within the yellow walls of this convent with me will always have a special place in my heart and mine in theirs. Also the fact that at least 6 of them have walked in on me in the computer room writing this blog just to ask how it was going and to tell me they cannot wait for me to read it
I realized that most the memorable moments and impactful parts of my time in Zambezi have had a common theme. They have for the majority been ordinary moments or simple gestures from another person. I think many times we are caught up in the idea that in order for something to be memorable or impactful it has to be a grand event or action. I have come to the realization that loving and embracing the ordinary moments is the best way to experience your life to the fullest. The parts of the trip I will look back on and smile, cry or laugh about are the little moments with another person that allows me to connect to them.The ordinary moments are what fills our lives. Without them there would be holes in our stories and lives.
More recently I have come to the fact that we are not guaranteed tomorrow or the next day or the next.  Like Father Baraza has taught us there is not future in Africa. The Africans only recognize the past and the present because you are not able to predict the future. This concept is something I need to practice more in my own life. Being in the present with others and enjoying the ordinary moments. If we do not love and embrace every moment we have here on Earth (ordinary or extravagant) we are not fully living the best we can. So, this is why I have chosen to love the ordinary moments here in Zambezi along with the grand, exciting and somewhere in between moments too. I hope to have many more ordinary moments here. I also hope all of you reading this learn to embrace the everyday and commonplace moments with the people you love.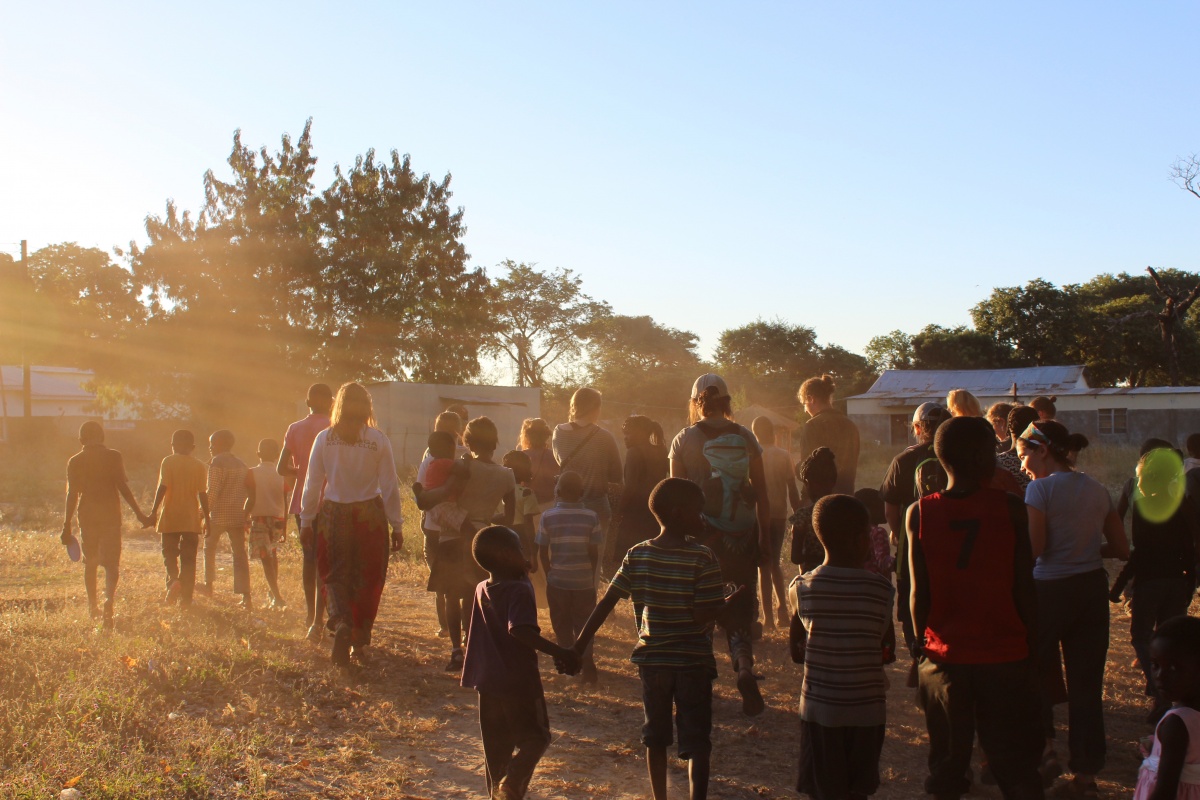 Kisu Mwane,
McKenzie Gallagher '20
P.S. Mom, Dad, grandparents, and anyone else whom it may concern I am healthy, safe and loving my new temporary home here in Zambezi. To all of you as well as my people in Spokane, Montana or wherever else you are in the world (you all know who you are) I miss you so much and cannot wait to be back in your arms and hear your voices.
Also I am pleased to announce that the Zags beat Chilena in the soccer game today. 3-2!! All thanks to Miss Morgan Green who was named MVP with two goals to her name!
It was also FaBra's (Father Baraza) birthday today. We celebrated with pizza, cake and the tradition of throwing water on the birthday boy's head.