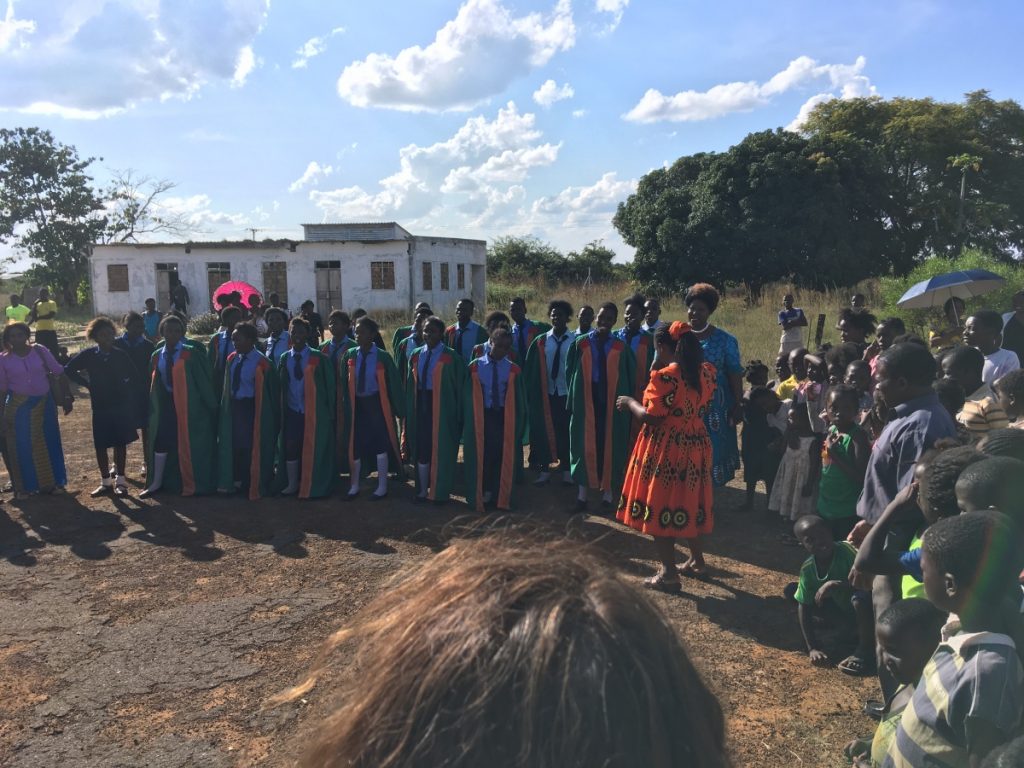 I am bathed in sunlight on a remote landing strip in Northwest Zambia. Rumor around here is that the strip will be shuttered and replaced by a new paved runway about 30 kilometers downstream, in a spot closer to a proposed mine on the west bank of the Zambezi. Of course, rumors like these abound in any community: I heard there's a new mall coming to Hillsboro; if Boeing goes to South Carolina, …? It seems in most places that implications of our livelihoods carry an undue weight in describing the value of our lives. And Zambezi is no different. For the first two years I came here, I heard about the Shoprite coming to town and the bridge that would eventually replace the decrepit pontoon ferry that offers vehicle passage across the Zambezi. Now it's the airstrip closing. The narratives change, but narrative remains.
And this is one: I am bathed in sunlight on a remote landing strip in Northwest Zambia. Familiar songs of greeting wash over me, and I am welcomed by old friends and new. Tambukenu mwane. How is America? How is your family?I I respond cheerfully and directly. Mwane vulya mwane. Ah, my country is making every effort to destroy itself. My family is good; my son is two; yes he is a very busy boy, and my daughter is compassionate and bright. I will pass along my greetings.
Because of some complications on our first wave of flights, what is normally two main arrival times turns into four, and this ritual of song and greeting is repeated each time. Each time, 24 primary school pupils belt out their songs of welcome and praise for the school's relationship with Gonzaga. Hello, we welcome you. Hello, hello, we welcome you, Gone-zaga. I've heard some version of this song or one of its cousins each time I've been to Zambia, and in multiple communities each time. The hospitality of the message, the harmonization of the singer, touches me each time. Each time I have all the feels: the simple joy of a welcome, the sense that I am not grateful enough to burst into song when friends come to visit me, the fatigue and profound tension of being celebrated for work of which I have only been the most minor part.
Today, all those feels were multiplied by four, as each plane landed to a repeat of the same routine…wherever we go, we praise Go-zanga. And after all of the singing, the chores, the wrangling of food for the school choir, I took a small group of teachers from the Zambezi airport back to the school at Chilenga. As we set off, the man beside me points to a shortcut through the bush. By the time he tells me, it's too late to take the next shortcut, so the women in the back seat tell me to go ahead. They each know another route, and argue about which we should take, cutting off the man when he tries to overrule. In some ways, after four trips to Zambezi, I like to wish that I have some things figured out. However, it's been a long day, a day mixed with many hugs and smiles, and a day in which I've questioned whether we deserve the warmth and gratitude extended to us, a day in which I've recalled again that I have warrant to question the manner in which another human expresses gratitude, and a day I remembered again a fairly simple truth about Zambia: this a place that continues to offer delight and tension. There are shortcuts, but you'll inevitably be taking the long way round. And that complexity, the way it helps me to understand the world and my place in it, is why I continue to return.
Parents and loved ones, we are here, and safe, and well—if a bit tired. I look forward to knowing your students as they get to know bit-by-bit this community that I've grown to love. I can't wait for you to hear about their experiences through this blog and the many reflections they'll have on their experience.
All our best,
Jeff Dodd
English Department (and the one who feels a terrific responsibility for getting your lovelies back to you).
PS: Ann Burnett: The choir looked spectacular in their new robes, and Jessi Mukumbi was so proud to show them off.