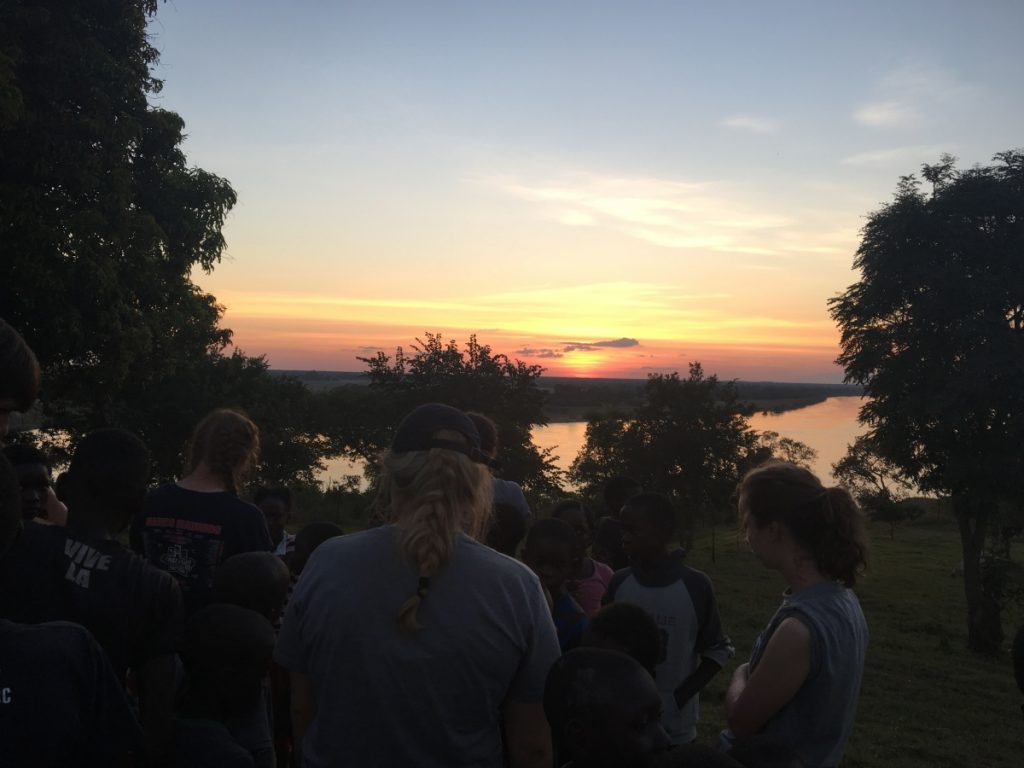 "Mwane" is a Luvale term with infinite meaning. It's said at the end of almost every phrase ("Chimene mwane" means "Good morning", "Kanawa mwane" means "I'm fine"), and is sometimes used to say "yes" or "thank you." However, I've noticed in my time here that "mwane" can be dropped from a normal phrase, so people may just say "Kanawa" for "I'm fine." When I first heard of this, I realized that "mwane" is more of a term used in a sentence for respect, which seems to be a reoccurring theme for me on this trip. As I dive deeper into the language, my use of this word becomes increasingly meaningful to my experience.
Landing in Zambezi was a waterfall of emotions. The smiling and waving kids rushing to the plane made me feel welcomed and special. Their blank faces and staring eyes when I said "Hello" made me feel like I was wandering through an alien planet and I waded my way in a sea of children. The choir singing songs with the word "Gonzaga" thrown in to honor us made me feel blessed to be in the presence of such caring people. Walking to the convent in silence with the students who don't speak much English made me feel out of place.
Everything I've experienced since then has made me realize that there are a lot of firsts for me on this trip. First time in Africa. First time eating goat. First time sleeping under a mosquito net. First time attending a wedding, not to mention my first Zambian wedding. First time using a language so rare that Google translate can't even find it. First time flying in a 6-person plane manned by a student pilot (thanks to Captain Olivia Antoine, we all flew safely). First time being served in a community where I didn't expect to gain so much friendship, gratitude, memorable moments, and hope for my future as well as the future of Zambezi.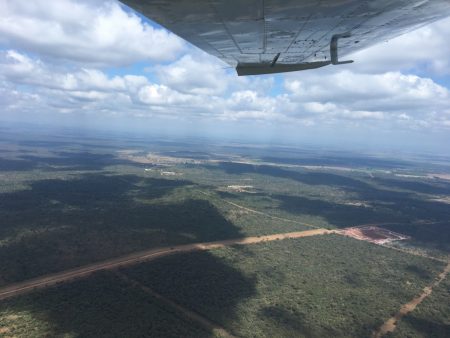 While attending Father Yona's wedding service (a mix of strict Catholicism, upbeat singing and dancing, and party lights that I think I had in my dorm last year), I finally understood one certain truth about this uncertain experience I've had so far: respect is earned, not given, but the love of the Zambian people is given eternally.
Before I left the States, I had a brief exchange with Dr. Josh Armstrong in the basement of Tilford. I told him I was slightly stressed about going to Zambezi, and he offered me advice that has stuck with me. He told me to not get stuck in my own head so much, which I tend to do all the time. Being in Zambezi has challenged me to act without overthinking. I'll see a Zambian walking down the road toward me, and rather than questioning my ability to speak Luvale, worrying about making proper eye contact, or potentially disrespecting their culture by inappropriately shaking their hand, I don't think too much anymore. I get out of my head and into the moment. To my surprise, they laugh and smile understandingly when I butcher the language. They can make equally improper eye contact with me as I can with them. They help me improve my Zambian handshake skills so I don't screw up in the future. By acting before I start overthinking, I can be comforted by the fact that the culture here will provide a safe environment for my learning experience. All the people here need to know is that you've made an effort to learn from them, and that's all you need to earn their respect. I've come to know that my mistakes here will eventually earn the respect of the Zambezi community. This process won't be short or easy, but I didn't come halfway across the world to learn a new culture from inside my mind. In the time between now and the end of the trip, I will try my best to show endless amounts of love for them as they have for me. They show interest in my life, give up beds for me, and offer me more than I deserve. The love we've recently received at our homestays have opened the door to show some of that love back in way that allows us to respect them as well. I never knew how hard it was going to be to be served by others.
Zambia has surprised me in many ways. It's much more similar to the States than I imagined. In Lusaka, there are houses in walled areas and paved roads throughout. There are telephone wires and bustling traffic. People sell things and beg on the side of the road. Teens walk through the mall shopping and causing havoc. People in parking lots help each other with locked keys and broken down cars. People have smartphones and listen to Migos, Drake, and Justin Bieber. It wasn't until I began talking to Father Dominic and Harry that I realized everything I've seen so far is also something that I've seen in America before. We have beggars on streets, rebellious teens in malls, and helpful hands on the road. When some people think of Africa, they believe it's all AIDS, starvation, dusty roads, and huts. Zambia, like many other African countries I'm sure, is not like this, and deserves the same amount of respect as America does for what it's worth.
In other news, everyone here is doing very well aside from the occasional sunburns and multitude of mosquito bites. We just got back from our homestays where we spent a night with a Zambian family to learn more about the community from inside the homes of the locals. Classes start tomorrow, so expect to hear more about both of those in the days that follow.
Kisu mwane,
Josh Bulawa
P.S.: Much love to my family, friends, and anyone else who helped me get here. Mom, happy early birthday! I just bought you a gift from the market today and can't wait to be back home after spending so much time away. To my friends who told me not to get a haircut before leaving for Zambezi, I'm never listening to you guys again.
P.P.S.: From Alyssa, @T. Big soccer kicks!