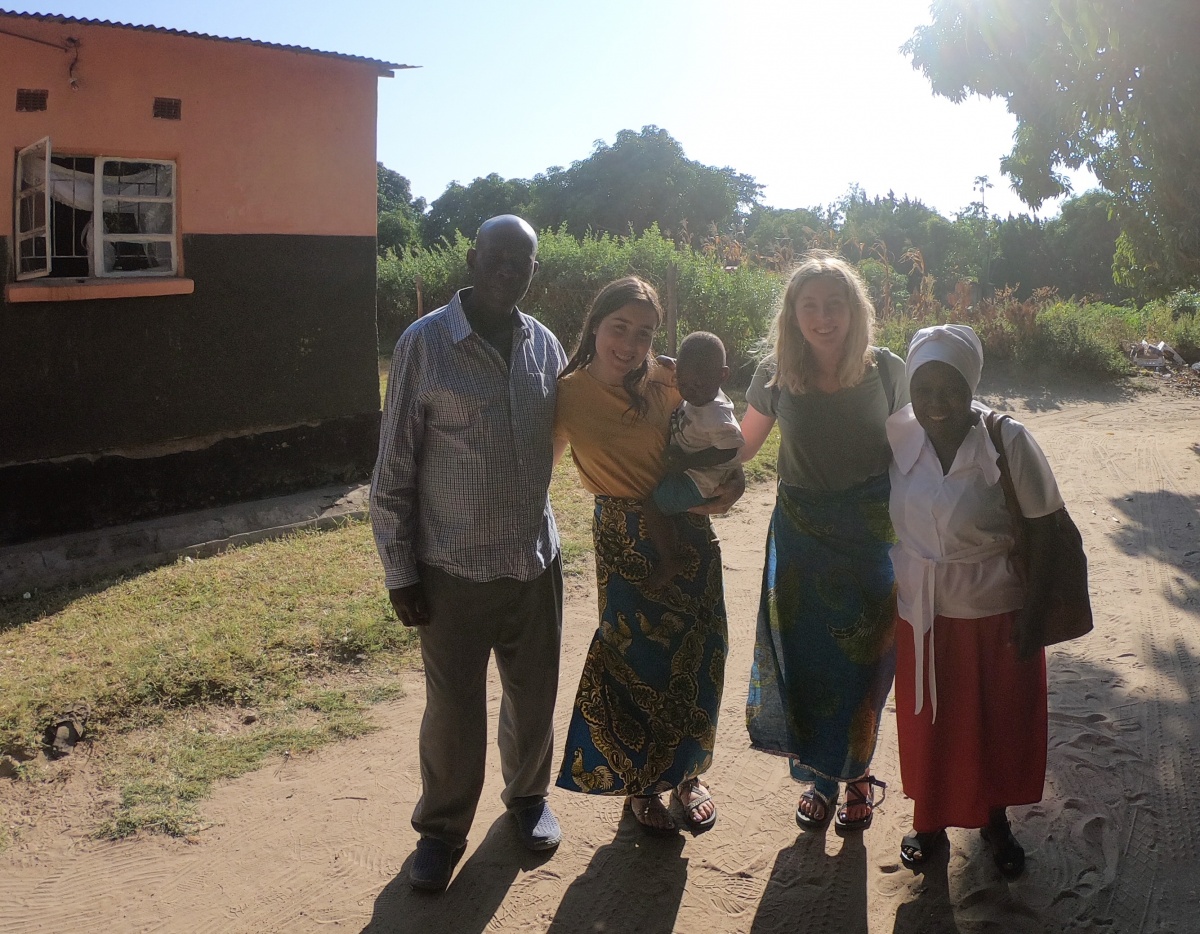 "Staying for tea helped us become mutually indebted. I call this operating at eye level with the community, and this made all the difference in the quality and impact of our time together." — Aaron Ausland
The market in town is an all-encompassing site of various colored shops and vendors, overstimulating our senses with smells of fish, chicken, vegetables and fruits. Music played as a background noise to conversations; greetings across the street, laughter in the shops and many kids chattering with Ethan and I as we made the sandy walk to the hot spot of shopping and conversation in Zambezi.
Often our group has had discussions of transactional vs transformational relationships, struggling with the desire to make deep connections, yet not always being in the time and place to develop them. Here at the market, while there were transactions with the needs to buy chitenge and flip flops, the purchases were accompanied by language lessons from shop owners, mentions of past Zags and friendships made, and friendly welcomes into the community. While American grocery stores exhibit quick in and out transactional moments and the need to be efficient, there was a continuous beauty in the slower paced walking moments of the Zambezi market. Instead of the regular transactional relationship, small conversations and introductions have allowed us to recognize familiar faces on the streets and at church- potential friendships are developing, allowing for the true exploration of accompaniment.
A beginning to these talked about "transformational" relationships has started with our homestays. Because of kind and gracious families within the church community, all 18 of us were able to stay the night in pairs or little groups with hosts. Ellie and I stayed with a wonderful couple Winafreida and John. John sitting at a tall 6'2 is a retired school master and teacher, exhibiting patience with a kind heart and gentle voice. Complimenting John is his firecracker wife, Winafreida. What she lacks in height (being half as tall as John) she makes up for with tenacity and passion. As a health counselor, she advises women and children living with HIV. Their life, starting in the Northern Province of Zambia has resulted in 6 kids, 22 grandkids, 1 great-grandkid and 250 young chicks (yes chickens). Throughout the night, neighbors, friends and community members came to greet and chat with us. Nshima was eaten, babies were carried and amazing memories were made.
John carried a world atlas into the living room later in the night. Pointing out his village that he grew up in and explaining the different provinces of Zambia, we were able to gain an abundance of knowledge, not only about the present culture of Zambia but also years of its history. In exchange, Ellie and I flipped to a map of the United States and were able to point out exactly where we grew up in California and Oregon, where we attend school in Spokane and how exhilarating (yet draining) of a journey it was to get to Zambia with three plane rides and a bus ride.
I have found the most special and genuine of moments, not at the big welcoming celebration or the church ceremony, but rather the small dinner conversations and morning coffee. While the big gatherings were heartfelt and definitely unforgettable, the stunning hospitality tends to overwhelm me in moments. Intimate settings have impacted me most profoundly, providing a space for me to breathe and form authentic conversations and bonds.
Veronica, the first of Winafreida and John's grandchildren, also with a baby of her own, taught us how to make lemonade and orangeade. Conversing about the shared lemon trees that both my family and hers have in our front yards, we compared amounts of sugar that are supposedly put into the specific drink. (Dad, apparently, we don't use nearly enough). Sharing her love for nursing and kids, Veronica, Ellie and I bonded over passions for jobs in healthcare and potentially working in pediatrics. Nervousness about a new environment and household was nonexistent by the end of our stay, leaving for church with full hearts and semi-properly wrapped chitenge skirts around us.
While many of our homestay experiences were unique between groups, there was a general consensus that lives lived here in Zambezi greatly differ from us in terms of routine and environment. Roosters crow before sunrise contrarily to popular belief, and from what Ellie and I experienced do not care if they are making noise at 3 in the morning. Rachel Walls experienced that when given a warm bucket of water to bathe in, its most likely boiling hot and would be beneficial to wait a few minutes before cleaning your body. Preston and Isaac learned that when freestyle rapping, it is best to just go for it and see what comes out in the verse.
There are a long list of differences existing between our normal routines and that of Zambians. However, there is one prevalent and common thread existing between Zambezi and our home communities. Love. A love for food and shared dinner that reminds me of meals that I cook with my family paired with storytelling and smiles. A love for neighbors like family that remind me of college friends that have become my second home in Washington. An abundance of care and compassion just seems to ooze from almost every aspect of this community and provides a supporting basis for authentic and true relationships.
Hopefully a snapshot of homestays has allowed readers of this blog to feel and share some of these unique and personal experiences with me and my fellow zags. Whether it was tea, coffee, or other beverages shared in the early morning, genuine connections have begun to form and I, along with all my fellow zags, cannot wait to dive deeper into this community, as well as ourselves, with the hope to grow and flourish.
"After some time, I realized that something else was happening over tea. My title and position were being eroded; I was becoming real to them. At the same time, my simplistic stereotypes of them were melting away; they were becoming real to me. –Aaron Ausland
Emma Cheatham, Class of 2021
To my loved ones: Miss you with all my heart. Filling my mind and notebook with memories and stories to share. Lots of Love.