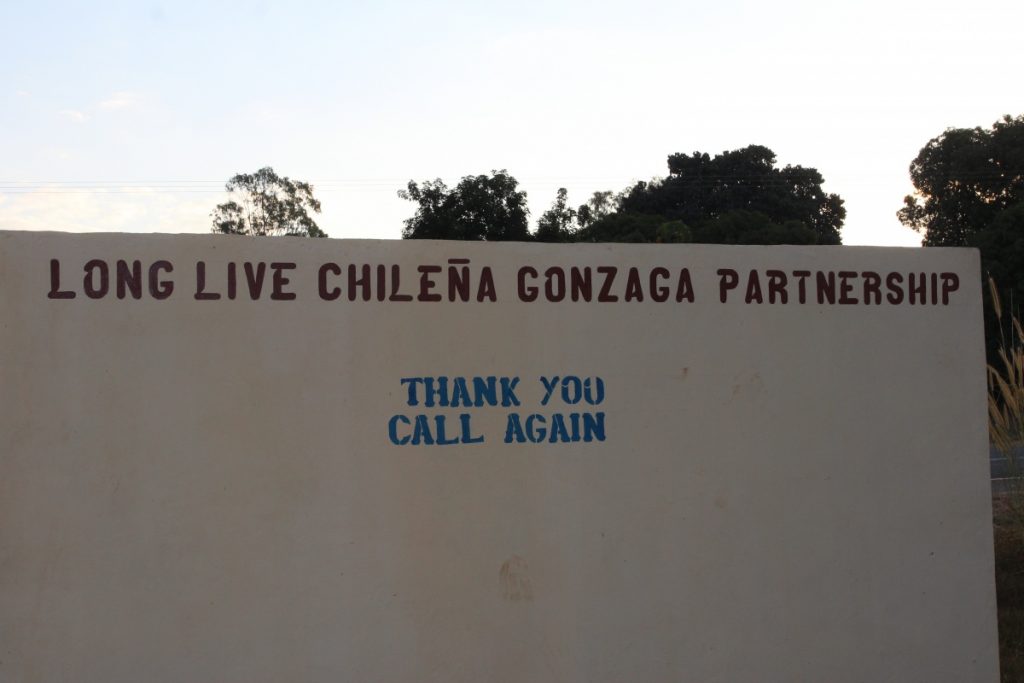 Hello all!
This is Leila, writing to you from a bench next to some windows at the back of a large conference room. The space is one we use to teach the Business and Leadership class. Outside the window at my right cheek is a large tree whose foliage is shading me from the sun that the Zambians laugh at me for calling "SO HOT." In its after hours vacancy, this favorite spot of mine has become a refuge for retreat when I feel the need for the soft quiet of solitude. Before I really begin, I would love to assure you of our well-being here in the wonderful community of Zambezi. I know my family and friends at home have felt some sense of uneasiness as I have walked into an experience that is new to the both of us. I have a strong feeling they are in good company with many of the people keeping up with our blog. This community has opened itself so joyfully to the new zags who are continuing a story of friendship that has endured the past 12 years. I will not speak for the whole of my peers, but a quick survey of my classmates can reveal many of us are eager to feel the rhythm that a routine will bring as we begin our classes this week.
The first day of school has always been one of my favorite days of the year, so really it was no surprise when I ended up choosing to study special education at GU, and then placed on the Chileńa Literacy team during our time abroad. The first day of school has always carried for me some a distinct sense of excited anticipation unlike any other. The day seems to hold some promise of a fresh start, a clean slate. There does seem to be a special weight that is the companion to any new beginning. This weight is less of a burden, and more of a powerful yet precious responsibility. In this new home, that responsibility has everything to do with friendship, and nothing to do with lesson plans. On the wall of our common area rests the words from Aaron Ausland: "Friendship, real and deep, is the foundation of giving that empowers." These words haven't stopped making rounds through my mind, and I don't have much of a plan to stop them.
This first day is unlike any other first day I think I will ever experience. At Chileńa, they have been adjusting to their second term schedule for a couple of weeks, this leaves me holding the truth that this is only my first day, not theirs. As I step into this fully filled and new to me space, I am reminded that the paramount goal of this trip is to remain not in the pursuit of objective success but the pursuit of sincere companionship. This dream of true companionship or accompaniment has been a theme in conversations of reflection and a signature left on hearts of all leaders I'm with on this trip.
The most striking evidence of this spirit of accompaniment has come from our walk to the Chileńa Primary school this morning to meet the head master and observe the English teacher. Before we were welcomed in with hands outstretched and wide toothy smiles mirrored by our own, we were greeted by the sign. Yes, a sign. A large, concrete, sign. On the front, this sign reads "Welcome to Chileńa Primary School" (or something like that), but on the hind side of the sign lay the words in bold red paint, "LONG LIVE CHILEŃA GONZAGA PARTNERSHIP." Wow. What a welcome.
These 5 words tell a much bigger story than just that of my showing up here to learn and teach for 15 short days of class.
Earlier this year in talking to a friend of mine, Sanna, she said to me, "Nothing can prepare you for what will happen once you step off that bush plane" and oh my was she right. Zambians are absolute PROS at giving a warm welcome. We were received off the planes last Friday to the mighty Chileńa choir dancing and singing in celebration of their reunion with Gonzaga. Might I add that this choir has won national championship titles? In trying to reconcile this regal welcome we have experienced, I have come to realize that we are not only being welcomed so grandly as individuals new to this community, but as a limb of the greater body of Gonzaga University that they have come to know well. Does this feel a little meta yet?
The sign that greeted us at Chileńa told a story of mutually indebted gratitude towards this unique partnership between our schools; with the greater body of humans called Gonzaga- Zags who come back year after year to build friendships that extend beyond the four walls of the Chileńa classroom and beyond the three weeks of our stay. The sign tells tales of how these individual relationships contribute to the creation of one larger composition of trust, mutual respect, and friendship grounded in curious love. These crucial signatures of accompaniment are not only an account of the relationships we'll continue building here in our time, but of the relationship that has grown between GU and the communities in Zambezi. Even this relationship between GU and Zambezi can tell us something about the connection that Zambia has with the US. Pretty meta, right?
My hope for the following weeks is that we commit to being surprised by this community each and every day. I hope we allow ourselves to be served where we are serving. I hope we give way for our classes to be vehicles for the fostering of life-giving friendships with Zags and Zambians, and we commit to making this month full of deeply rich dialogue around self awareness, intercultural leadership, and the meaning of global citizenship. The three-ish weeks that we have left to spend in Zambezi will no doubt be very focused on building relationships grounded in curiosity and care with those in and out of the classes we are teaching. These individual relationships are only paragraphs in the chapter titled 2019 in a book titled Gonzaga Staying for Tea in Zambezi, and I can't wait to be a character in them. TOTALLY META.
You have my heart,
Leila Lewis '21
Family, I miss you all so very much. Each of you carry a special piece of me while I'm on this journey, and I can't wait to share with you all the special moments I'm collecting on this trip. Kisu Mwane. I love you!!! – Leilou