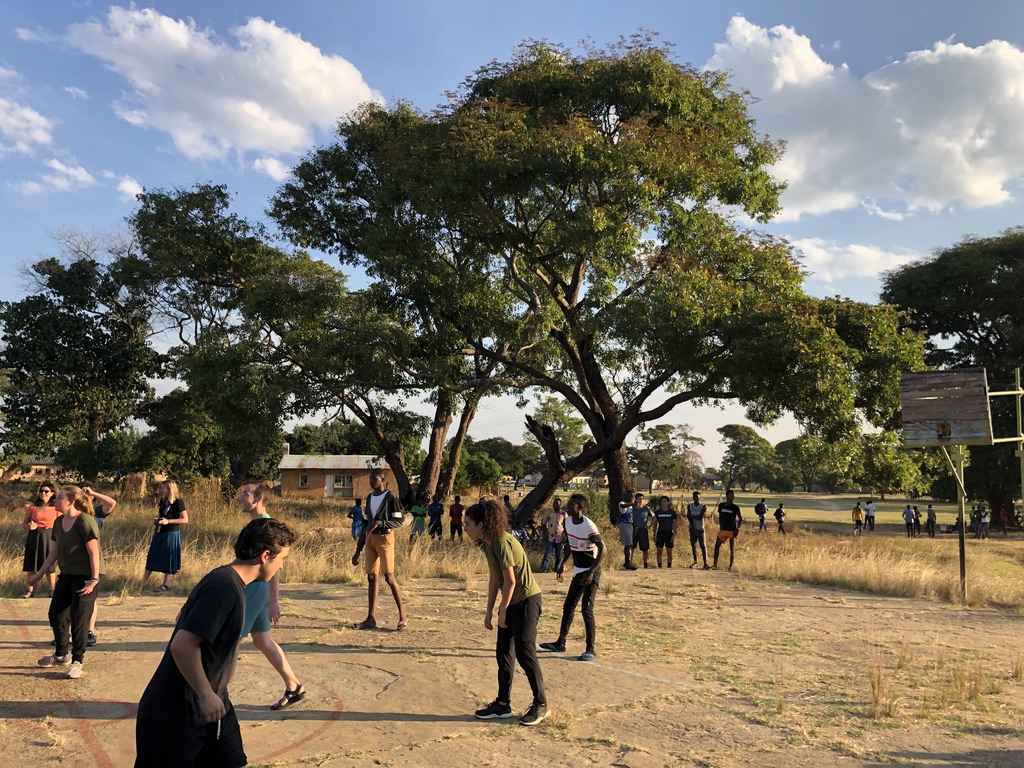 Hello there!
Welcome to yet another daily blog! I write this on a full stomach of delicious pasta and sausage cooked by the lovely Mama Violet. I know that recounting what I have just consumed may seem strange, but I only do so to comfort my father; who I know for a fact is worried that I am not eating enough. To any other worried parents, I assure you that we are eating like kings. Although, I have to admit that tears of joy flowed from my eyes when I found the only shop in the market that sells chocolate.
It is strangely quiet back at the convent today, with our health team, accompanied by Bryce Kreiser, out on an excursion to teach a valuable lesson on nutrition in Kalundola. With them absent, I cannot help but recall all of the amazing memories that we have already formed in our short time together in Zambezi.
The most recent memory that I will cherish was the #Zamball basketball game on May 28th. Our group of Zags had the honor of challenging a group of Zambians who invited us to a game. Not to boast too much, but I think that Gonzaga students should be tenting for our pickup game rather than ordinary Gonzaga basketball games. Why you might ask? The court had "lots of cracks and grass scattered about" to quote Megan Hayes. The crooked hoop, cracked cement and added nature elements provided new thrilling obstacles that I'm sure would provide extra entertainment for any basketball fan.
In addition to this, audiences would be in awe of our team MVP Chloe Sciammas. In the first minute or so of the game, Chloe scored a whopping 6 points. This prompted all of the spectators to yell "Check your watches, it's Sham time!" I also guarantee that Father Joseph's Steph Curry status 3 pointers would make any crowd go wild.
My team proceeded to pull ahead, but in true Gonzaga fashion, we blew our 15-point lead in the last few minutes. We lost 34-30, but I still had an absolute blast. The game ended with lots of sweaty hugs, handshakes, and bonding with new friends.
While I love this memory, there is a part of me that is sad looking back on it. Before the game, I was adamant on not playing. I felt that I would drag the team down because of my limited basketball skills. Even though the game was just for fun, I was still criticizing myself and convincing myself that I was not deserving enough to play. I only decided to participate because of Maurie Harbick's encouragement. He simply would not accept my silly excuses, which I am so thankful for.
For a number of years, I have struggled with self-worth. I constantly tell myself that I am not enough. I tell myself that I am not beautiful enough, not smart enough, and recently, I was convincing myself that I was not mentally strong enough to come on this adventure to Zambezi.
While this is a battle that I am sure I will continue to fight, I am practicing "giving myself grace" as Rachel Hass has advised me to do.
I am becoming aware that I do have a lot of value and worth to bring to the table. I can proudly say that I can capture the attention of 55 Zambian children in my classroom, all of them eager to participate. I am brave, not only for pushing myself out of my comfort zone, but for killing any spider, no matter how big, here at the convent. Lastly, I feel beautiful in my chitenges.
I am working towards not allowing self-doubt to take away from the joy around me. Here in Zambezi, and back at home in the states, there is so much joy to be felt. Joy, in my not so humble opinion, is something that should never be sacrificed.
Peace and love,
Caitlyn Moore – '21